Cyberflashing is now a criminal offence thanks to MP's campaign
Sunday 3rd April 2022 6:00 am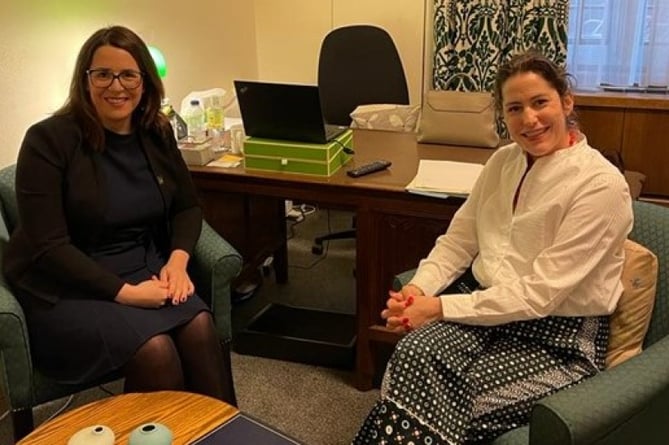 MP Fay Jones with Victoria Atkins MP, Minister for Women.
(Fay Jones )
Subscribe newsletter
Subscribe to our email and get updates right in your inbox.
Following a lengthy campaign led by Brecon and Radnorshire MP Fay Jones, Cyber-flashing will now become a criminal offence.
Until now, forcing an indecent image onto someone's phone has not been illegal. But Ms Jones worked with Members of Parliament and activists to bring forward an amendment to the Online Safety bill which the Government published last week. Ms Jones was prompted to start the campaign after her experience of being flashed in person in Cardiff.
Cyberflashing is when a person is sent an unsolicited sexual image on their mobile device by an unknown person. In some instances the preview on the phone means that the victim is forced to see the image rather than reject it.
While offline flashing is a criminal offence, known as indecent exposure, there was nothing on the statute books to prosecute the crime of knowingly sending an explicit image to an individual who hasn't requested it.
The campaign received the backing of the Prime Minister in November last year when he told MPs: "Yes, I do not care whether flashing is cyber or not, it should be illegal."
After working with a number of campaign groups to shape the amendment, as well as the Justice Minister responsible Victoria Atkins MP, Ms Jones led a debate earlier this year in Westminster Hall, calling on the government to criminalise the act and include it in the Online Safety Bill.
Ms Jones highlighted the evidence that cyber-flashing is a gateway offence to more serious acts of violence. Sarah Everard's murderer has since been charged with indecently exposing himself before going on to commit his horrific crime.
Ministers have now confirmed that the new legislation will apply to England and Wales strengthening online protection with offenders facing up to two years in prison.
The Online Safety Bill will also put more legal responsibility on social media platforms, search engines and other websites or apps which host user-generated content to tackle a range of illegal and harmful content on their services.
Ms Jones said: "I am overjoyed that we have managed to change the law in this way. Cyber flashing is something I've been banging on about for a long time.
"It is a pernicious offence – one where an individual tries to demonstrate power over another. It often happens on public transport where the victim is often alone with the perpetrator – not able to identify them. Making this a criminal offence could help stop more physical acts of violence taking place.
I am absolutely delighted for all the campaigners and activists who have delivered this. The law is at last catching up with technology. This is a brilliant step forward in protecting women and girls online, as well as offline."
Comments
To leave a comment you need to create an account. |
All comments 0