Brecon duo pick up nearly one dog poo per minute on street cleaning patrol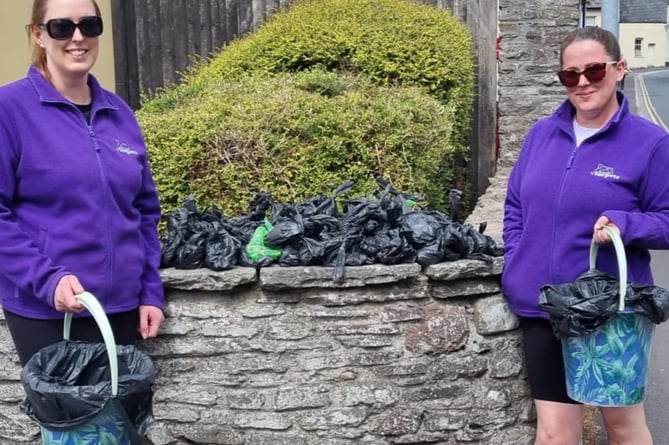 The two women picked up nearly a poo a minute in Brecon
(Lucy Mills )
Subscribe newsletter
Subscribe to our email and get updates right in your inbox.
A group picked up almost one dog poo per minute in Brecon as it looked to set an example to foul canine owners.
Armed with poo bags and buckets, Lucy Mills and Elen Kelly took to the streets of Brecon on Friday, July 29, as part of their Dog Poo Patrol.
The two women, who run Friends for Pets in the town, picked up 80 piles of dog poo in just 90 minutes as they cleaned the streets along their route.
The dog-poo-busting duo didn't even get halfway around their planned route due to the scale of the problem in what Lucy described as a "concentrated area".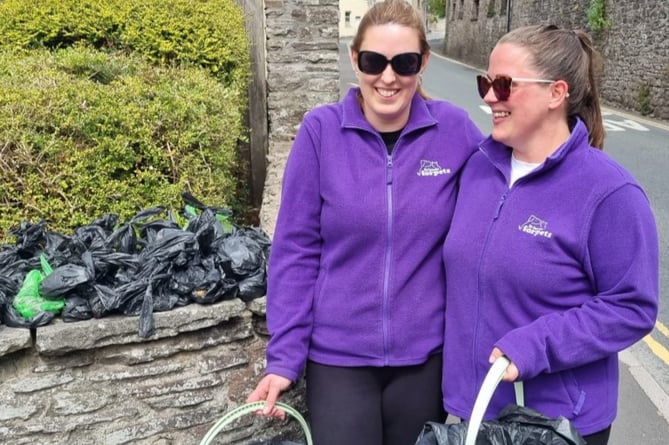 Lucy and Elen in front of the mountain of poo bags
(Lucy Mills )
Lucy, who lives in the town with her two miniature sausage dogs, said: "I don't know if I should say it went well or went badly because it went well in terms of how much we picked up but that's also not a good thing because it just shows how prevalent the problem is I think.
"We also covered a much smaller area than I wanted to - we spent most of the time on the Prom because it was just so bad, it's good in terms of we've done it and it was a good thing to do but it also highlights just how bad the problem is I think."
Lucy and Elen started on North Road before walking up past Prior School and onto the field by the Groves.
They then walked back along Foxes Lane, between Beechgrove and Beacons Park, and along Maendu Street before heading up Cradoc Road and down to the Promenade.
Between them, Lucy and Elen covered the entire section by the Boathouse, the bandstand field and the field behind it.
They then walked back past the boathouse and to the end, coming out by Cat Soup Kitchen.
Lucy said: "By far the worst area was the Prime which is a real shame as it's also a place lots of children play."
After growing up in Talgarth and Brecon, Lucy spend 15 years living in Bristol where she ran the Bristol Friends for Pets branch for five years.
The dog lover returned to Brecon last summer and has been running the Brecon branch since September 2021.
"Bristol is just so much cleaner than Brecon and I honestly think it's because they fine people and they have dog wardens so people are held a lot more accountable whereas here you can just leave it in Brecon and nothing happens," said Lucy.
"I'm thinking about how to take it further and I'm thinking about doing another poo patrol in September once the kids have gone back to school, and then if we have a similar level of poos picked up I might see if I can speak to somebody within the council.
"It's not my main job so it is having the time, but doing this just highlights that there is definitely a problem in Brecon and it's just a way to educate owners on what they're supposed to be doing really."
One of the issues which is regularly brought up about Brecon is the level of dog fouling in the town.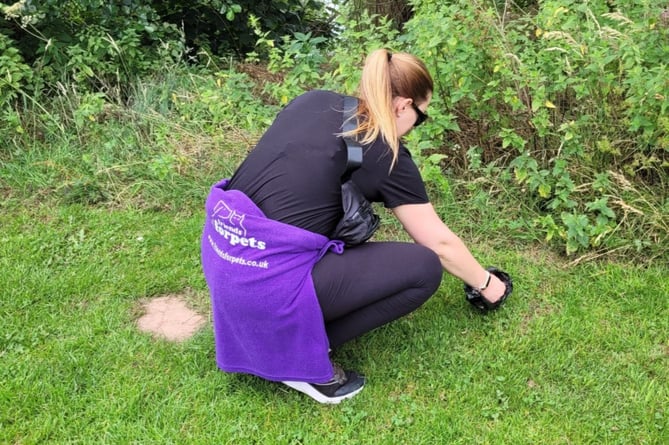 The Dog Poo Patrol picked up most of the mess on the Promenade
(Lucy Mills )
When asked whether she felt the number of dog fouling complaints in Brecon is an exaggeration, Lucy replied: "I don't think that it's an exaggeration.
"We were out for about 90 minutes in the end, so 80 poos in 90 minutes - that's not far off an average of one every minute."
The 38-year-old said she felt the fact that it was in such a concentrated area of the mid Wales town highlighted the level of dog fouling in Brecon.
"If we had done a big area in Brecon, it wouldn't be quite so shocking but the fact that probably about 65 of them were on the Prom.
"Also, bearing in mind the Prom is a place where children play and people obviously have picnics and it's a very popular tourist hotspot - it doesn't create the best impressions for people who are visiting if there is that much dog poo around.
"There was one area which was right by a bin and there were probably around 15 or 20 poos right there, so I suspect it was probably the same dog that's being let off and going in the same place every day and the owner is just not picking it up."
Lucy and Elen, 32, came across a relatively equal amount of old and fresh dog droppings as they did their round of Brecon.
Under the Dog (Fouling of Land) Act 1996, it's an offence to let a dog in your control foul on 'designated land', if you don't clean up immediately afterwards.
Designated lands includes: Pavements; Verges and land next to highways with a speed limit of 40 miles per hour or lower; All publicly owned land accessible to the public in towns and villages; Playing fields, parks, playgrounds, recreation grounds, holiday camps, caravan sites, car parks, picnic sites, churchyards and cemeteries; Public footpaths and bridleways where 'No Fouling' signs are displayed; and, All play, recreation and picnic areas at pubs and hotels.
Those who are caught not picking up after their dogs could face a fixed penalty notice or prosecution by Powys County Council.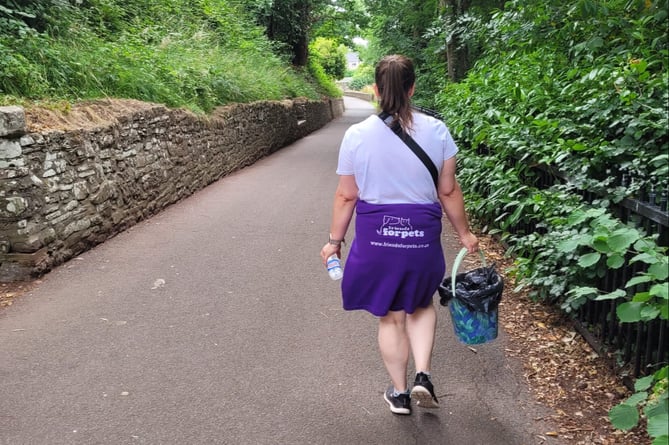 The two women armed themselves with buckets and poo bags for their patrol of Brecon
(Lucy Mills )
For those who run out of dog poo bags or who accidentally leave them at home, Brecon is equipped with dog poo bag stations which offer free dog poo bag dispensers.
When asked by The Brecon & Radnor Express whether she felt the level dog fouling is a result of ignorance or laziness, Lucy said: "I don't think it's ignorance because I think anybody who owns a dog knows that if your dog fouls, you are supposed to pick it up and you don't just leave it on the ground.
"I think it's probably laziness or because people don't like picking up dog poo, but in my opinion, that is part of owning a dog that you have to pick up poo.
"It's not a very nice aspect of being a dog owner, but it's part of being a dog owner and I can't believe that there's anybody nowadays that thinks that it's okay to let your dog foul and leave it there.
"Potentially I guess people may be caught out - maybe they didn't take enough dog poo bags with them, it happens to everyone, it's happened to me before, but generally - especially on the Prom - there will be somebody else down there who you could ask and there's also quite a few poo bag points on the Prom.
"I also think having More poo bag points might be helpful, on the prom especially, because it's quite a long stretch and because it encourages people - especially those who have forgotten to take a bag with them - to pick it up, especially if there's a poo bag point there."
Lucy emphasised one of the biggest issues with dog poo which is the chance for infection.
As well as bugs carried in mess from unvaccinated dogs, but can also carry deadly bugs which in the past have landed people in the hospital with life-changing conditions.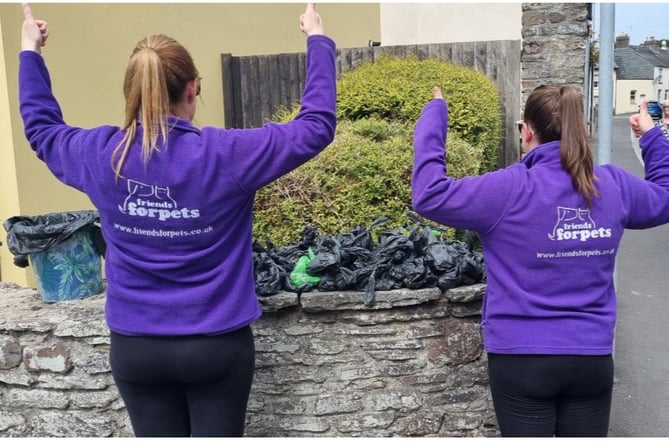 Both women run Friends for Pets
(Lucy Mills )
Despite handling almost 100 bags of dog poo, the two women, fortunately, managed not to step in any dog mess as they helped to clean the streets.
Lucy said they came prepared with hand gel and wipes but fortunately didn't need them as they also evaded split poo bags.
Lucy, who bought extra tough poo bags for the occasion, said: "It's definitely a problem and I do think it is mainly laziness. There's no punishment, there's no incentive to pick up your dog poo in Brecon whereas in cities there is because you get fined.
"Like I keep saying, there's nobody who will enforce it and the problem is, if I was out and I saw somebody who didn't pick up, I would always say 'excuse me, your dog has just done a poo, can you pick it up please', but there's always the chance you're going to get abuse back so people don't particularly want to intervene.
"It will be interesting to do another one to see if the problem is that bad or whether this has made any difference."
Comments
To leave a comment you need to create an account. |
All comments 0