A sell-out crowd enjoyed an evening of entertainment at the 'Reduce, Reuse, Recycle', Fashion Show at Brecon Guildhall last week.
The inclusive event, held on Friday, October 27, celebrated a diverse range of outfits and models.
The event raised more than £2,933 for Mayor Cllr Michaela Davies' charities - Brecon Foodbank, Stonewall Cymru and Calon DVS.
Compèred by Tom Davies and Tudor Williams, the models, all volunteers from the Brecon area and made up of all ages, showed off a wide collection of donated pre-loved leisure, evening and formal wear, in a range of sizes.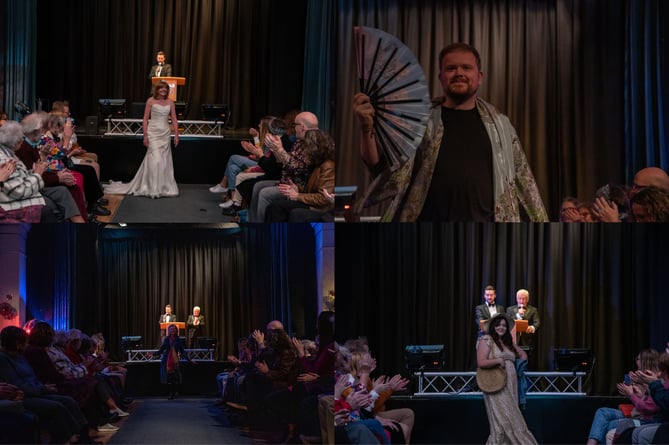 There was a diverse range of both outfits and models on display, all enjoyed by the crowd
(Zoe Mathias)
The finale of the event included a wedding party with bride, groom and their relatives all kitted out in amazing pre-loved clothing. The audience could not resist a dance and chant to 'Chapel of Love'.
But it was Christine Lewis, who surprised the audience by revealing that she is 86 years old, who took top place as star of the show as she hit the catwalk twice, scaling the steps on her crutches.
Away from the main stage a wide range of high-quality fashion wear was eagerly seized upon by bargain hunters who wanted to support the event, headed by Cllr Davies.
Clothing was donated by residents of Brecon and the surrounding areas, and this provided the outfits for the models and the 'marketplace' sale which was followed the next day by a coffee morning where shoppers could browse and buy clothing.
Cllr Michaela Davies said: "The people from Brecon and the surrounding areas have shown enormous generosity in hard times in supporting the fashion show and it is hugely appreciated.
"Special thanks go to Zoe Mathias, for photography during the evening, to Andrew Chainey of Tantrwm for providing the glitter and flickering fireballs which gave the evening a professional edge, to Owen Williams for organising the lighting and to the many Brecon businesses who donated raffle prizes.
"Dylan Matthews did a sterling job entertaining the audience during the interval with some songs - Brecon definitely has a great gift in Dylan."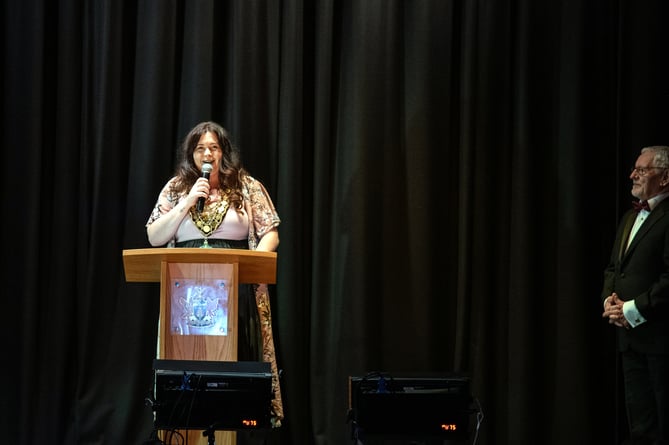 Brecon Mayor Cllr Michaela Davies addresses the audience
(Zoe Mathias)
Cllr Liz Rijnenberg added: "This was a marvellous community event and the Guildhall was definitely buzzing.
"Thanks to everyone who helped on the night, and with the preparation, including models, bar staff, make-up artists, and stewards. Definitely, a night to remember.
"The Guildhall will be open on Thursday, November 2 between 10am and 12.30pm so come along for the last chance to seize a bargain and we should be able to take the total raised to over £3,000".
The show was so successful there is talk of making it an annual event - so if you didn't manage to get your ticket this time look out for next year and snap one up early!