Get set for a walk through Wonderland this August
Hay Theatre is staging an adaptation of Alice in Wonderland this summer
Sunday 7th August 2022 6:00 am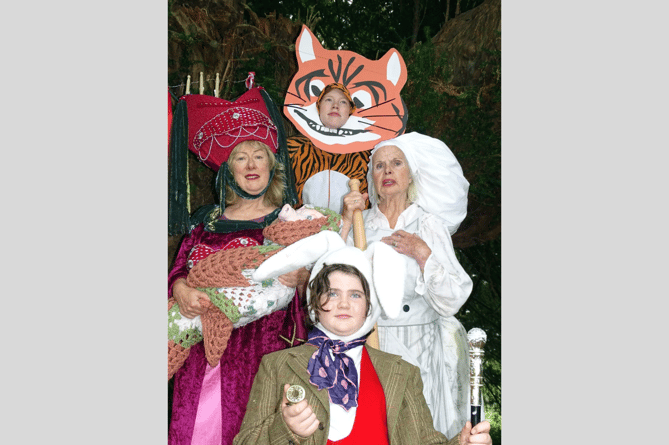 Diana Blunt as The Cook, Mary Rutherford as The Duchess, Isabella Staples as The White Rabbit and Leighton Parkes as The Cheshire Cat
(Patrick Roberts )
Subscribe newsletter
Subscribe to our email and get updates right in your inbox.
"Come along, come along, we can't be late!" says The White Rabbit, played by Isabella Staples as she leads the audience through Wonderland created by Hay Theatre in St Mary's churchyard, Cusop.
The famous novel by Lewis Carroll, 'Alice in Wonderland' has been specially adapted and directed by Hay Theatre's Artistic Director and Trustee, Janine Sharp.
The audience are taken on a journey from yew tree to yew tree and can experience for themselves life down a rabbit hole. The deep well that Alice falls into leads into the church which, flooded by the pool of tears, sweeps the audience out into the churchyard again.
There is no extravagant set, only what is there already with a few bits added, such as a giant mushroom built by Johnny Cartwright - the rest is in the narrative, the skilled acting and the use of the audience's imaginations.
"It's the kind of thing I used to play at in the garden when I was a child," explains Janine.
"Where my shed became a stables and the walls were all my horses and my swing was a spaceship, when it reached a certain height I'd jump off into another universe. It's great for children to learn to use what is around them, mixed in with their own imagination."
There are spectacular bespoke costumes made by Sue Hodgetts and Paulina Harris, members of Hay Theatre, and the audience are accompanied by The Wonderland Band, a skiffly bunch of animals led by guitarist Larry Harris.
Most of the songs are original and others are based on nursery rhyme melodies put to Lewis Carroll's poems from the book.
The cast and crew are made up of people aged 7-79 from the local community who have attended professionally-led weekly drama workshops and training by Janine herself. It is a truly intergenerational inspiration as they work seamlessly together as one big drama family.
"Do come and join us for tea" says The White Rabbit.
"But don't dilly dally or there wont be any tickets left."
The production is free and funded by The National Lottery Wales, but tickets need to be booked as only 50 people can be taken on the journey at one time.
Donations are always welcome for future productions as grant funding becomes more difficult to obtain. Hay Theatre are a not for profit Theatre Company.
The production dates are Wednesday, August 17 to Sunday, August 21. Evening performances during the week start at 7pm, and at the weekend at 3pm.
There is also an interval for the Mad Hatters Tea Party, with refreshments of Jam tarts and tea costing £2. All interval proceeds go to the church for the preservation of their beautiful church grounds, kept in good condition with the preservation of wildlife areas in mind in accordance with their conservation policy.
Hay Junior Youth Theatre starts again on Saturday, September 17 at Cusop Village Hall. Juniors 10:30am-12:30pm and seniors 1pm-3pm (£10 a session).
Hay Adult Theatre studies (HATS) is on Thursday evenings (location, time and cost yet TBC). For more information check out www.haytheatre.co.uk and push the events button to book a show ticket. For next term's classes, email [email protected] or phone Janine on 07733 055430.
Comments
To leave a comment you need to create an account. |
All comments 0