Angler's horror as bull shark spotted in the river Usk
April fools! We can confirm there was not a bull shark in the river Usk.
The shark which Mr Afon spotted in the Usk
(Bruce Afon )
Subscribe newsletter
Subscribe to our email and get updates right in your inbox.
An angler has spoken of his horror as he watched a "giant" shark swim past him in the river in Brecon.
Bruce Afon was on the banks of the river Usk this morning - Friday, April 1 - when he saw the bull shark circling a group of shocked looking ducks near Llanfaes Bridge.
The 57-year-old said: "I couldn't believe it - it was this huge shark, like the ones you seen on telly.
"I could see the ducks were upset ahead and I thought that maybe it was just larger fish swimming past.
"But it was definitely too big to be any fish I've seen in these waters. It was at least two metres - I feel sorry for anybody out kayaking today.
"First a bull shark, but what next? A bigger shark? An octopus? A freshwater crocodile? I need to know I'll be safe when I put my line out!"
The shark has since been identified as a bull shark by a local shark expert Matt Hooper who said that they are one of the few salt-water species of shark which can survive in fresh water.
Bull sharks, found all over the world but typically in warmer and shallower waters, are often considered to be the most dangerous shark due to their aggressive tendencies and their ability to migrate up rivers.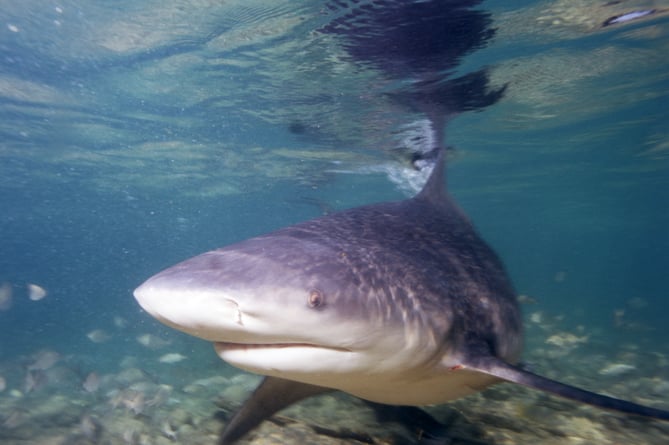 A Bull Shark up close
(Albert Kok on Wikipedia ) (Albert Kok on Wikipedia)
However, shark attacks are incredibly rare meaning that residents in the area are more likely to win the lottery or be struck by lightning that be attacked by the large aquatic beast.
Mr Hooper said: "Chances are it came here following a stream of food during in the warmer weather last week.
"With global warming heating the rivers up, these sharks can now venture further than before when they stuck to the sea, rivers like the Mississippi and the Amazon.
"They're really not fussy creatures so it would have eaten birds, fish, rubbish - anything - before eventually making it's way here.
"I'd advise anybody looking to go in the water to try to avoid dusk and dawn and to wear brightly coloured wet suits or waders."
Mr Hooper said that he is starting a campaign to create waders which range in various different colours from pink with green spots to pretend clown trousers as sharks are typically repelled by bright colours.
Comments
To leave a comment you need to create an account. |
All comments 0