School children play a part in restoring ancient woodland features to the Elan Valley
Thursday 14th April 2022 6:12 pm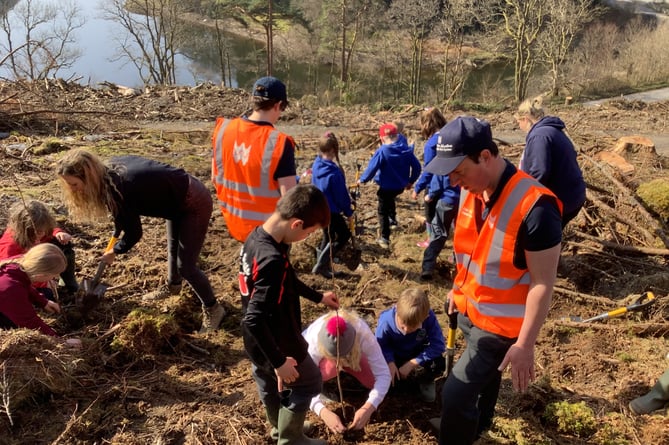 Elan Valley Rangers Leighann Briggs and Rob Andrew with school children
(Dwr Cymru - Welsh Water )
Subscribe newsletter
Subscribe to our email and get updates right in your inbox.
In November 2021, Dwr Cymru Welsh Water received a Statutory Plants Health Notice (SPHN) from Natural Resources Wales to fell diseased larch trees situated along the roadside of the Elan Valley in the area known locally as Penbont, near Pen y Garreg dam.
Trees in the forest were infected with Phytophthora Ramorum, commonly known as Larch Disease. This resulted in working in partnership with Tilhill Forestry to clear-fell the site.
The idea to invite local pupils to help replant the woodland came about in In December 2021, when Dwr Cymru Welsh Water Visitor Experience Manager, Jen Newman, was invited to a virtual meeting with the children of Rhayader Church in Wales Primary School.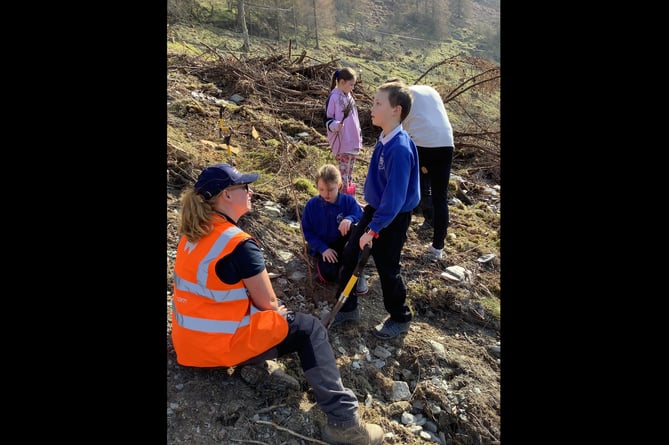 Elan Valley Ranger Beth Rees with school children
(Dwr Cymru - Welsh Water )
Jen was asked to talk about the pending tree felling at Elan Valley, and to explain the reasons why it was happening. The children asked lots of questions, such as why the forest had to be felled. They learnt about woodland management and the amazing wildlife that lives in their local Elan Valley.
Fast forward to March 2022, and pupils of Rhayader Church in Wales Primary School visited the site to help Elan Valley Rangers replant the woodland.
Mrs Dingle's class, Dosbarth Gwalch Bach (Year 3-4) got stuck in to help, and thoroughly enjoyed the experience. Planting included a mixture of native broadleaves, such as Sessile Oak and Rowan, and some mixed conifers, such as Scots Pine and some Douglas Fir. This will eventually restore ancient woodland features to the area and will help local biodiversity to flourish.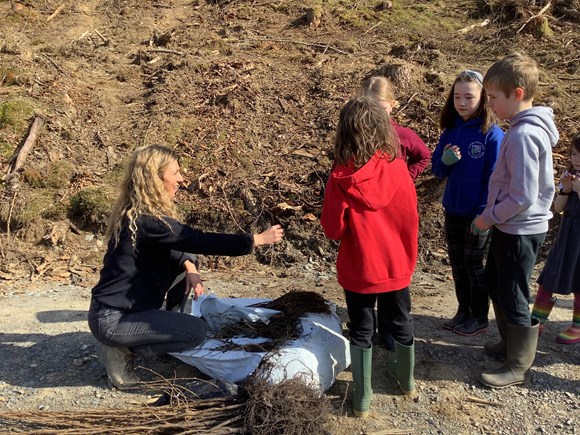 Mrs Dingle, teacher at Rhayader Church in Wales Primary School and school pupils
(Dwr Cymru - Welsh Water )
Headteacher Linda Crockett said: "Rhayader Church in Wales Primary School feel very privileged to be part of the tree planting in Penbont wood.
"The children are all aware that trees are vital to our environment. It was great to plant the variety of trees and to help create a legacy and build a new eco-system in the Elan Valley, that we can all enjoy in the future."
Part of the clear felling included removing the Douglas Fir and Scots Pine alongside the road; due to the risk of windthrow in high winds and the roots damaging the public road surface. This decision had to be made for health and safety reasons and residents and Elan Valley staff will all miss this big iconic avenue of trees.
However, working with Rhayader Church in Wales Primary School and local Chainsaw Carver, Simon O'Rouke, we are replacing the avenue with several carvings using the Douglas Fir timber.
This will provide an eye-catching display of carvings which current and future generations can enjoy for years to come. The school children were tasked with choosing a theme for the carvings and have chosen native bird species, such as Red Kite, woodpeckers, and owls. This is an exciting project, and we cannot wait to see the carvings being created and installed later in the summer.
Comments
To leave a comment you need to create an account. |
All comments 0