How Army medic Kate came to aid of crash victim
Wednesday 6th April 2016 4:00 pm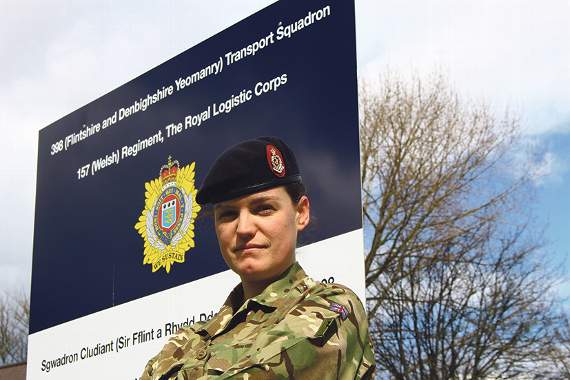 Subscribe newsletter
Subscribe to our email and get updates right in your inbox.
MODEST Army medic Kate Roberts has described helping a doctor carry out a roadside operation on a crash victim as "nothing special".
The soldiers had been travelling in a convoy, from the Sennybridge Army Camp, when they were they came across the two car crash.
Kate, a lance corporal with the Royal Welsh Transport Regiment, had been travelling back to Queensferry, North Wales with other members of regiment's 398 Squadron and arrived at the scene of the crash near the Hay Road junction before any of the emergency services on Sunday, March 20.
Three people had been injured in the afternoon crash, a woman who was in shock, a man with chest injuries from an airbag and the man who was conscious but with serious injuries.
Two doctors, who'd been passing, had already begun treating the man who suffered serious injuries but let mum of one Kate take over his care due to her knowledge and experience of dealing with serious trauma.
When paramedics and a flying doctor arrived they had to carry out an emergency operation, under general anaesthetic, on the man and Kate assisted them.
Kate, who stayed with the man until he was airlifted to hospital, said: "I don't think I've done anything special. I came across an accident and did what I was trained to do. I've been a trained combat medic for 10 years.
"I just did what I'm trained to do and then came home to be a mum," said Kate who works as a recruiter for the Army Reserve and also completed a tour of duty of Iraq in 2007.
"I live with my mum and daughter and when I came home I said 'I'm sorry I'm a bit late, there was an accident on the way home and we had to sort the kit out'. She was like 'ooh well' and then I went for a shower."
Kate, who had been driving the Army Land Rover back after a weekend training exercise at Sennybridge, said her commanding officer Trevor Speed, a civilian police officer, took charge and began directing traffic.
"We thought there was a speed camera as three cars passed us and flashed us. When we got there I thought 'ooh my God it's not a speed camera' and there were no emergency services on the scene.
"Our Commanding Officer, Trevor Speed, is a civilian police officer and he just took control of the scene and I went straight in to see the people in the cars.
"I've been on a tour of duty as a medic in Iraq in 2007 so have treated people with serious injuries."
The lance corporal has been recommended for a formal recognition from her regiment for her actions.