Policeman who risked his health in the search for Rosa, the Martyr of the Storm
Friday 15th September 2017 9:04 am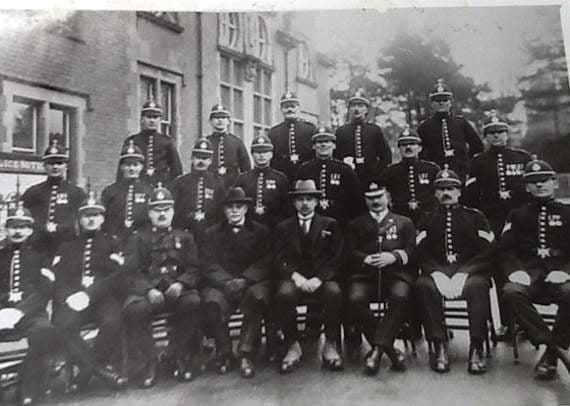 Lewis is pictured with the Radnorshire Police Squad
Subscribe newsletter
Subscribe to our email and get updates right in your inbox.
A PROUD daughter is concerned that her father's role in the attempted rescue of a women who died in a blizzard on a Radnorshire hill nearly 100 years ago is in danger of being airbrushed from history.
Jean Barnes says her father, the late Lewis Houghton Williams, always told her he was the person who found the body of Rosa Blanche Williams who died braving a snowstorm on her way home from Hay-On-Wye to Rhulen in December 1925.
Rosa was determined to return to her six small children after her weekly trip to Hay market on her pony when a bad storm hit. She refused offers to stay the night with friends in Clyro, but the treacherous weather caused her horse to stumble and Rosa to break her ankle, leaving her stranded in the snow. The tragic story was immortalised into local legend thanks to a poem written by Howey milkman A.L. Davies, entitled 'Martyr of The Storm'.
Ms Barnes said her father, a member of the Radnorshire Police Squad, was at the time suffering from a severe cold but he heroically defied doctor's orders to stay in bed to join the search for Rosa that began after she went missing on December 22 1925. He had been lodging in Glasbury after joining the squad in 1922, aged 19, and was notified that Rosa had not arrived home. His heroism in going out in such wintry weather probably escalated his flu so that he also developed a kidney infection. As a result he was later declared 'unfit' for police duties and invalided out of his beloved job with the squad.
After being apprised of the search for Rosa, Lewis contacted a colleague, Sergeant Bailey, and together they set out on horses while the storm was still violently progressing. On finding the body, the men saw Rosa had been dragged parallel by her pony along a barbed-wire fence, tearing her legs "to smithereens". The pony had by this time disappeared, and a sledge was prepared to transport the body back to Glasbury, although Lewis did not go with her. Mr Houghton-Williams lived to be 91, ironically outliving all other members of the squad despite being told to leave.
In 2013 an article in the Brecon & Radnor Express revisited Rosa Williams' story, after Hay History Group began researching the Hay market's past. The group's investigation suggested it was Rosa's uncle, Tom Lloyd of Pentre Farm, who found her body in the snow by retracing the pony's steps from Pig Tail waterfall. However, an inquest report in the Brecon & Radnor Express, dated December 31 1925, states that it was Rosa's husband who found the body after tracing the pony's footprints after it returned to the farm at 10 o'clock the morning after she disappeared.
Rosa was allegedly lying on her back with a basketful of purchases in her arms, just two and a quarter miles from home. It mentions that Sgt Bailey gave evidence at the inquest.
Another Brecon & Radnor Express story, under the same headline 'Snow Tragedy', gave an account of the incident at the time which stated that: "The distracted husband, alarmed by his wife's absence through the night, went with his farm workers and others, and made an effective search, and, in the early hours of the morning they found her horse floundering in the snow, which was over the tops of the hedges. The searchers now set to shovelling away the snow, and, 20 yards away, discovered the body of the unfortunate woman, who had perished from exposure during the night."
Jean Barnes is adamant her father and Sgt Bailey were the first to find ill-fated Rosa's body, and was therefore upset when she read an article online saying otherwise.
Jean commented on the Martyr of the Storm poem, saying it is an exquisite piece of poetry. Talking about the incident, which took place over 90 years ago, Jean, who lives in Dorset, said: "I grew up hearing tales from my father of how he and Sgt Bailey had ventured out in the snow and found Rosa's body. It was because of this he said he was subsequently declared unfit for the police squad."
Jean has a tape recording in which her father describes the desperate search for Rosa and it's unfortunate consequences for his career. Summarising the contents of the tape and the impact of those tragic events on her father, Jean said: "She (Rosa) would not have felt anything because she was so cold. She had come off her pony and my father said, 'it had disappeared down the hill.' She was dead, of course. The baskets each side of the pony had come off. A sledge was prepared for her to go back to Glasbury; my father did not go with her.
"[Earlier] when my father was summoned to the rescue, he immediately went to see his doctor, because he had a flu infection; he was immediately told 'to go to bed' – instead of which, he braved the blizzard! He sustained a strained heart and severe kidney infection. In his own words, 'It crocked me up.' He had a wonderful doctor and an even more wonderful mother, who nursed him back to health."
Lewis Houghton Williams was "off duty" for three months and subsequently put on "light duties". His police career was terminated before he could get married in his uniform in June 1926. "He was only 42, when the War ended and he was invited to return to the force, with his pension made up! My mother and father [though] decided that his health was more important than the career he had so passionately wanted."
n In light of the conflicting evidence, we may never know the full story of what happened in the search for Rosa. However if any readers can shed light on it they should email [email protected]