MP demands apology from shadow minister over Northern Ireland Troubles debate comments
Wednesday 15th June 2022 1:53 pm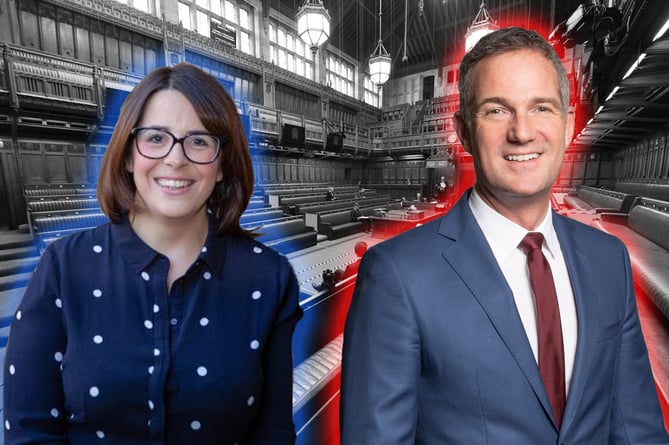 MPs Fay Jones and Peter Kyle inset over the House of Commons chamber
(Commons photo by the official Parliament Flickr - Peter Kyle from the UK Government website )
Subscribe newsletter
Subscribe to our email and get updates right in your inbox.
Brecon and Radnorshire MP Fay Jones has criticised the Labour Party after its Shadow Northern Ireland Secretary called for the rights of veterans and victims to be equal to the rights of terrorists.
Ms Jones said she reacted with anger on behalf of Brecon and Radnorshire's veterans as "Mr Kyle suggested that UK veterans should be treated equally to terrorists" as MPs debated the Northern Ireland Troubles (Legacy and Reconciliation) Bill.
It is after Labour MP Peter Kyle told MPs: "I want to make sure that the rights of victims and veterans are equal to the rights of terrorists and people who committed crime in the era of the troubles.
"This Bill does not achieve that. Proper scrutiny and proper preparation would have delivered a Bill that did."
Mr Kyle and Ms Jones were taking part in the debate on the Northern Ireland Troubles (Legacy and Reconciliation) Bill.
The Bill proposes replacing police investigations and court cases with an information recovery body. That body would offer immunity to people who co-operate with information reports for victims' families. It follows a model successful implemented in South Africa following the end of Apartheid.
Parliament debated the Northern Ireland Troubles Bill on Tuesday, May 24, which saw Labour vote against the bill which it claimed is "unfair".
Mr Kyle told the chamber: "From a quarter of a million personnel, the Director of Public Prosecutions in Northern Ireland has brought cases against six former military personnel for offences committed during the troubles.
"The vast majority of our veterans deserve the chance to talk about their service with pride. They do not need to be granted immunity; in fact, the very assumption that they might need it creates a toxic moral equivalence between military service and acts of terror.
"What has caused so much anger among the Northern Ireland veterans community is the idea that there is no fairness in who is being investigated. The Bill fails to provide a fair and balanced system for veterans that recognises their service, addresses reinvestigations and provides welfare support. Delivering a Bill that provides more benefit to terrorists than veterans or victims is not fair to anyone."
He added: "My party will be voting against this Bill today because of the equivalence it makes between people who served in the armed forces and those who committed acts of terror and because of the incredibly low threshold.
"We should remember that 722 service people lost their lives by acts of terror, and the people who committed those acts—against our armed forces—could get immunity from prosecution with the very lowest possible threshold. That is what we will be voting against today. A better process would start by listening, rather than forcing solutions on people."
The Bill covers an issue which Ms Jones has campaigned on for some time, after meeting with a number of Northern Ireland veterans who live in Brecon and Radnorshire.
Fay Jones, who visited Belfast to learn more about the issue with the Northern Ireland Affairs select committee, voted for the Bill and urged Ministers to press ahead with the plans.
The Bill passed with 285 votes to 208 - Labour and Liberal Democrat members voted against the Bill.
Ms Jones has met with a number of constituents who served during the Troubles, who say politically motivated lawyers have continued to pursue them with no evidence.
Ms Jones expressed her gratitude that this Bill will "provide a space for truth –giving closure that the families of terrorist victims badly deserve, and ending the fear for former British soldiers who have been frightened of opening the post for decades."
She said: "The Government has fulfilled its manifesto commitment to address the legacy of Northern Ireland's past through providing better outcomes for victims, survivors and their families. Veterans now have the protection they deserve, and Northern Ireland can look forward to the future it deserves.
"Mr Kyle's comments are simply outrageous. There is absolutely no equivalence whatsoever with British soldiers who were sent there to put themselves in harm's way and political terrorists.
"He should urgently apologise to every veteran in this country. It is staggering that Labour and the Liberal Democrats should add insult to injury by voting against this Bill. Voting for it would have sent a signal that they are on the side of British veterans but voting it down is a clear signal of who wants to back British veterans, and who doesn't. I will always be a passionate supporter of the UK armed forces.
"Having already secured a Welsh Veterans Commissioner and secured the future of Brecon Barracks, I will do everything in my power to ensure this legislation becomes law as soon as possible."
Comments
To leave a comment you need to create an account. |
All comments 0