Talgarth photographer wins top award for stunning portrait of centenarian veteran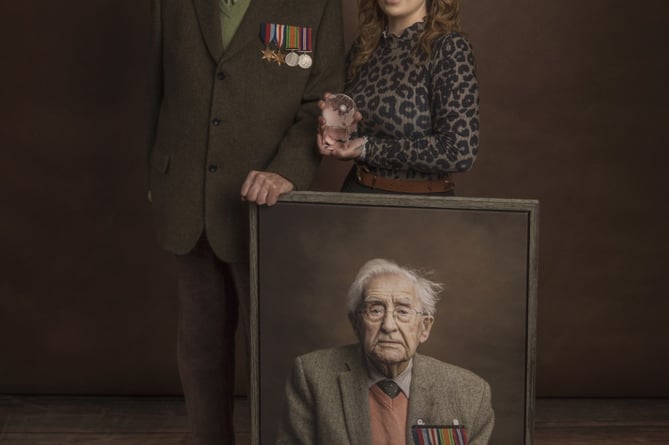 Subscribe newsletter
Subscribe to our email and get updates right in your inbox.
A photographer from Talgarth has been recognised for her stunning portrait of town legend, John Hugo Gwynne.
Kath Evans, who lives in the town with her husband and children, won the Commission Portrait of the Year category from the Society of Wedding and Portrait Photographers (SWPP).
The 37-year-old took the photo in February last year to celebrate John's 100th birthday - it was prominent during his 101st birthday celebration in February this year.
When asked what had inspired her to take the photo, Kath said it was down to his incredible milestone birthday and because he is her next door neighbour.
Kath, who has been a professional photographer for 13 years, said: "The fact he was 100 and he's my next door neighbour.
"I thought 'oh, I'm never going to get the opportunity to photograph somebody as spritely as Mr Gwynne'. I often see him tottering past my house going to get an ice cream or to get a hair cut.
"He just doesn't look 100 does he? He's such a character and everyone loves him, I just thought when he's turning 100 that I'd take this opportunity to take his portrait."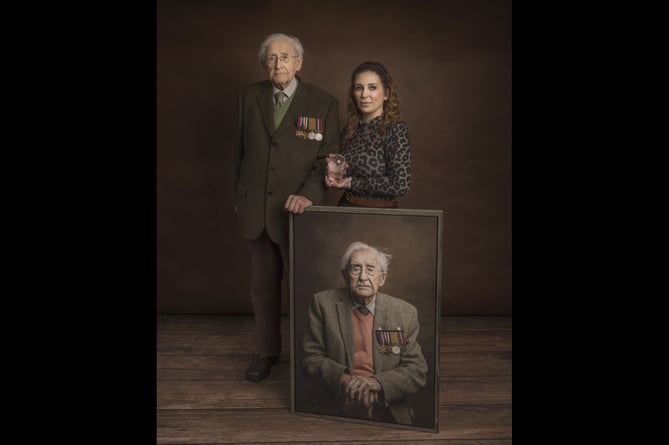 Talgarth legend John Hugo Gwynne with star photographer Kath Evans, the portrait and her trophy
(Kath Evans )
The talented photographer said she was in disbelief when she was announced as the winner of the category as she watched via a livestream from home.
Kath was at home with her family as it was her son's birthday when the awards ceremony took place and some friends attended and live-streamed the event for her.
"I always get imposters syndrome, so when I won I was actually in bed", she said.
"It was my youngest son's birthday so I couldn't go to the awards so my friends were live-streaming it.
"It actually cut off as my image came up. The video cut off, and I was like 'oh no' and then my friends sent me the video and my husband came in and I was like 'I won'', but then I was like 'I think I won… no, I did win'.
"I won and I just couldn't believe it. I was like, I'm not going to say anything until I get the certificate because I don't think I did win. I just couldn't believe it with all the talent out there."
Kath, who warn born in Tamworth before living in north Wales and moving to mid Wales when she was around nine, said she had always enjoyed taking photos and being creative with drawing and painting.
She said that when she did her A Levels she would use a film camera where she would have to manually develop the photos with a dark room afterwards.
The multi-award winning photographer said: "I loved painting, drawing and so I knew I wanted to do something artistic. I always wanted to work with children and wanted to be midwife but I need sleep so I didn't want to do nights. Then I thought, what could I do that I could do with children and artistically and so I got into photography.
"Then I had my eldest who is 13 and I thought 'I can work with children and I'm good with children' and that's how I got into photography."
"It's just like, the being accepted and being accepted in the world of photographers - it's just massive achievement for myself."
The mother-of-three said her favourite type of photography is actually newborn babies as she enjoys how challenging they can be.
She said: "You've got to get them to sleep, you've got to keep them asleep, you've got to be able to pose them. But I do like fine art photography as well obviously, which is children and people"
Kath, who has clients as far as London, is ranked as one of the top photographers in the UK, especially where newborns and baby photography is concerned.
The shutterbug, who said one of her most memorable experiences was photographing a Doctor Who themed wedding in Cardiff for a Brecon-based couple, said when asked about other awards: " With the Guild of Professional Photographers , I had my master craftsman in newborn and baby photography. I was the first in Wales to get that and sixth in the UK. In January I was named top ten international photographers for baby and newborn as well, I've won lots and lots of awards as you can see dotted around my studio.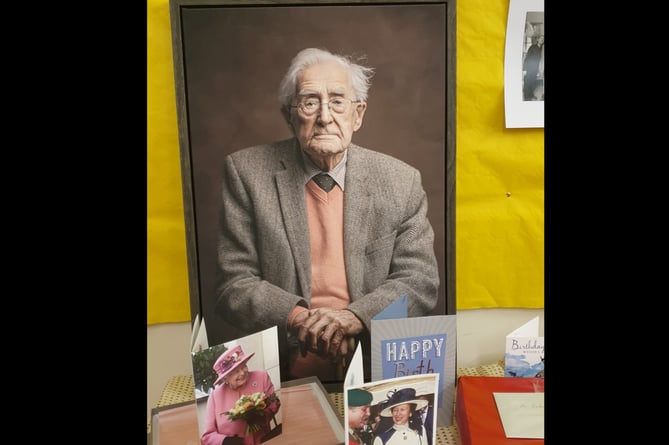 The evocative, prize winning 100th birthday portrait of John Gwynne by the prize winning Talgarth photo photographer
(Kath Evans )
"I've got the photographer's bath, baby photography, people photography - I've got quite a lot of awards."
John Gwynne, who is known by residents across Talgarth, said he couldn't get over how good the photo is.
The World War II veteran and his daughter Helen said it had been a huge surprise to see the portrait and that they hadn't comprehended the "impact it would have".
The 101-year-old said: "It's marvellous, I couldn't get over it. When she asked if she could take my photo, I was wondering what are you wanting to do this for? She didn't tell us a thing. She kept it a secret."
Helen added that it had been a birthday present for his 100th and that it had spiralled from there.
John said: "People are very pleased to see it and we showed it at my birthday when I turned 101 in February."
John said he was happy to have his party - which was attended by dozens of local residents - as he couldn't have it when he turned 100 due to Covid-19 and the weather.
The veteran, who ran the shop in Talgarth for decades until he retired at 81 and it was bought by the Co-op, is a former dispatch rider for the RAF.
Wearing his four medals - a WWII medal, a France and Germany medal, a defence medal and a victory medal - in the photo, he said he would help to pick up crashed planes.
Despite originally looking to join the police on his return to Brecon, he ended up running the shop.
Daugher Helen said said: "Several decade he was in the shop - building the business up in the 50s, 60s, 70s, 80s, 90s - he retired when he was 81."
John added: "When I was in Germany, they came around asking if everybody had a job to go back to, so I signed for the police. I sat an exam in Brecon and when I was home on leave, everything was alright, I came home and I was demobbed and it was a fortnight and I no pocket money, so I thought 'oh well', so I took my mother's business over in the shop."
The police responded to John after he started work at the shop, however he informed them that it was then too late.
John told another story of how he unexpectedly bumped into his brother in France.
He said: "I was attached to a small unit which used to pick up small aircrafts and we were outside on the border of Germany.
"It was after the second world war to pick it up. The sergeant said he didn't want me - it was the men who worked on the plane, not me. He said there's a canteen up the road, Churchill Canteen, go and have a cup of tea. As I opened the door, who was coming out, my eldest brother. He was in the army.
"Do you want to know what he said to me? 'What the hell are you doing here?' He was shocked to see me.
"We had some good days and some bad days, we lived in tents for 18 months. When we landed in France, as the army advanced, we were waiting behind in case of any crashed aircrafts. Good days and bad days."
When deciding the winner of the competition, the SWPP judges commented that they "loved the sincerity of the image" which they don't often see.
They said it is believable, not overly-processed and a "clear celebration" of the subject - John.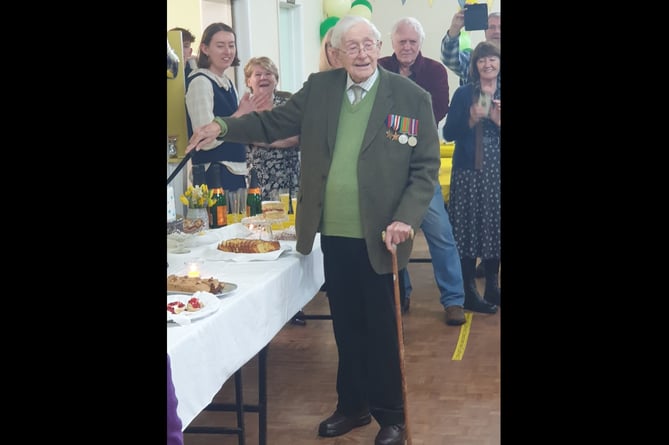 (John Gwynne cuts his 101st birthday cake, surrounded by family and friends )
The Powys County Councillor for Talgarth, William Powell, also joined the celebration of both Kath's achievement and John's involvement.
Cllr Powell said: "It's truly remarkable that, only weeks after Talgarth came to together to celebrate his 101st birthday, Centenarian John Gwynne was at the heart of another celebration.
"This time it was the photo portrait of him, commissioned for his 100th birthday in 2021, that wowed a star studded London awards ceremony and propelled our Talgarth based photographer Kath Evans, a member of The Guild of Photographers, to win this prestigious international award.
"Kath being recognised as 'Commissioned Photographer of the Year 2021' in the Societies of Photographers annual event is a huge achievement, and Kath, her family, friends and clients will be delighted for her to share the limelight with Talgarth's favourite son, much loved war veteran and shop-keeper, John Gwynne. Both deserve our warmest congratulations and our respect'."
Comments
To leave a comment you need to create an account. |
All comments 0