Thousands welcomed to the Kingdom of Books as it celebrated its first Pride in style
🏳️‍🌈 Hay came together to celebrate everybody in the LGBTQ+ Community 🏳️‍🌈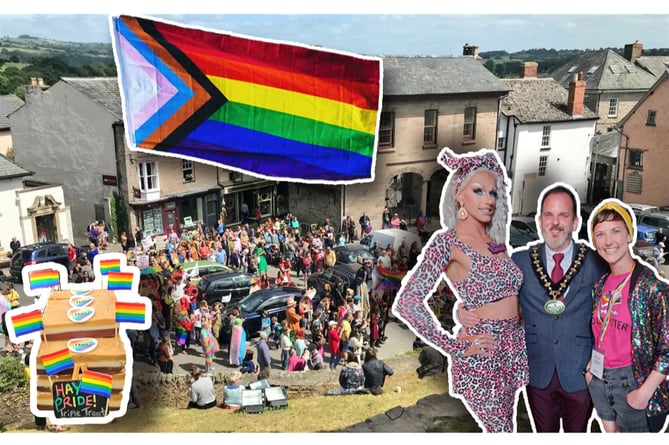 Thousands of people attended Hay-on-Wye for its first Pride event
(Talgarth Matters, Unsplash & Gareth Ratcliffe )
Subscribe newsletter
Subscribe to our email and get updates right in your inbox.
Hay-on-Wye welcomed thousands of people last Sunday as it hosted its first Pride celebration.
Rainbow and loved-themed slogans filled the streets as residents came together to support and celebrate its LGBTQ+ community.
Organised by friends Graham Nolan and Helen Campbell, the colourful and emotional event filled the streets on June 12.
The two friends, who both identify as bisexual, had been organising the event for more than a year which saw talks with panels, live bands, Samba and Taiko bands and a top drag artist.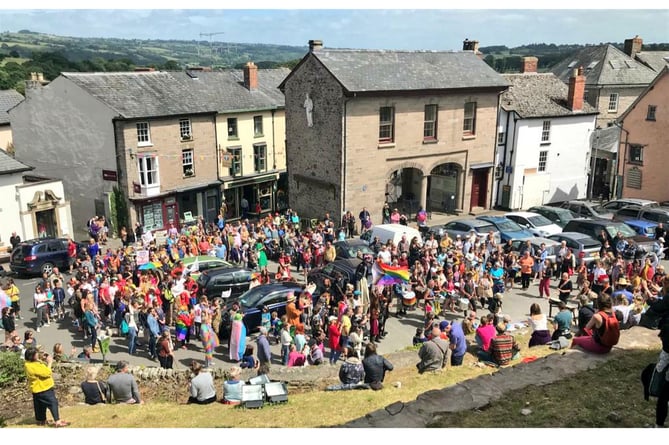 The crowds gathering for Pride in Hay-on-Wye
Graham said that, especially as it was their first event, they had hoped for a couple of hundred guests but were thrilled when more people arrived.
He said: "It was absolutely incredible, we had way more people come than we thought were going to do turn up.
"We think in the parade alone there must have been about 400 people. Throughout the day, I think, anywhere between 800 and 1000. It was just absolutely incredible."
The day started with everyone meeting at the Globe At Hay, owned by Hilary Lawson and home to the famous How The Light Gets In festival, with banners and drums.
Hay Pride CIC, the official group behind the event, had already established its Samba band - which had been practising for a couple of months prior to Sunday - and held a banner-making workshop the day before - both met guests at the Globe before parading in the town.
Graham said: "It started off with people meeting at the Globe At Hay and gathering together, there was a samba band which lead the procession through town and so it was a real party kind of carnival kind of atmosphere.
"There had been a banner-making workshop the day before at the Globe, so people had these really colourful banners with slogans like "love is love" and signs.
"So many young people came from Hay and the surrounding village, and people came down from Hereford. Groups of queer young people organised their own transport and car-sharing and carpooling to get here."
The Pride procession went through the town through the quiet streets of Hay-on-Wye on Sunday morning.
Residents came outside to welcome the procession and cheer them on - the road was closed by Powys County Council temporarily.
Graham said there was no resistance to the parade. He said: "There was no resistance, nothing other than love and support which was astoundingly heart-warming."
The samba band then led the procession all the way through town to the steps of the Castle where they met a Taiko drumming group for a drum-off.
Graham said: "The emotions were high, it was just silent except for these big Japanese crumbs and these incredible Samba bands. One band would drum and then the other would copy the rhythm. So many people were crying, it was just incredibly moving.
"I was on the street today and at least five people stopped me who I've never met before who said how great it was and how moving it was, and how it was like how old Hay used to be [before the pandemic]t.
"It was a magic day for everyone. Lots of people came, including people who haven't been out since before the pandemic."
Following the drum-off, the winner of Miss Drag UK welcomed everyone - with the use of her crown and sceptre - to Hay Castle.
Drag artist Boo La Croux welcomed everyone through the gates where there were food stalls and market traders waiting.
Graham said they organised around 16 market stalls and made sure they all offered items which were reasonably priced and affordable so that people - especially young people - could afford to buy items for under £5.
The event also saw a whole host of live music throughout the day.
Graham said: "Then there was a programme of music through the day from- local bands and queer musicians from the local area. We said there's a platform where anybody who identified as part of our community and wanted to play on the day would be able to. It was really special."
The event at the castle finished at 6pm - so many people attended that the food traders sold out. Graham also said that the market traders did really well.
In the evening, the group went back to the Globe At Hay where Graham said there was a "party atmosphere".
He said: "There was more live music, both indoors and outdoors, but also had a serious element to it as well.
"We got people got to email in or post on social media and questions around sexuality and gender, and we had a panel of experts from different voluntary sector organisations to answer those questions and that was actually in the education room at the castle."
Speaking about how the day had gone, Graham added: "We had just incredible support from allies as well as there being lots of queer people there. There were also loads of people who support or have family members or who have friends in the community and it's just such an all-inclusive, incredible community event."
The most unique aspect of the event was a dog show held as part of Pride - dogs turned up with rainbow coat and tricks to help celebrate.
Graham, who compared with the funny Boo La Croux, said that no dogs were left out as they were all recognised for their participation.
He said: "We had a dog show and every single dog show that entered the dog show won 'best in show' because at Hay Pride we decided that no dog would be better than any other dog, so people got to put their own categories of dogs as well."
The Pride event took over a year of planning as well as fundraising from the community and funding from the national lottery - not to mention support from local shops and the community.
Graham mentioned support from local businesses, including PCI who provided assistance with risk assessments and providing volunteers on the day, as well as a donation towards the event.
The Glob At Hay has also offered a space to Hay Pride CIC once a month so they can continue to support the local LGBTQ+ community.
Graham, who confirmed there will be another Pride in Hay next year, said: "We've just been bowled away by local businesses, all the shops in Hay. - loads of them did rainbow window displays and it was such a feeling of unity which was incredible.
"Another one is being planned for next year - The Globe at Hay again has been incredibly supportive and they've offered us a free monthly night where we will be planning for our local LGBTQ+ community.
"There's nowhere for them to go around here and meet with one another so we'll be hosting other events coming up, some on health and wellbeing, and others like disco stuff and partying or live bands. Every month will have at least one event where we can get together as a community and just have a space where people came come and be themselves really.
"When we first invented the idea of Hay Pride we said it was going to be a love letter from Hay's queer community to the town for being so accepting and warm and that's exactly what it was. There was so much love from the town towards our community and from our community towards our town."
The Chairman of Powys County Council, who is also the councillor for Hay-on-Wye, Gareth Ratcliffe attended the event and said it was "brilliant" to see people being themselves and enjoying the day.
He said: "It was really good, I didn't manage to make the day but the reports I had back were that it was an absolutely fantastic day. People were able to come out in Hay and be themselves in a safe environment and engage with one another. "To see the community of Hay and the surrounding area - I know people came from all over the place - can come together and express themselves, and we can learn from one another.
"You look at Pride events that are held in cities and to see something held in a small town with a population of 1,100 in Hay-on-Wye, is absolutely amazing.
"It's absolutely brilliant that an event like that can come to a small town in Powys. It's education for people and the interaction which we would never have except for in that kind of event, and to have it on our doorstep is absolutely brilliant.
"I was talking to the drag artist Boo La Croux and I said 'we all hide who we are in certain terms, it could be sexuality or a mental health issue. Every day, 90 per cent of people are hiding their true selves in some shape or form, so to have that environment where we don't have to hide ourselves - if it's about your sexuality, if it's about your mental health, if it's about financial problems - if we're able to speak about it, it's going to be a better place'."
Comments
To leave a comment you need to create an account. |
All comments 0