Why muscular dystrophy won't stop me completing my fourth aquathlon
Thursday 9th May 2019 10:03 am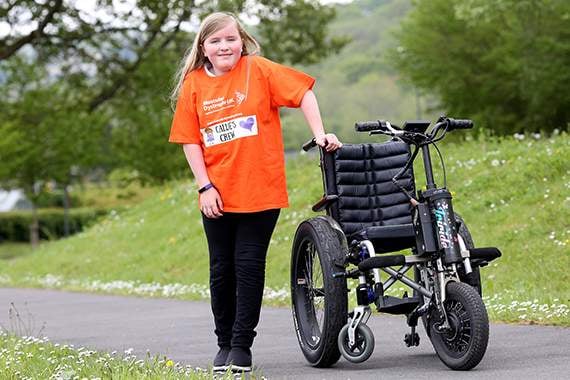 Callie Howe plans to leave her wheelchair to take part in the Stephen Lewis TriStars Aquathlon on May 26
()
Subscribe newsletter
Subscribe to our email and get updates right in your inbox.
"Don't let the things you can't do stop you from doing what you can do."
This is written on my school wall and is one of my favourite quotes. It is a motto that I live by.
My name is Callie, I'm 10 years old and live in Ystradgynlais with my mum, dad and brother Sam. I was diagnosed with a very rare type of muscular dystrophy at the age of two but I haven't allowed this to stop me from competing in and completing three aquathlons and raising over £3,000 for charity. I will be competing in my 4th aquathlon at the end of this month.
My mum and dad took me and my twin brother Sam to watch IronMan competitions in Tenby. It's amazing to see what people do, the efforts and struggle they go to. I enjoyed high fiving everyone that passed, even though they were tired, they smiled and kept going. This really inspired me.
Together with my mum I set up Callie's Crew Fund to raise awareness and funds for research into Ullrich congenital muscular dystrophy.
In addition to the aquathlons and to raise more funds for Callie's Crew my twin brother and I did indoor skydiving and my older brother Dwayne and my sister Tammy walked over hot coals.
The 2019 Stephen Lewis TriStars Aquathlon is in Ystradgynlais on 26/05/2019 for ages 8 to 16. There are still places available although they are running out very quickly. I will be there and you can donate money to Callie's crew at https://www.musculardystrophyuk.org/get-involved/family-funds/funds/callie/