Brecon show true mettle to reach Plate final
Wednesday 3rd April 2019 11:10 am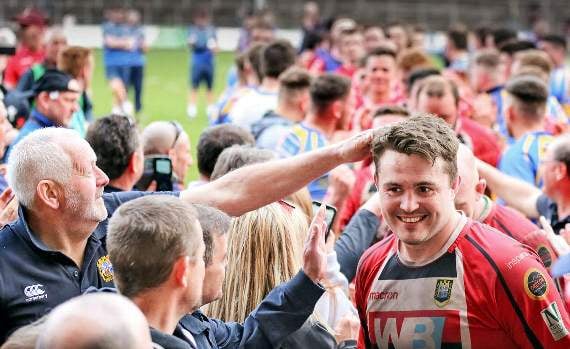 Brecon RFC celebrate after beating Penallta in the semi final of the WRU Plate semi final. Picture by Jonathan Chatfield
Subscribe newsletter
Subscribe to our email and get updates right in your inbox.
Semi Finals are notoriously difficult. A tremendous effort has gone in to get to that stage and yet on the brink of the showcase final it could all be snatched away. The journey for Brecon has been hard but exciting after playing just one of their previous five WRU Plate matches at home. Now, however, on neutral ground at Ebbw Vale they faced opponents with real pedigree. The two sides are locked in a titanic battle at the top of Division 1 East with Brecon holding the advantage by just one point and a game in hand. To date Brecon have a 100% record while Penallta have lost just once. With neither side yet having played one another this season this was step into the unknown, particularly as far as Brecon were concerned. Although the club boasts a history stretching back almost 150 years they have never appeared in a National final. The same could not be said for their opponents. Although the Pitmen cannot boast of such a long history their achievements of recent years have been second to none. They have appeared in the Plate final three times, winning it in 2012, losing to a last minute drop goal in 2016 and winning again in 2017. So while Brecon held a slightly better playing record this year Penallta had the experience of having been there and having tasted success. The game, therefore, could not have been more finely balanced.
From the outset there was commitment from both sides. Forwards drove hard into one another and there were numerous thunderous tackles while both sides looked to create forward momentum before moving the ball wide. When that did happen there were glimpses of opportunities but both defences were outstanding and quickly closed down any space. For Brecon there was a worrying feature during the opening quarter. Their first six throw in's at the line out were lost to the opposition. Such an imbalance could easily have allowed Penallta to dominate. The fact that it didn't happen was down to the all-round effort of their pack which compensated in other ways. The back row trio of Ioan Edwards, Davey Herdman and Ewan Williams were outstanding in the loose. They carried, tackled and harassed at the break down and so effective were they at that phase that they either won a number of turn overs or they forced penalties. The front row of Elgan Lewis, Richie Davies and Andy Nicholl also played their part. They posted a warning at the first scrum when they shunted Penallta backwards and it was from a scrum penalty that Dean Gunter put Brecon into the lead.
As the first quarter ended so Brecon eradicated their line out problems. Ioan Edwards in particular, showed great dexterity to secure good possession but at the same time Penallta became more competitive at the scrum. Defences remained watertight and coped effectively in spite of being faced by a range of attacking options. Dean Gunter, on the end of a great service from scrum half, Geraint Workman, mixed up his game intelligently. Off slower ball he brought the likes of Jonathan James and Darren Witcomb on the short passes allowing them to make some impressive drives into the heart of the defence and it took massive commitment on behalf of the Penallta team to bring the rampaging forwards to the ground. Off quicker ball he went wide and both Sam Campbell and Eifion Jones probed impressively for an opening. Finally Brecon's territorial advantage told as they were awarded a kickable penalty which Gunter converted beautifully from wide out.
At the following kick off, an area of play where Brecon have suffered in the past, Jonathan James and Ryan Price ruled supreme. They attacked the kick and ran the ball back at their opponents. Turning defence into attack they created an opening and Davey Herdman charged for the line. He was halted under the posts by an excellent tackle by full back Lawrence Pritchard and Penallta won a penalty at the breakdown. Clearing their lines they worked up-field and exposed Brecon to some severe pressure for the first time. Impressive scrum half Aeron Bidgood triggered an attack with a snipe around the fringe and then a quickly taken tapped penalty. Second row Ross Edwards made one of his trademark barnstorming runs and Penallta threatened to score until a great Ewan Williams turnover won Brecon a relieving penalty. Now out of the danger zone Sam Campbell made a half break and wing Ryan Williams brilliantly caught a chip ahead to put Brecon on the attack. They earned anther penalty which Gunter converted to give Brecon a nine points to nil half time lead.
Penallta needed to respond early in the second half and they did. Lawrence Pritchard kicked a straightforward penalty to bring them back to single score arrears. The gap was again taken to nine points after a great Ewan Williams run lead to a further penalty which Gunter converted. Brecon now seemed to grow in confidence. Jake Crockett came into play and looked dangerous and Eifion Jones threatened again in mid-field. Once again the try line remained unbroken but once again Brecon won a penalty and Gunter extended the lead to a 12 point margin.
Mid way through the second half and the game had reached a critical stage. Penallta had to score next and Brecon almost immediately gifted them that opportunity. Trying to run out of defence a wide pass was thrown and it was easily intercepted. It required an outstanding cover tackle by Jake Crockett to prevent the wing from scoring but it initiated a period of intense Penallta pressure. For fully ten minutes Brecon were pegged back in or near their 22. Penallta threw everything at Brecon but for a long time the defence was magnificent. The back three of Crockett, Lewys Cooke and Ryan Williams had a big part to play in that defence. Their gathering of chips ahead under the most severe pressure was outstanding and they closed down any gaps there were on the wide outside. Still Penallta hammered away until eventually Darren Witcomb gave away a penalty and was sent to the sin bin. Reduced to 14 men Brecon's defence held for a while but finally gave when Ross Edwards burst through to score a try which Lawrence Pritchard converted.
Now just five points down and with ten minutes to play Penallta were most certainly in with the chance of victory. Fortunately for Brecon their captain Ewan Williams played a major part in leading his team towards safety. He caught a relieving kick near the touch line on half way and charged back towards the Penallta 22. He was eventually stopped but left players in his wake and the ball was moved infield to where prop Richie Davies carried on the movement. He made a great break and then turned the ball back to Sam Campbell who held up the defence before giving Crockett some space on the wing. As the tackle came in he passed inside to supporting Williams who cantered over for a brilliant try. Gunter converted.
The game still was not over. Penallta were not prepared to give up. From the kick off they returned to the attack and with the last play before Brecon were restored to 15 men Edwards dived over for his second try. Lawrence's conversion brought the deficit back to just 5 points and they had a chance but that chance faded as Witcomb returned to the fray and fresh legs of Kevin Jones, Ryan Williams and Ryan James galvanised the side and allowed Brecon to finish the game with play in the Penallta half. What celebrations erupted at the end of the game. The dream of reaching a final at the Principality Stadium had become a reality but there will be little time to relax and reflect as Brecon face a punishing schedule of 5 matches in the four weeks leading up to the Final against Bonymaen on 28th April.