Builth Youth unable to spoil champions' party
Wednesday 15th May 2019 9:26 am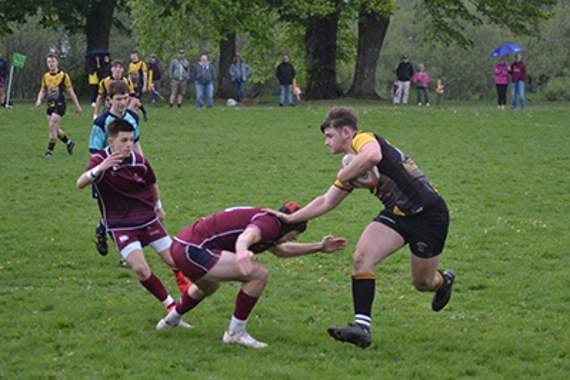 Steffan Towns on his way to scoring
Subscribe newsletter
Subscribe to our email and get updates right in your inbox.
THE final league match of the season was a home game for Builth Youth and they were up against Cardiff Quins, who needed a win to take the league title.
The first 20 minutes were dominated by the Young Bulls who had the visitors pinned in their own half.
Two penalties awarded saw them opt for kicks to the corners and opportunities from line-outs to score, but both chances were squandered.
A third penalty on the five-metre line was again wasted when an unplanned tap and go resulted in a turnover.
This failure to turn pressure into points opened the door in the last five minutes of the first half for Quins, who took their opportunity when a break in midfield saw them run in a try under the posts, however they failed to convert when Builth, quickly off the line, charged the attempt down.
With all to play for in the second half tensions started to rise and the referee showed his first yellow cards within 10 minutes sending both hookers to the sin bin.
Just as Builth seemed to be pressing again, a lack of discipline gave away a penalty in front of the posts putting the visitors eight points clear.
With the second half ticking away and yellow carded players back on the pitch, Builth stepped up momentum and were throwing everything at the visitors.
Quins started to pick up injuries slowing down the flow of the game, but their own indiscipline under pressure saw the Quins hooker again carded and a red saw him leave the field for good.
With Builth now well and truly in control of the game a try felt inevitable and it was centre Steffan Towns who bulldozed his way through three players to cross the line for a well-deserved five points.
Towns also comfortably added the conversion despite being badly winded from his try.
With just one point between the teams going into the last minute, Builth were on the attack with the score at 7-8 to the visitors but were unable to keep ball in play.
Cardiff Quins went away with the Premier Tier 2 league title with Builth settling for mid table. A fantastic league season for the the Young Bulls having moved up two divisions this year.
The club has thanked Builth Youth sponsors Paul Mills, Builth Building Services, BNE, MV & JM Davies, GR Morris, CB Jones and The Stonecroft Inn.