Almost one hundred vehicles turn out for Fullmoon Tractor Run
Wednesday 10th November 2021 7:00 am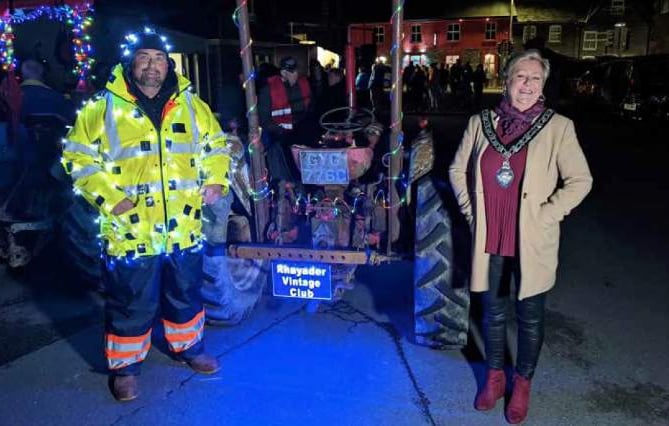 Ralph Powell with Mayor Cllr Lee Price
()
Subscribe newsletter
Subscribe to our email and get updates right in your inbox.
The Fullmoon Tractor Run took place under the night skies of Rhayader and the Elan Valley last week.
The event was first run in 2019 after Rhayader Vintage Club Member Ralph Powell sold the idea to fellow club members.
Sadly, just one week before the 2020 event, the pandemic struck and it had to be postponed.
After a long wait the Smithfield was glowing with amber beacons and fairy lights once again.
Rhayader Mayor Cllr Lee Price waved off just under 100 tractors lorries and 4x4s as they headed on a parade lap of town and out towards the Elan Valley. Many spectators gathered in the town before heading to Pont Ar Elan to catch a second glimpse of the participants.
Event Director Ralph Powell said: "I'm very pleased with the turn out with some participants coming from as far as Salisbury and the Forest of Dean. The atmosphere was electric!"
The Fullmoon run concludes the years events for Rhayader Vintage Club and it will be making a presentation to the Bracken Trust and The DPJ Foundation at its vintage show in July.