Brecon Beacons named best destination
Saturday 24th March 2018 1:44 pm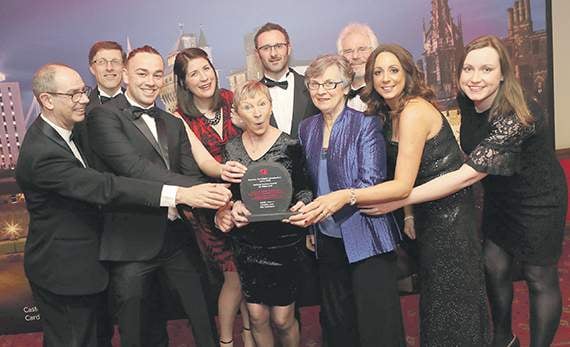 Staff from Brecon Beacons National Park Authority and Brecon Beacons Tourism collect their award
()
Subscribe newsletter
Subscribe to our email and get updates right in your inbox.
THE Brecon Beacons has been named the best destination in Wales.
Judges awarded the title to the area ahead of the Wye Valley and Forest of Dean, the south east Wales winer, Fishguard Bay in west Wales and the Zip World adventure centre in north Wales.
The Brecon Beacons National Park Authority and trade body Brecon Beacons Tourism, on behalf of the Brecon Beacons Destination Partnership, submitted the Brecon Beacons into the Best Destination category at the National Tourism Awards.
Representatives from the partnership accepted the award from tourism minister Lord Dafydd Elis-Thomas. Laura Thomas, executive director of Brecon Beacons Tourism, said: "We are delighted that the Brecon Beacons destination was recognised as Wales' Best Destination. This award is dedicated to all those people and incredible tourism businesses who have helped and supported us to showcase the Brecon Beacons.
"We now want to celebrate this achievement and attract more people to the region so as to further boost our local economy."
She said a series of celebratory events will be planned to mark the award which was the culmination of hard work between between the public and private sectors to develop the 'Brecon Beacons' brand.
Mel Doel, chairman of the national park authority, said: "This award is a result of the dedication and determination shown by the organisations that make up Brecon Beacons Sustainable Destination Partnership, Brecon Beacons National Park Authority, Brecon Beacons Tourism, our Local Authorities, the many diverse local businesses and our wardens and volunteer network, who all provide endless time and effort in helping us shape this magnificent landscape.
"Creating a 'destination' involves an integrated partnership approach and this is something that we've proudly achieved in the Brecon Beacons and we're extremely proud to be chosen as Wales' Best Destination."
The awards are organised by Wales' tourism promotion agency Visit Wales. The awarding of the best destination title to the landlocked Brecon Becons is a shot in the arm for the area as Visit Wales is marketing the country under the theme of 'Year of the Sea' during 2018.