Brecon taster day for shared facilities held by college and museum
Thursday 17th March 2022 7:03 am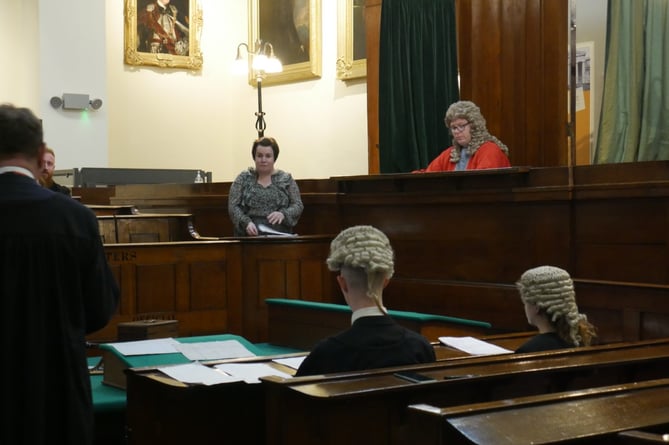 The court room in session in y Gaer
(NPTC Group )
Subscribe newsletter
Subscribe to our email and get updates right in your inbox.
Y Gaer welcomed staff and students of Brecon Beacons College (part of the NPTC Group of Colleges) to a taster day of practical learning and tours of its facilities.
The taster day, on Wednesday, March 9, was in preparation for the College, which is part of the NPTC Group of Colleges, to share the building for lessons in the future. Also open for the event was the café in the library, which is set to open full-time in the coming months and be run by the Catering staff of the College Group.
Students with the Health, Social and Childcare school started off the day in the library by reading stories to children from Buttons Nursery and Puffins Nursery. Childcare Level 3 students Becca Hiscocks and Nia Thomas were happy with the opportunity, with Becca finding it an "amazing experience to see some of the Childcare facilities we'll be using" and Nia believing it will "help for when I qualify and look for a job in a Childcare setting."
Childcare Lecturer, Rachel Halsey, said: "This was a fantastic opportunity for the learners to develop their confidence and skills as well as meet with Childcare Practitioners. The learners are studying to achieve careers as Nursery Nurses, Teaching Assistants and Primary School teachers and have recently started placements in local nurseries and primary schools."
Those studying Business & Law Level 3 and BA Business, Management & IT, put their understanding of the legal system to the test in a mock trial in the Court Room. The Campus Manager, Kevin Morris, was on "trial" for theft, and students played the roles of Judge, Jury, lawyers, police and witnesses. Staff and students from the other schools in the College were a captive audience.
The students participating in the "trial", who acted this out in full costume, had to use their initiative by responding to "heckles" from the accused and audience. In the end, Mr Morris was sentenced for the original offense, and Contempt of Court, after shouting between him and the Judge.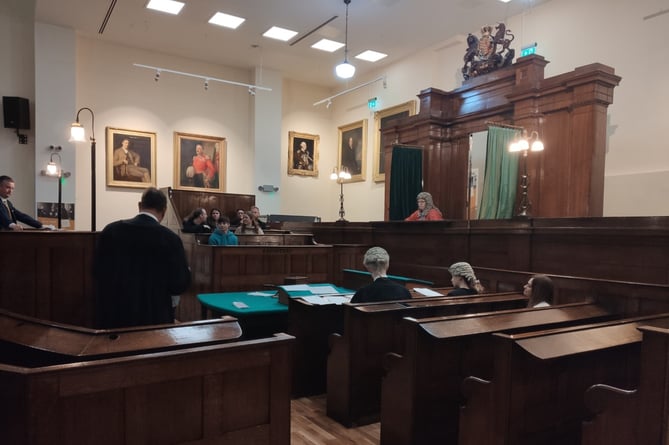 After the "trial" Samantha Ford, a first-year student in Business & Law Level 3, said: "I played a witness, and learned a lot about how vital witnesses are to a case. The law has become more real for me today. Having that practical experience was really fun, and I'm more interested in a Law career after taking part."
Robin Flower, Lecturer for Business & Law, said: "It was really inspirational for our students to re-enact a trial in the historic surroundings of the Museum Court Room. They were supported by an appreciative audience of fellow students, and the staff of Y Gaer and the College."
On the events of the taster day, the Principal of the NPTC Group of Colleges, Mark Dacey, said: "During our visit, we've seen our students gain practical experience helped by the enthusiasm and knowledge of the staff at Y Gaer. As we collaborate and share facilities more going forward, there will be further opportunities for linking the curriculum with the museum and library."
"I think the partnership between the College and Museum is something you don't see in most towns. We're public services co-habiting a space in the town centre for the betterment of the local community, and now offering students a cultural experience they wouldn't have had access to before."
Nina Davies, Head of Housing & Community Development for Powys County Council, said:
"This was a fantastic event day for young adults and a great opportunity to engage Brecon Beacons College students with our library and museum services. Y Gaer and College staff have worked in partnership to deliver a variety of interactive cultural and educational activities for the students and are very much looking forward to further engagement opportunities in the not-too-distant future."
"As a valued community resource, y Gaer is well placed to connect students with their culture and heritage, as well as supporting education and skill-building in an inspiring setting. There are lots of creative ideas for new events – I look forward to seeing what happens next!"
Comments
To leave a comment you need to create an account. |
All comments 0