Charity 24-hour rugby match to be held on Pen y Fan in memory of Brecon rugby stalwart Gonzo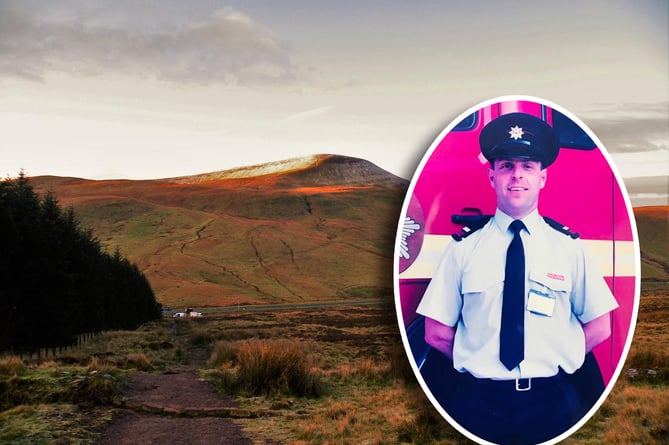 Andrew "Gonzo" Williams inset over a photo of Pen y Fan
(Beacons by Dawidx on Pixabay - Gonzo photo supplied )
Subscribe newsletter
Subscribe to our email and get updates right in your inbox.
The highest peak in the Brecon Beacons will host a 24-hour charity rugby match in memory of a Brecon rugby stalwart.
The friends and family of Andrew Williams, known as Gonzo, will be taking to Pen y Fan to play a continuous game of five aside touch rugby to raise money for four charities which were important to the Brecon legend before he sadly passed away last August following a battle with Covid-19 and Multiple Myeloma Cancer.
The game, which will take place 886 metres up, will be played to raise funds for Myeloma UK, the Firefighters Charity, Rookwood SPUR - a neuro and spinal rehabilitation charity in Cardiff which Gonzo spent time at during his own rehabilitation- and, the Wales Air Ambulance Charity.
Titled Gonzo's Game, the rugby match will start at 6am on Friday, June 17th before finishing at 6am on Saturday, June 18th - Gonzo's birthday.
Gonzo's brother Paul Williams said: "It's a 24-hour-continuous touch rugby game for charity which will held be up on the peak of Pen y Fan.
"We've named it Gonzo's Game in memory of my late brother and we'll be raising funds for four charities that were close to his heart and supported him through his journey battling Multiple Myeloma Cancer."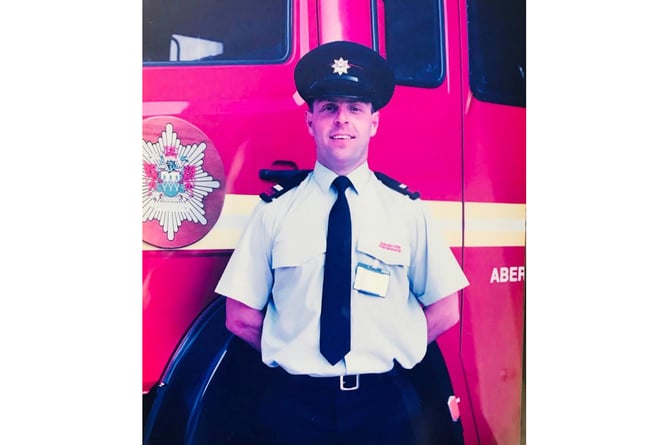 Gonzo worked as a full time firefighter
(Photo supplied ) (Photo supplied)
Paul, who lives in Bristol with his fiancée but is originally from Brecon, explained that a committee had come together to plan the game later this month.
The 44-year-old said: "There's a committee made up of family and close friends.
"That includes Andrew's fiancée Lisa Jenkins, his cousins Alan Taylor and Sarah Pritchard, his best friends Lyn Parry and Martyn Keylock, another close friend of the family Glenda Evans and Des Lally who is also a good friend of my brother's and the family."
When asked about those playing, he added: "It will be a group of family and good friends from his immediate friendship group and Brecon rugby club. His eldest son Ryan will also be a key part of the game itself.
"There will be a group of us going up Pen y Fan and playing the game between us for the 24 hours."
Paul, who will be participating in the 24-hour-match, said there will be up to 10 people embarking on the journey up Pen y Fan who will be involved in the game.
The game will be a five-a-side rugby match to share the load through the 24 hours - including taking breaks.
He said: "It will be ten players playing five-a-side on an ongoing basis over the 24 hours.
"We'll be up there for the 24 hours duration but there will be a change over to have some short breaks''
Gonzo, who was well known and loved around Brecon, sadly passed away peacefully on Wednesday, August 25th last year at The Grange hospital in Cwmbran.
A full-time firefighter with Mid and West Wales Fire and Rescue Service, Gonzo was a passionate rugby player and heavily involved with Brecon RFC.
Along with his love for rugby, Gonzo loved his hometown of Brecon and the Beacons which is partly what inspired the idea for the setting of the charity match.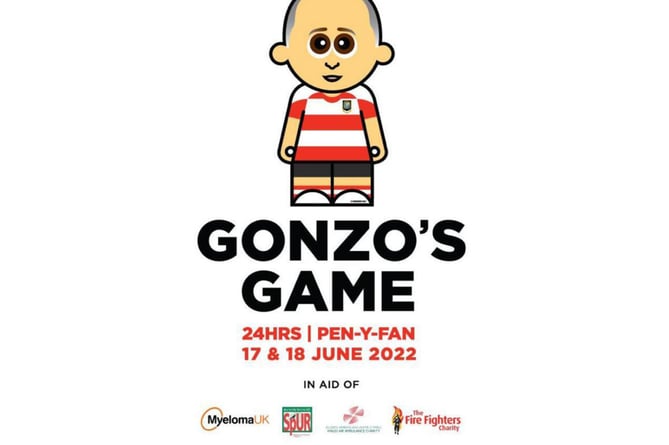 The poster for the 24-hour rugby match
(Supplied ) (Supplied)
A lot of thought has gone into the rugby match in Gonzo's memory which will finish on what would have been his 53rd birthday.
Paul said: "My brother sadly passed away last August, he was at high risk of Covid due to having Multiple Myeloma Cancer and tragically was one of the many who lost their lives from Covid-19.
"But prior to that he'd had a four-year battle with Multiple Myeloma so in terms of his challenges and journey through myeloma cancer, he'd received a range of support through the charities that I've mentioned.
"Saturday, the [June] 18th will be his birthday so in terms of his memory we wanted to run this event and promote and spread awareness for the four charities, which all resonated heavily with him.
"He was a life-long rugby player, supporter and coach so the game of rugby was his passion and also he's a very proud, Brecon citizen and loved the Beacons so we just put those together, in the Beacons themselves with a game of rugby, we just thought it would be great to raise the awareness and the funds for the charity."
When asked if the group were nervous about playing rugby on top of the mountain, Paul said they are "quite comfortable" following some initial nerves.
The group have checked out their environment and are accompanied by figures like Des Lally who knows the mountain well following his own past charity endeavours - including climbing the tallest peak in the Beacons 365 times in a year.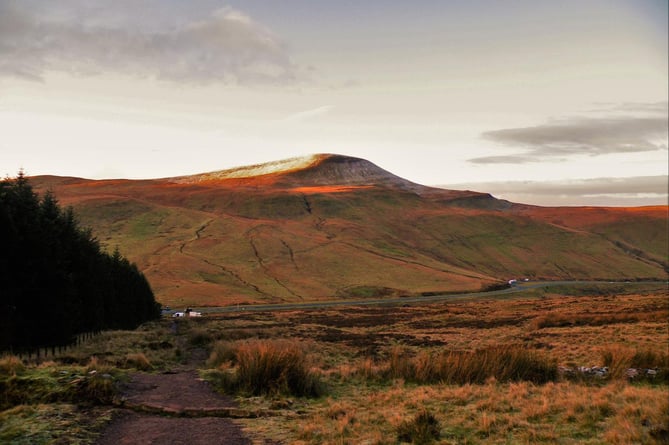 Pen y Fan
(Dawidx on Unsplash ) (Dawidx on Unsplash)
He said: "Des Lally came up with the idea given his many, many times walking up Pen y Fan for his fundraising, so he knows the mountain better than anybody.
"Having seen the environment and what it's like up there, we're all quite comfortable. Some of the guys were up there training last week, just having a bit of a run-around. We're more than happy with it.
"Hopefully, it'll capture the imaginations of people - it's a bit of a different environment to your standard rugby game.
While the team are happy with their surroundings, Paul said they are "quite nervous" about the amount of time they will spend participating in the game when asked.
Paul told The Brecon & Radnor Express: "I think we're all quite nervous on that [the amount of time], it's clearly an endurance event rather than being a standard rugby match.
"It will be a very passive game of touch rugby as opposed to what you would tend to see on the TV. It is going to be a very low intensity and steady game shall we say.
"It's definitely going to challenge us all in terms of the length of time we're going to have to spend up there."
On his death last year, brave Gonzo left behind his fiancée Lisa, his children Ryan and Ioan, his parents Norman and Yvonne, his brother Paul and partner Katy.
Tributes to the local celebrity described him as a passionate and loved man - Brecon RFC paid a large tribute to their former committee member, player & supporter.
A JustGiving page has been set up for Gonzo's Game which is a collective pot which links to each of the four charities.
Paul said: "it's got links to all four different charities so people can go in and choose which charity they wish to donate to, but in essence that all goes into the same pot."
When asked about a goal amount, he added:
"It's whatever people can donate to be honest, we've put an upper limit of £5,000 as a starting point, but if we could get anywhere near that it would be fantastic. It's started amazingly, we've raised over £1000 already. The more we can raise the better to support these valuable charities."
The JustGiving page has already received various donations ahead of the game which lists each charity represented as "separate team members".
In its description, the Gonzo's Game JustGiving thanks donors and says: "24 Hour Charity Touch Rugby game to raise funds in the memory of Andrew 'Gonzo' Williams & in aid of charities Myeloma UK, The Firefighters Charity, Rookwood SPUR and Wales Air Ambulance Charity.
"Gonzo tragically passed away in August 21' after a four-year battle with Myeloma, as a passionate and lifelong rugby player, referee, coach and supporter this is the first fundraising event in his memory to raise funds and awareness for these amazing charities who provided Andrew with invaluable support throughout his battle with Myeloma and were all close to his heart.
"Never more comfortable on or by the side of a rugby pitch, a 24-hour rugby match will be a fitting tribute to Andrew's love for the game which will be played by his family and friends (and possibly some special guests…??) on top of the iconic Pen-Y-Fan in the Brecon Beacons, sat above his beloved hometown of Brecon.
"As Andrew's family and friends, we want his legacy to live on and raise awareness and any funds possible to support these charities, all donations are very gratefully received, and we would like to distribute the funds to each charity as equal as possible".
For more information and to donate towards Gonzo's Game, visit its JustGiving page here: https://www.justgiving.com/team/gonzosgame.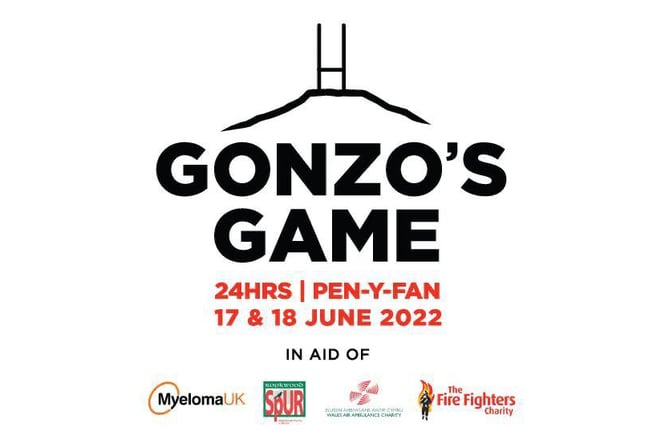 The charities which will receive the proceeds of the match
(Supplied ) (Supplied)
Comments
To leave a comment you need to create an account. |
All comments 0