Councillor calls for resignations if school isn't saved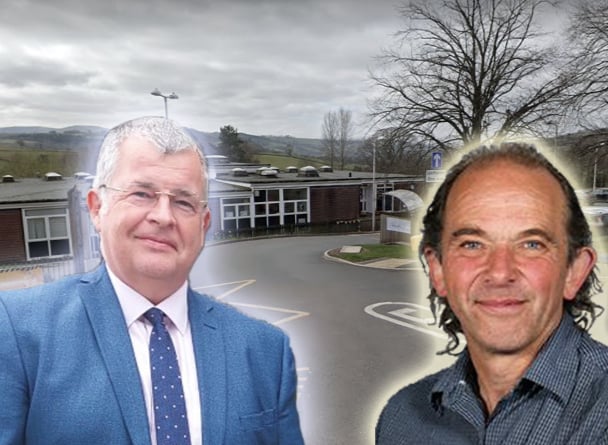 Cllr Iain McIntosh and Cllr Pete Roberts inset over Cradoc School
(Cradoc photo from Google Street View )
Subscribe newsletter
Subscribe to our email and get updates right in your inbox.
A Powys County Councillor has called for the Powys Liberal Democrat councillors to resign if they cannot commit to saving and rebuilding Cradoc School.
Cllr Iain McIntosh has accused the Powys Lib Dem group of "pulling the wool" over people's eyes following the cabinet member for learning's attempt to defend the closure of Cradoc, Mount Street Juniors and Mountain Street Infants schools last week.
Cllr McIntosh, who has accused the party of breaking its pre-election promise to try to save rural schools, shared a video to his social media accounts following this week's edition of the Brecon & Radnor Express.
Cllr McIntosh said in the video, which can be watched in full below: "My message now to Pete Roberts, James Gibson-Watt, Jane Dodds and their Liberal Democrat colleagues - you made very clear to all of Powys you would try unequivocally to save and rebuild Cradoc School.
"Can you please commit to that now. If you can't, I believe you and your fellow Liberal Democrat colleagues should all resign now forcing by-elections where the public can vote on your renewed commitment to close primary schools in Powys."
In the video, which was published on Wednesday, Cllr McIntosh highlights the promises of one of the Welsh Lib Dem candidates, Raif Devlin, who was not successful in his bid to join Powys County Council.
In the video, Mr Devlin said: "Under our strategy for education in Powys, schools like Cradoc will be brought back from the brink of closure, and their futures secured.
"To save and rebuild a school which matters so much to us all, vote for a political party that recognised the importance of rural schools just like Cradoc, and believes in the future of rural communities and has the means to deliver it."
In the edition, which came out on Wednesday, August 3, cabinet member for learning Cllr Pete Roberts defended the school closures saying the party had given clear commitments to Llanbedr Church in Wales School and Llanfihangel Rhydithon County Primary School which they had delivered on.
Cllr Roberts said: "During the election campaign we gave clear commitments to Llanbedr and Dolau about how we would proceed if we were elected and we have delivered. We also committed to retaining smaller schools in cluster arrangements and phase 1 of the Cradoc - Mount Street proposals achieves that aim.
"What we were unaware of was that the Cabinet of which Cllr Iain was a member had not disclosed the minimum £76m backlog on schools maintenance which would take a council tax rise of at least 20 per cent to clear in the next five years.
"In this context and, given the significant hidden costs at the Cradoc site revealed by Cllr Iain's motion, and subject to business cases, the previous Conservative decisions leave no option other than to continue with their plans or risk this school and schools elsewhere having to close on health and safety grounds."
Cllr Roberts was in response to an earlier statement by Cllr McIntosh when a motion to save Cradoc school was defeated.
Cllr McIntosh described the defeat as "the biggest betrayal in local election history" and as being like "sticking two fingers up" to parents, children, and school staff.
Comments
To leave a comment you need to create an account. |
All comments 0