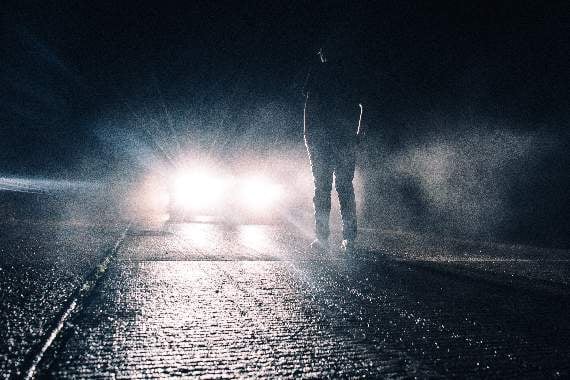 Car headlights at night cause ghostly shadows
()
Subscribe newsletter
Subscribe to our email and get updates right in your inbox.
DO ghosts haunt the highways of mid Wales? Sightings have been reported of ghostly apparitions in Powys, and new research reveals more drivers than you may have imagined say they have seen roadside phantoms.
According to research, one in seven British people, which is 13% of drivers surveyed, believe that they have seen a ghost while driving. Although the figure is lower in Wales, at one in 10 (or 10%), there have been a number of spooky episodes recorded on the roads that cross the Brecon and Radnorshire countryside.
Craig Y Nos Castle, in Pen-y-Cae, is known as the most haunted castle in Wales. The estate was once owned by acclaimed opera singer Adelina Patti and her family, as well as being used as a sanatorium for children. It is, according to its current owners, haunted by a number of ghosts.
The Castle sits alongside the A4067, that runs from Brecon to Ystradgynlais, and with Powys having the largest road network in Wales, it comes as no surprise that there have been a number of ghost sightings on the roads in the county, especially whilst driving at night.
Over a third (34%) of those surveyed said that they believed in the idea of ghosts, perhaps due to our cultural belief in the existence of phantoms and spiritual visions.
A strange roadside sighting was reported on the A470, near Llyswen, heading north towards Builth Wells on January 12, 2008.
A driver and passenger spotted what they thought was an older gentleman standing by the side of the road. He stood around six foot tall and wore a long grey coat. However, the head was oval in shape, possessed no features, and gave off a faint glow. Immediately after passing the entity, the driver felt hot and shivery, and this lasted for around a minute.
In June of the same year, a figure wearing a cloak with a hood was spotted by a driver and his passenger while driving over the bridge near St Cewydd's Church in Disserth, near Llandrindod Wells.
An old Welsh ghost story details one supernatural experience. Whilst walking along the road by the canal between Llangynidr and Crickhowell, the Rev H Elwyn Thomas saw "an old man over whose face the leaden-coloured skin was tightly stretched; the lips were thin and bloodless, and the half-open mouth toothless. The figure was also bizarrely dressed - hardly dressed, in fact. Two filthy strips of calico were wound round and round its emaciated body, and that was all."
This spirit pursued the Reverend to Llangynidr, where Mr Thomas collapsed from nerves and exhaustion. The witness was later told the ghost was of a mad old miser.
James O'Malley, of Select Car Leasing which conducted the survey, said: "Britain has a rich heritage when it comes to the things that go bump in the night and we're considered a 'haunted isle' for a reason.
"But it's not just ancient, creaking castles where spooks reside – because there's almost as many ghosts as there are potholes on our haunted highways.
"It's enough to give you pause for thought the next time you inch your way down a narrow, unlit country road in the middle of the night."
For more information about paranormal appearances and legends in your local area visit: linktext