Earlier this month saw the official opening of the new staff car park at Breconshire War Memorial Hospital.
Dame Shân Legge-Bourke, whose grandfather donated the land for the hospital and opened it in 1928, officially opened the car park on Wednesday, September 13. Dame Shân is also the president of the Brecon Hospital League of Friends.
The new staff car park, situated just above the hospital, provides an additional 70 parking spaces, alleviating pressure on the main car park and allowing more space for patients using the hospital.
The car park incorporates a number of electric car charging points, solar lighting and several additional environmental and ecological benefits.
The work was paid for with a combination of Welsh government funding together with £500,000 of generous donations from a number of charitable groups including; the Jack and Iris Lloyd Memorial Fund, Brecon League of Friends and the Moondance Foundation.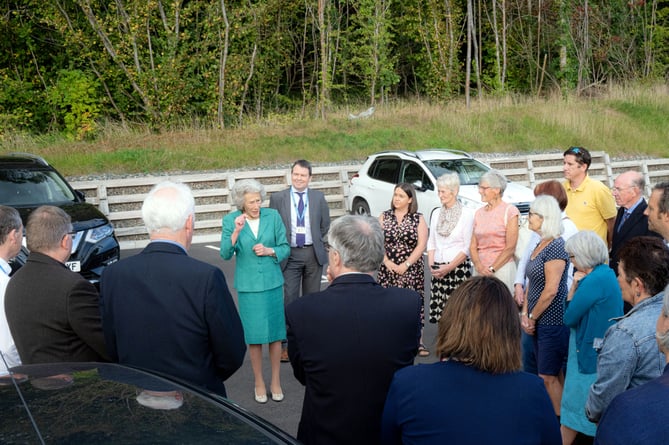 The new staff car park provides an additional 70 parking spaces
(.)
Dr Carl Cooper, Chair of Powys Teaching Health Board welcomed Dame Shân to open the facility saying: 
"I was delighted to be with Dame Shân Legge-Bourke and others whose work had resulted in the provision of the new staff car park in Brecon Hospital. This is a wonderful example of the local community working with the health board in ways that improve patient experience and access. By having a dedicated staff car park, the lower car park is more available for patients and visitors.
"The development has also ensured we support environmental sustainability by installing solar powered lighting, bat boxes, amphibian ladders etc. On behalf of the board, I express sincere gratitude to the League of Friends, Iris & Jack Lloyd Memorial Trust, Moondance Foundation, Welsh Government together with the designers & contractors for this impressive collaboration."