Residents urged to complete bowel screening tests and not to ignore cancer signs
Sunday 15th May 2022 8:00 pm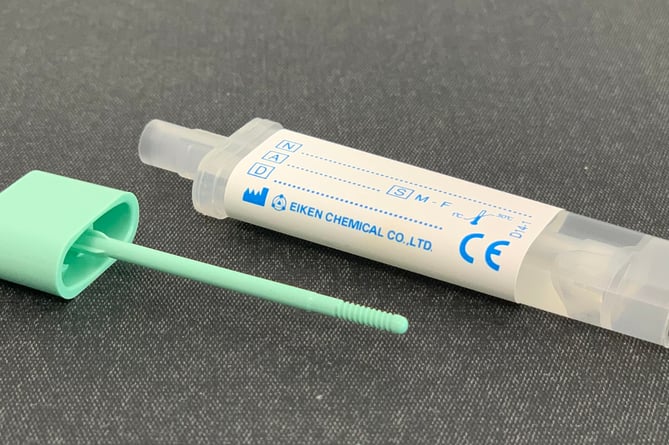 Faecal Immunochemical Test
(Whispyhistory on Wikki Commons )
Subscribe newsletter
Subscribe to our email and get updates right in your inbox.
Mid-Powys GPs have asked residents not to ignore the signs and complete their bowel cancer test when it arrives.
Bowel Screening Wales is responsible for the NHS bowel screening programme in Wales. Bowel screening aims to find cancer at an early stage when treatment is likely to be more effective. Early detection is key. At least 9 out of 10 people will survive bowel cancer if it's found and treated early. The test kit is designed to measure how much blood is in your poo and can be completed at home. Once you have sent your test, your results will be back within two weeks. Men and women aged between 58 and 74, and who are living in Wales are invited to take the test every two years.
Evidence shows that screening people at a younger age would enable more bowel cancers to be picked up earlier, where treatment is likely to be more effective, and survival chances improved. The symptoms of bowel cancer can include: Bleeding from your bottom and/or blood in your poo, a persistent and unexplained change in bowel habit, unexplained weight loss, extreme tiredness for no obvious reason, pain or lump in your tummy.
A Mid-Powys GP Spokesperson said. "It is key that as many people as possible take part and return the test kits. An early indication of bowel cancer can save lives."
"Bowel screening reduces the risk of people in Wales dying from bowel cancer and every year the programme tests over 150,000 people through the home kits from these we are able to identify hundreds of participants who can be offered further investigation or treatment."
"I would encourage anyone who receives a testing pack to read the information pack that comes with your test kit carefully. The more people who take part, the better chance we have of identifying and supporting people with bowel cancer."
"I would encourage those newly eligible to carefully read the information pack that comes with your test kit to help you make an informed choice on taking part in bowel screening."
Both men and women aged 58 to 74 will be invited for bowel screening with a free NHS test kit sent to their homes every two years.
Bowel Screening Wales now uses the Faecal Immunochemical Test (FIT) kit, which is easier for people to use, and only one poo sample is needed. Invitations and test kits are sent by post to their home, and participants are asked to complete the test kit and return it to Bowel Screening Wales in a pre-paid envelope using the Royal Mail postal system.
Comments
To leave a comment you need to create an account. |
All comments 0