Jubilee medals for cave rescuers
The latest major incident, the rescue of George Linnane, resulted in the longest stretcher carry in UK history through the OFD cave system in November last year.
Tuesday 2nd August 2022 11:00 am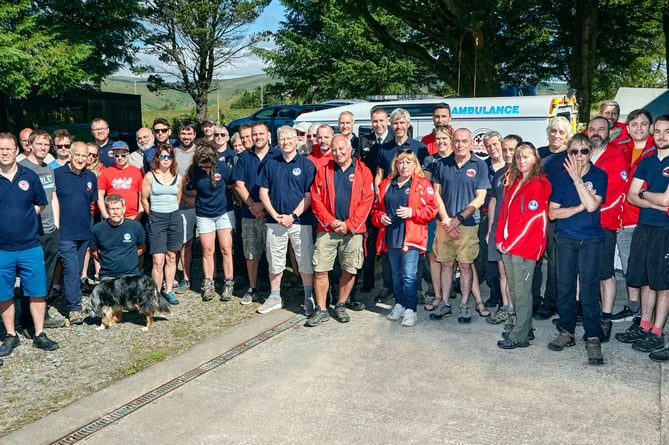 Cave rescue platinum medal holders pictured with other other members of the team
(SMWCRT )
Subscribe newsletter
Subscribe to our email and get updates right in your inbox.
90 members of a cave rescue team have received royal recognition for their work at a recent presentation.
On July 9, South & Mid Wales Cave Rescue Team (SMWCRT) took the opportunity to present the Queen's Platinum Jubilee medals to those who had qualified for the award.
For the Platinum Jubilee, medals have been awarded to people who work in public service - including the voluntary emergency services - and who had completed five full years of service on February 6 2022.
Chief Inspector Andrew Pitt from Dyfed-Powys Police kindly agreed to present the medals at Penwyllt, as many members of the cave rescue team were there that day for a skills training day.
The sun shone, tea, cakes and biscuits were consumed and individual photos were taken as well as a group photo of all the training session participants.
The chief inspector chatted with many members of the team and was given a copy of the cavers' magazine 'Descent', which contained details of the major rescue that took place in November last year in Ogof Ffynnon Ddu at Penwyllt in the Swansea Valley, lasting 54 hours.
Out of 134 SMWCRT members, consisting of both probationary and full team members, 90 were eligible to receive Platinum Jubilee medals as cave rescuers. 16 of the 90 members of SMWCRT will receive their medals from another team or other public service organisation. SMWCRT will be presenting more of the medals on Saturday, August 27 at a fundraising auction at Penwyllt.
SMWCRT provides a search and rescue service for people and animals requiring assistance underground, 24 hours a day, 365 days a year. Working on behalf of the police and fire service, the team responds to a wide range of incidents, including lost or injured cavers, trapped pets and livestock. The team also aids other emergency services looking for missing persons and technical support to other rescue services. Although the primary role of SMWCRT is that of a cave rescue team, set up to support cave and mine explorers, they also work closely with mountain rescue and other rescue teams to respond to a wide range of incidents.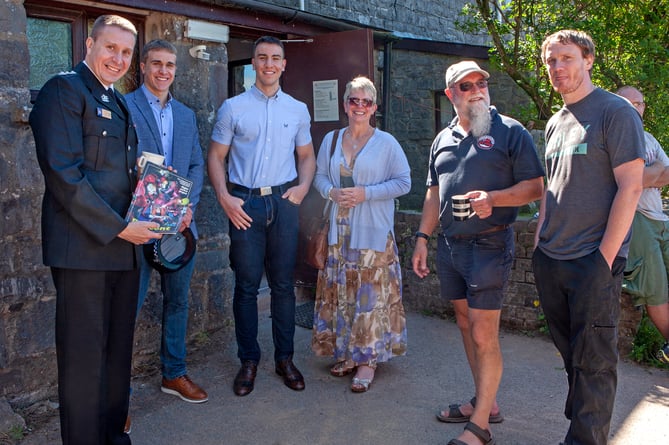 Chief Inspector Pitt holding Descent, with his family, George Linanne on the right and a team member
(SMWCRT )
SMWCRT is a volunteer organisation and charity established in 1946 to assist people and animals in need underground. They are one of the oldest and largest rescue teams in the country, covering caves and mines sites across all of South and Mid Wales, an area containing some of the longest and deepest caves in the UK and the entirety of three police force operating areas.
The skills and experience within SMWCRT have enabled the team to support major incidents such as the Gleision Colliery disaster (2011), searching for the missing schoolgirl April Jones in the Machynlleth area (2012), providing onsite support and UK assistance on the Thailand Cave Rescue (2018). The latest major incident, the rescue of George Linnane, resulted in the longest stretcher carry in UK history through the OFD cave system (2021). A documentary about this rescue, 'The Rescue: 54 Hours Under the Ground', was shown on BBC One recently and is still available on BBC iPlayer.
SMWCRT relies on volunteer time and public donations to operate this free rescue service. With around 134 team members it is one of the largest rescue teams in the UK, which is necessary as some of the rescues undertaken have lasted 3 days or more and could place anywhere in the Team's 5500km² operational area.
The team has a headquarters and depot at Penwyllt in the Swansea Valley where cave rescue equipment, Land Rover ambulance and rescue control base are located. This is supported by a secondary base near Llangattock which covers the caves in the Gwent area. A store of specialist mines rescue equipment in Mid Wales is also maintained.
The Team is funded entirely through public donations. It costs over £16,000 a year to maintain this rescue ready service. All donations help to fund the three equipment stores, Land Rover ambulance and specialist training for the volunteers that make up the Team. Donations can be made by visiting: smwcrt.org/donate.html
Comments
To leave a comment you need to create an account. |
All comments 0