Mum gears up for charity car show in daughter's memory
Thursday 14th September 2017 2:16 pm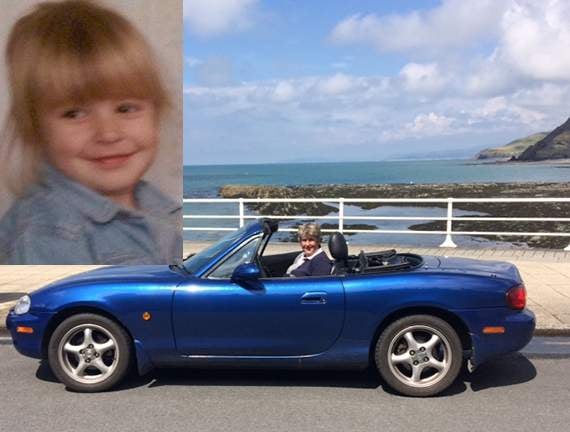 Stephanie in her limited edition BMW MX5. Inset, daughter Hannah.
()
Subscribe newsletter
Subscribe to our email and get updates right in your inbox.
A mum from St Harmon in Radnorshire will play a key part in the Big Welsh Car Show on Sunday in honour of her late daughter who died from leukaemia in 1999.
Stephanie Adams will be exhibiting her limited edition MX5 car to the public at the event, taking place at Chepstow Racecourse, Monmouthshire, for blood cancer research charity Bloodwise during this September's Blood Cancer Awareness Month.
Her daughter, Hannah Hurll, was diagnosed with acute myeloid leukaemia in 1996 at the age of four, undergoing chemotherapy followed by a bone marrow transplant but sadly relapsed six months later and passed away at just six-years-old.
Ambulance driver Stephanie, 49, said: "The whole experience and nightmare has stuck with us all and we wanted to do something to help others. My son, Ian, now a grown lad at 22-years-old, was found to be a match last year for an Italian girl and he donated his stem cells, giving her a chance of life.
"I am exhibiting my little limited edition MX5, known as Fanny, at the Big Welsh Car Show in honour of all my children and the wonderful love they bring me. I brought her last year for some fun, little knowing how special she is. Since then I have learned more about this car and I am having great fun driving her."
Around 39,000 people of all ages including both children and adults are diagnosed with blood cancers and related disorders every year in the UK, with 14,000 cases claiming lives.
Rachael Davies, Regional Manager at Bloodwise says: "We are very grateful to car exhibitors like Stephanie who help to make the event so unique and spectacular. The day itself has such a fun atmosphere, and with kids going free there's no better excuse for a family day out.
"While we have made great strides in finding better treatments for blood cancer, sadly the disease is still the third biggest cancer killer and the fifth most common cancer. That's why the support from those exhibiting and attending the Big Welsh Car Show is so important in ensuring we can continue to fund the research that will lead to more effective and kinder treatments for all patients."
It is hoped the Sunday, September 17 event will be as popular as last year's which raised thousands for research into blood cancers like leukaemia, lymphoma and myeloma. As well as classic cars, the show will feature crafts, food, a funfair and music from Heart FM's DJ Jason Harrold.