Our picks of the best at the Hay Festival
Thursday 6th April 2017 3:09 pm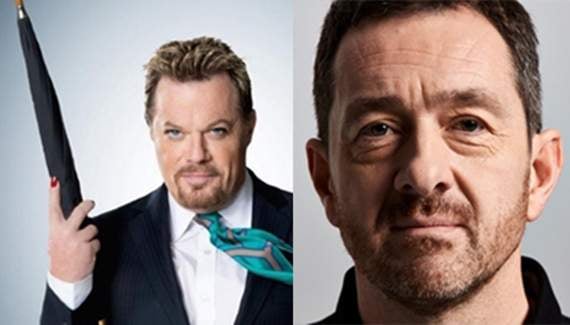 Eddie Izzard and Chris Boardman
Subscribe newsletter
Subscribe to our email and get updates right in your inbox.
BOOKING for this year's Hay Festival that features appearances from US senator Bernie Sanders through to chat show hosts Graham Norton and Michael Parkinson is to open on Friday.
The festival has also clarified that former Queen guitarist Brian May isn't performing at the festival but delivering his first ever public talk on his new book Queen in 3-D.
It is the first autobiography from the record breaking band.
This year's festival in Hay-on-Wye runs from May 25 to June 4 and also marks its 30th anniversary.
Festival boss Peter Florence said: "For 30 years Hay Festival has brought readers and writers together to share stories and ideas, to imagine the world – to tell our truths and renew our lives.
"We've seen the world move from paper to the digital realm, we've witnessed boundaries and languages shift, and vast migrations of people and money. We trust writers and the authority of the published word. We love stories and we love to throw a party."
Comedian Eddie Izzard returns to Hay after 20 years.
Former Deputy Prime Minister Nick Clegg promises to lift the lid on the "workings and failings" of the 2010-15 coalition government. The then Liberal Democrat leader appeared at short notice at the 2010 Festival just weeks after taking his party into power for the first time in 80 years. The MP's wife, Miriam Gonzalez Durantez is also appearing at the festival to discuss her Spanish cookery book and the European Union.
Barcelona 1992 Olympic cycling hero Chris Boardman is in conversation with William Fotheringham.
Legendary DJ Norman Jay, famed for his Good Times sound system at the Notting Hill Carnival, launches the Sound of the Baskervilles at Baskerville Hall. Other DJs appearing during the week include DJ Yoda and Craig Charles.
Writer Horatio Clare, who grew up in Cwmdu, discusses the myths and legends of the Brecon Beacons. Horatio makes a number of appearances throughout the week.
Satirist Marcus Brigstocke interrogates former Newsnight presenter Jeremy Paxman.
Former Labour shadow chancellor, and Strictly Come Dancing Star, Ed Balls talks highs and lows in and out of politics with Joan Bakewell. His wife, former shadow home secretary Yvette Copper will also appear at the festival, on Tuesday, when she quizzes Sky News presenter Sophy Ridge about sexism, resilience and opportunity.
Actor, comedian and chat show host Graham Norton introduces his debut novel Holding which uncovers the secrets of an Irish community when human remains are found on a farm.
Garry Kasparov, regarded as the greatest chess player in the world, will be talking to Stephen Fry 20 years to the month on from his first ever defeat, to IBM supercomputer Deep Blue.
The Russian grandmaster talks to Fry, the festival's president, for the first time about what is regarded as a watershed moment in the history of technology when machine intelligence could beat human intellect (Sold Out).
Controversial artist Tracey Emin in conversation with GQ editor Dylan Jones.
Gina Miller - the woman who led the High Court fightback to Theresa May's approach to Brexit - will be discussing "who actually holds power in Britain".
Labour MP, and former deputy leader, Harriet Harman talks to the leader of the Everyday Sexism project Laura Bates.
National poet of Wales Ifor ap Glyn discusses the famed poet Hedd Wyn who lost his life in the First World War before he could claim his poetry prize at the National Eisteddfod - leading to the empty chair at the Birkenhead crowning ceremony.
Another former Lib Dem leader arrives in Hay. Paddy Ashdown discusses Game of Spies a true story featuring a British secret agent, the Gestapo, the French Resistance and the most controversial betrayal in wartime France.
Former Queen guitarist Brian May introduces his book Queen in 3-D capturing the band in 3-D stereoscopic photographs.
Poet Matthew Francis re-tells the classic of early Welsh literature and myth; the Mabinogi.
The team behind dark Welsh detective series Hinterland discuss the hit TV show's silent character, the Ceredigion landscape, with photographer David Wilson.
Chat show host Michael Parkinson recalls his notable interviews with the legendary boxer Muhammad Ali which form the basis of his latest book.
UK-based American comedian Reginald D Hunter brings his Some People VS Reginald D Hunter show to Hay.
Former Pop Idol Will Young performs jazz standards and new adaptations mixed with some funny stories and "charming commentary".
Indo-Welsh collaboration Khamira fuses Welsh folk, Indian classical, rock and jazz and brings together members of Welsh jazz/folk band Burum with three of India's young new wave of genre-breaking musicians.
Richard Hayman discuses the River Wye, that has both a Welsh and English heritage, as a psychological and physical barrier.
BBC Middle East editor Jeremy Bowen discuss his new 25-part Radio 4 series that combines his first-hand accounts of the area with analysis of the politics, economics and societies he's reported on since he first arrived in the Gulf in 1990.
Countryfile presenter Adam Henson discuses his book Like Farmer Like Son exploring his bond with his life-long hero; dad Joe. The son of stage and film star Leslie Henson, Joe choose to peruse a career as a farmer and overcame a serious stammer to become a regular broadcaster on Country Matters.
He started the year with a knighthood and six months on legendary comic Ken Dodd return to celebrate Hay's 30th anniversary with his unique Happiness Show.
TV and radio presenter Gemma Cairney, a "teen ambassador", discusses how she was inspired to write a book to help young people with all the "big, bad and beautiful things growing up is all about".
UK hip hop artist Akala discusses 'Hip and Hop'. He leads a children's storytelling session following the adventures of Hip, a "wise and cool" hippo and his excitable best friend.
Will Self launches his new novel Fictions: Phone which mixes modern society's most pressing concerns; mobile phones, family chaos, modern war and the end of privacy.
Baby Queens with Kizzy Crawford in support. The Cardiff-based Queens and bilingual songstress Kizzy are some of the freshest voices in Welsh pop.
Gobby Brummie Labour MP Jess Phillips on being an outspoken woman and the backlash she says she faces.
Who Wants to Be a Millionaire quiz host Chris Tarrant relives his Extreme Railway Journeys that have taken him from Azerbaijan to Bolivia and Zimbabwe in the past two years.
Former Play School presenter Floella Benjamin talks about her childhood memoir Coming to England and recounts her journey from Trinidad in 1960.
Hay Festival shares a 30th anniversary with Rebus, the Edinburgh detective created by Ian Rankin. He talks 30 Years of Rebus with SJ Parris
Welsh actor and activist Michael Sheen delivers the Aneurin Bevan lecture. The man who returned to Port Talbot from Hollywood talks about the humane vision and tradition the NHS founder inspires.
US Senator and former Democratic presidential candidate Bernie Sanders is credited as engaging a new generation with politics. Not bad for a 75-year-old Socialist who lost out on the 2016 Democratic presidential nomination to Hillary Clinton. He will discuss Trump's America and what happens next.
Malian/French singer Inna Modja plays her only UK gig this spring in Hay. She blends hip hop, disco and soul and her West African traditions.
Former Arsenal and England defender Tony Adams tells Philippe Sands about the struggles he's faced over the past 20 years to stay sober and why he set up the Sporting Chance charity that treats sports stars suffering with addiction. He will also offer his opinion on his country's continued failings at major tournaments - while sat in a field in the home of the Euro 2016 semifinalists.
TV presenter Jeff Brazier has experienced bereavement in many forms, both in his own childhood and helping his two boys through the death of their mother, the reality TV star, Jade Goody. The panel discussion the Grief Survival Guide is chaired by journalist Carolyn Hitt.
Newsnight host Evan Davis discusses post-truth. From Trump, Brexit and companies that tell us 'your call is important to us', how did dishonesty become so rife?
BBC newsman John Simpson tells the story of the foreign correspondent and reporting from the frontlines from Vietnam to Mosul.
Film director Ken Loach delivers the Raymond Williams lecture and talks culture and his socialist realism from his 1960s TV plays like Cathy Come Home to his benefits Britain masterpiece I Daniel Blake.
Tickets go on general sale on Friday April 7 to order a print programme or book call the box office on 01497 822 629 or visit