MP says "it's time to move on" after backing Boris Johnson at confidence vote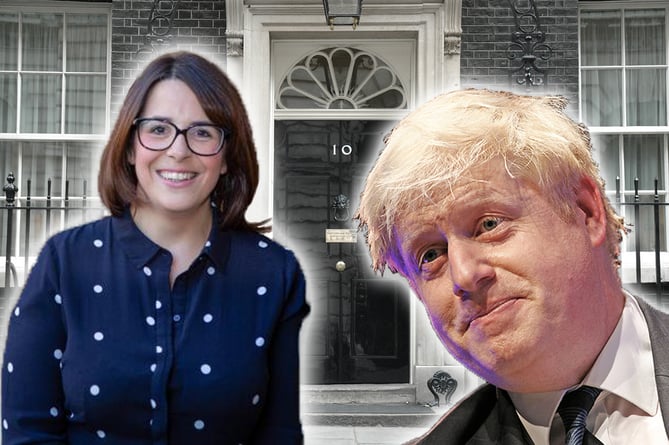 Fay Jones and Boris Johnson inset over a photo of Downing Street
(Downing Street photo is from the Number 10 Official Flickr account )
Subscribe newsletter
Subscribe to our email and get updates right in your inbox.
MP Fay Jones confirmed that she voted in support of Prime Minister Boris Johnson at the confidence vote in Parliament on Monday.
The Brecon and Radnorshire MP said that she had "sobbed" at the emails from constituents who had endured "appalling sacrifices" during the pandemic and she had found some of the Downing Street revelations hard to stomach.
However, Ms Jones also said that it is "time to move on" and that she supports the Prime Minister and his "ability to get things done" which after thinking "long and hard" led to her decision to back the Tory leader.
Boris Johnson has held onto the Conservative leadership and his role as Prime Minister as he won backing from the majority of Tory MPs in Monday's confidence vote.
Mr Johnson, who was booed as he entered St Paul's Cathedral in London for the Service of Thanksgiving for the Queen on Friday, managed to scrape by with 59 per cent of the vote meaning his leadership is safe for another year.
In total, 221 Conservative MPs voted that they still had confidence in the Prime Minister meanwhile 148 voted against his leadership.
The number of MPs who voted in his favour was lower than the 63 per cent that former Prime Minister Theresa May received in 2018.
MPs voted on Monday evening between 6pm and 8pm before the result was announced at 9pm. BBC live coverage showed that a member of the public was blaring the song Liar by the Sex Pistols, among other punk and alternative hits, as MPs voted.
Despite some high-profile MPs like Jeremy Hunt and Andrea Leadsom declaring a vote of no confidence in Mr Johnson, the vote is a secret ballot meaning that MPs do not have to reveal how they have in fact voted.
The Brecon & Radnor Express had approached MP Fay Jones to ask whether her stance had changed since the announcement of the vote and whether she would be voting in support of Mr Johnson.
Ms Jones, who did not respond in time before the physical newspaper went to print, has now confirmed that she voted in support of Mr Johnson at the confidence vote on Monday.
Ms Jones said: ""For the last few months I have thought long and hard about the PM and his ability to lead. Some of the revelations from Downing Street were difficult to stomach and I have sobbed at the emails I've received from constituents who endured appalling sacrifices during the Covid pandemic.
"But the Prime Minister promised that things have changed and they have. Our response to the war in Ukraine has been outstanding and closer to home, the Government is standing by tens of millions of hard-working families during the cost of living challenge.
 "Yesterday [Monday], I had to think long and hard about the impact of a leadership election on the country. I want Ministers focusing on the passport backlog, the stalemate at the DVLA and ways to reduce eye watering fuel bills – not their own careers. That's why I support the Prime Minister and his ability to get things done.
 "The parliamentary party has now had its say and it was a very clear result. It's time we move on – once and for all."
Leader of the Welsh Liberal Democrats Jane Dodds condemned Mr Johnson being kept in office, calling him a "liar and a lawbreaker".
In response to the announcement of Mr Johnson's victory, the Mid and West Wales MS said: "The situation is clearer than ever before a divided Conservative party is propping up Boris Johnson with no plan to tackle the issues facing the Welsh public.
"It continues to be one rule for them and another for the rest of us. Boris Johnson is a liar and lawbreaker who isn't fit to remain Prime Minister for a moment longer.
"Lifelong Conservatives are appalled and continue to turn towards the Liberal Democrats who they know work hard and focus on what matters."
"At present, it seems Welsh Conservative MPs are set to remain out-of-touch with the people of Wales."
Comments
To leave a comment you need to create an account. |
All comments 0