Invitation to join as Brecon Corries start new era in mid Wales football
Friday 28th June 2019 8:21 am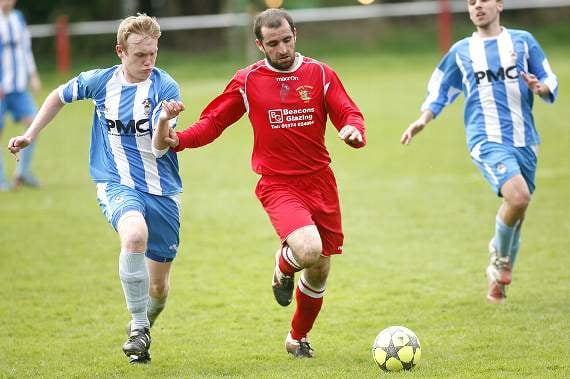 Corries manager Damien Daniels on the ball
()
Subscribe newsletter
Subscribe to our email and get updates right in your inbox.
BRECON Corries will start preseason training next week ahead of their return to mid Wales football.
An open training session will be held this week for anyone interested in joining the club.
The Rich Field club announced this week it was giving up its place in the South Wales Alliance League and switching to the Mid Wales League (South).
The South Wales Alliance League Premier Division, in which the Corries finished ninth last season, is just one step below Welsh League Division Three, the fourth and bottom tier of the Welsh football pyramid.
The Corries will play the 2019/20 season at the recreation level but will remain at step five of the Welsh system, just one step below the MMP Mid Wales League Division Two which is also the fourth tier.From the 2020/21 season four new regional leagues will replace the existing tier three leagues, including the Mid Wales League Division One, with clubs at tier four no longer part of the pyramid.
The Football Association of Wales is restructuring the Welsh pyramid and reducing the number of clubs in the tiers below the JD Welsh Premier League and from the start of this season is establishng new North & Mid and South & Mid Championships at tier two.
Though the Corries played under the Central Wales Association when it was first formed in 1946 it has spent decades in south Wales football and during the 1980s competed in the Welsh League at a time when Cardiff City, Swansea and Newport would field reserve sides in the league.
Vice chairman Barrie Jones said: "We are looking forward to a new start but are under no illusions how difficult it will be."
He said the club has retained manager Damien Daniels and all of its squad from last season.
However it is looking to recruit more players and holding an open training session at the Rich Field on Tuesday, July 2 at 6.30pm.
The club said on its @BreconCorriesFC Twitter account: "This is an open training session for anyone who is interested in playing for the Corries this season."
Anyone wanting further information can contact the club via its Twitter account.Jones said the club will again enter the JD Welsh Cup this season and is also looking forward to the various mid Wales cup competitions.