Brecon maintained their 100 per cent record this season but were made to work hard for a bonus point victory against Crymych over the weekend.
Dale McIntosh's men were always in front but could never shake off the challenge of their proud and resilient opposition.
Brecon started well and after 25 minutes they were 17 points ahead. Jake Newman, at outside half, used the wind effectively and kept Brecon on the offensive. He also added Brecon's first points, after a slight show of the ball on the inside there was enough of an opening for him to race through to score and convert.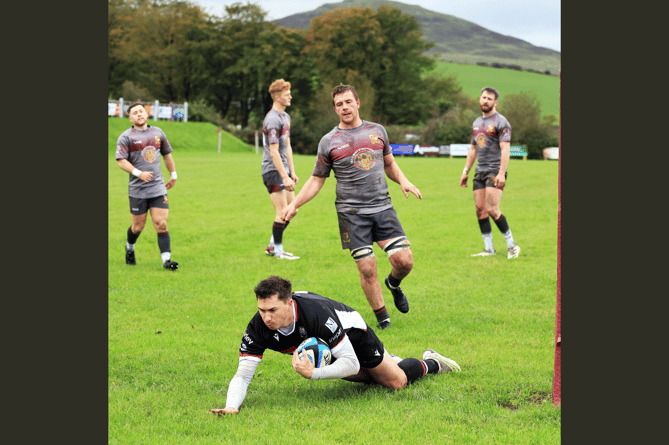 Jake Newman leaves the Crymych defence in his wake to score for Brecon
(Mark Griffin)
The second try came directly from pressure and Brecon's tight forward work. Alwyn Lee won the line-out on the home five-metre line and set up a maul. Crymych overloaded on the right and Brecon rolled left for hooker Aneurin James to score. Newman converted and then added a penalty.
At this point Brecon were making good use of their forward strength and the wind, and had subdued the crowd.
It became clear, however, that this was not going to be a walk over, when Crymych hit back.
Crymych's score started on half way with their young outside half Ifan Davies combining with equally young full back Eilir George. A clever flat pass put George in space and he cut through the first line of Brecon's defence. His balanced running and pace stretched the cover. Tackles should have been made, but were not, and George scored a try which lifted his team.
Brecon responded well and should have extended their lead before the end of the half but they made mistakes. First a penalty was kicked dead rather than into touch on the home five-metre line and then flanker Matthew Williams set off on a run which brought him into the shadow of the posts. Although tackled, he laid the ball back, and with a two-man overlap Brecon should have scored. Uncharacteristically the pass went astray, along with the opportunity to extend the lead just before half-time.
Crymych started the second half well but Brecon's defence held and a storming Osian Davies run put Brecon on the offensive. They destroyed their opponent's scrum on half way, gained a penalty, and set up a line-out in the home 22.
Alwyn Lee again claimed line-out ball and the pack set up an unstoppable driving maul which raced over the try line for Logan McIntosh to score.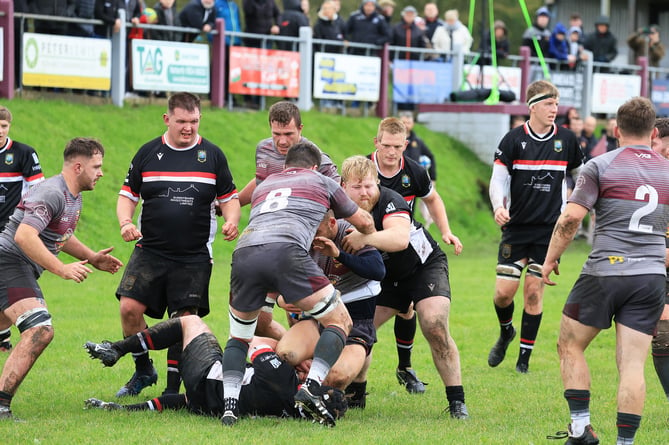 Brecon's forwards dominated the scrum and breakdown
(Mark Griffin)
This was the opportunity for Brecon to sit on and then build a substantial lead but again their opponents hit back.
The build up to Crymych's second try would have been frustrating for the Brecon coaches. From an attacking position Brecon conceded three consecutive penalties to surrender territory and then, when the ball was moved to Crymych's impressive centre, Tomos Phillips - he took the tackle, stayed on his feet as Brecon overread the play and released him as support arrived. He ran away from the contact and scored a try which Davies converted.
Brecon hit back and extended their lead again when Blacker sniped off the side of an advancing scrum and scored.
Frustratingly, for the travelling support and to the delight of the home crowd, Crymych hit back. With Brecon moving the ball on half way a pass was intercepted and Phillips had a second clear run to the line and again Davies converted.
As was now the pattern of the match, Brecon hit back. This time their scrum drove the Crymych pack back over their line and Ewan Williams scored.
There was still time for a further twist as Brecon's Dion McIntosh was shown a red card for what was deemed a high tackle.
Then an injury in the Crymych front row led to uncontested scrums, and finally the home team had the last word when centre Tomos Phillips scored his third try after breaking through some weak defence from close to a ruck.
Again, the try was converted, allowing the home team to deservedly take two points out of the match with four tries and a losing margin of less than seven.
Further good news came as Brecon's Athletic and Youth teams posted wins at Hollybush and against Abercynon respectively.
Now Brecon prepare for the away cup match at Bonymaen next Saturday. A victory in that match would take them into the last eight, but before the team and management can think any further ahead there is a game to win away from home, with the recent victory at Parc de Pugh, over the same opponents, only providing Bonymaen even greater incentive to turn the tables.