Look out for 'convincing' email scammers warns Powys woman
Dyfed-Powys Police gives advice on how to spot and handle fraudsters.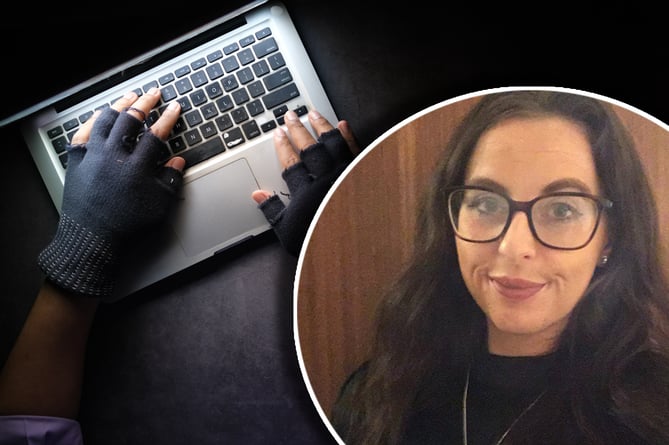 (Cyber criminal photo by Towfiqu barbhuiya )
Subscribe newsletter
Subscribe to our email and get updates right in your inbox.
A Powys woman is looking to raise awareness of sophisticated cyber scammers after she was targeted by "convincing" fraudsters at work.
Brecon & Radnor Express sales account manager Caroline Galeozzie, fortunately, did not fall victim to the criminals, although she said she did believe it to be genuine at a first glance.
On Wednesday, June 29, Caroline was in the B&R office when she received an email claiming to be from the newspaper's regional editor Liz Davies.
"The initial email was very realistic", said Caroline.
"It had the same name of a trusted work colleague and it appeared in the same way that all my emails look from the outset."
Accompanied by a realistic-looking email signature, the scammer started with a believable conversation before attempting to talk Caroline out of around £1,000.
The initial email asked for Caroline's help in handling a work request "discreetly" with no phone calls, only email replies.
Caroline said: "It was a very clever way to try to gain your trust. The use of the word discreetly made me feel like I had to be secretive.
"At a first glance, I genuinely thought I was needed to check on another member of staff.
"Those that truly know me know that I'm often the one to display an organised and caring approach to my friends and work colleagues."
Caroline asked the scammer, who she believed to be a colleague, how she could help.
The criminal attempted to convince Caroline that her task was to buy secret gifts for her colleagues to reward them for their hard work - they highlighted that they were too busy to head to the shops to buy the gifts.
Caroline said that the alarm bells started ringing when she asked for more information about the gift cards as the scammer asked for five Amazon gift cards, all with a value of £200 installed.
The fraudster also asked Caroline to scratch the back of each card and take "clear pictures" of the numbers for "receipt purposes" - they also told Caroline to use her own money with the promise that she would be reimbursed at a later date.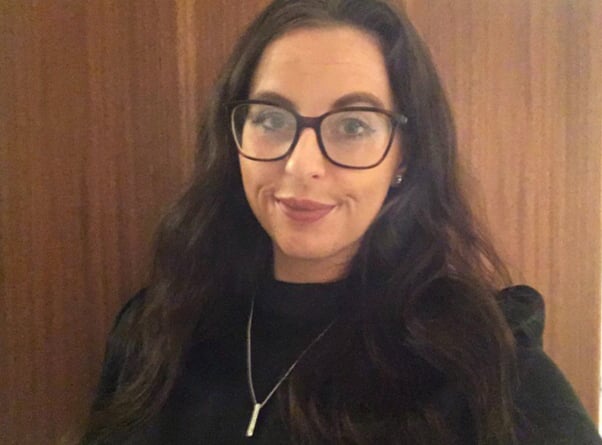 Caroline feels its important to raise awareness about convincing fraudsters
(B&R's Caroline )
In lieu of a response from Caroline, the scammer attempted to pile on the pressure with emails asking how much money she could spend and checking she was still at her computer.
Caroline said: "Being asked to 'surprise staff' sounds ever so nice and generous.
"We're all a very kind team at the B&R, often treating each other to cups of coffee, cake or bags of doughnuts as we work out way through the working week.
"But five Amazon cards of £200 each certainly rang some alarm bells in my head that it wasn't legitimate as I know my colleagues respect me and wouldn't dream of implementing pressures on me in this way.
"I have spent many years working in the finance and events sectors undertaking regular industry training to refresh my knowledge and awareness about current industry trends.
"Luckily, I quickly detected this particular incident wasn't legitimate and I felt the need to share my concerns with my colleagues immediately. It was at this point that I realised that the email address used was false and it became even more obvious that it was a scammer trying their best to make me fall for their trick."
While gift card scams are nothing new, they are frequently changing to take on new forms in the hope of stealing money from unsuspecting victims.
Gift cards are popular with criminals as they are difficult to trace compared to bank transfers, and they can be used to launder money with less chance of being intercepted by crime agencies.
Scams, like the one encountered in the B&R office, rely on convincing prospective victims that you are somebody else before quickly increasing the pressure in order to get money.
A similar type of fraud, which is also very popular across the UK, is impersonation fraud which sees criminals impersonating public services or companies to con people out of money.
Caroline said: "I feel like I have a responsibility to help to raise awareness of potential scams within the local community.
"I'm grateful to the B&R for covering this story and for highlighting how easy it can be to potentially believe a scam as they can be extremely sophisticated and convincing.
"It can be a frightening and intimidating experience for anyone to encounter this, and even more so for an elderly and vulnerable person.
"Please be extra vigilant, especially after the last couple of years where perhaps our social needs are a bit greater than they were pre-pandemic. Look out for each other and not against each other."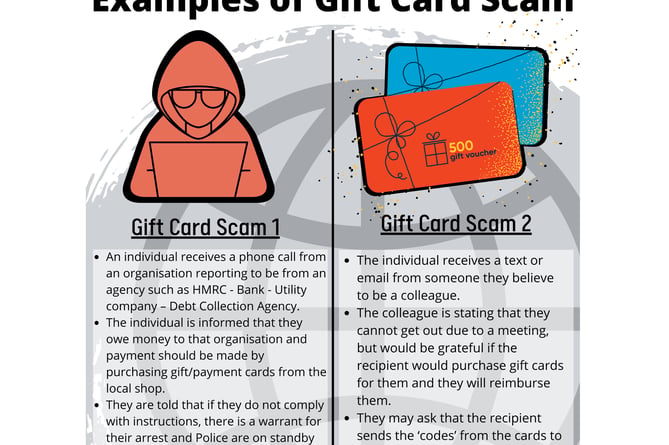 Examples of gift card scams according to Dyfed-Powys Police
(Tindle )
A spokesperson from Dyfed-Powys Police said that shops are regularly visited in the area by PCSOs to inform them of what to look out for regarding people applying for them.
The force confirmed that while the cases haven't increased, they have been around for a number of years and that they do come in many guises.
The spokesperson said: "These frauds use time as a pressure, fear of arrest, or playing on the good nature of the receiver to purchase gift cards for a colleague.
"Once someone has the codes or PINs from the back of the card, they can redeemed remotely without having to physically have the card.
"Once the code or PIN has been redeemed, the card is 'empty' and now worthless - the criminal now has the money."
"If you think you are being scammed or have been at the receiving end of a scam, remember:
Organisations will never email you requesting payment by Gift Card;
Confirm requests are genuine by using a known number or email address to contact organisations directly;
Always navigate to your online account by going to the organisations certified online page and not be clicking on a link in an email;
If you have already entered your card details into a fake site, then call your bank right away;
Stop any future payments and report the matter to the police;
If the request is believed to be from a friend or colleague – phone them first on a trusted number and discuss with them; and,
Do not buy a gift card just because you receive a text or email request.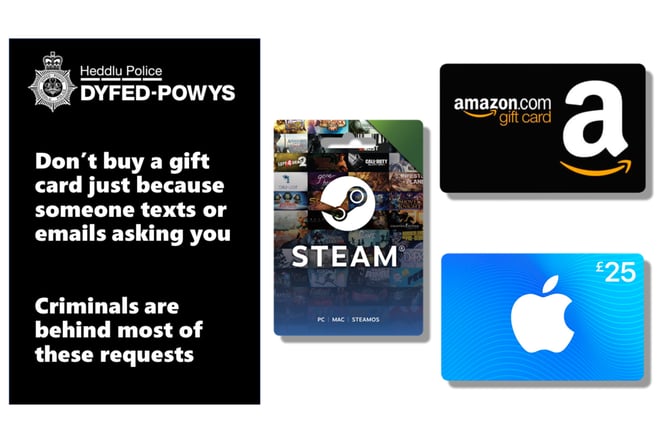 A police poster on recognising fraud
(Dyfed-Powys Police )
• Stop: Take a moment to think before parting with your money or information - it could keep you safe.
• Challenge: Could it be fake? It's ok to reject, refuse or ignore any requests. Only criminals will try to rush or panic you.
• Protect: Contact your bank immediately if you think you've fallen victim to a scam and report it to the Police."
The police spokesperson also issued a reminder that the police or banks will never ask you to withdraw money or transfer it to a different account, and that they will never ask you to reveal your full banking password or PIN.
If you have been targeted by scammers, report suspicious emails to: [email protected]
You can also report suspicious texts by forwarding the original message to 7726, which spells SPAM on your keypad.
Comments
To leave a comment you need to create an account. |
All comments 0