Brecon dad creates Welsh version of popular game Wordle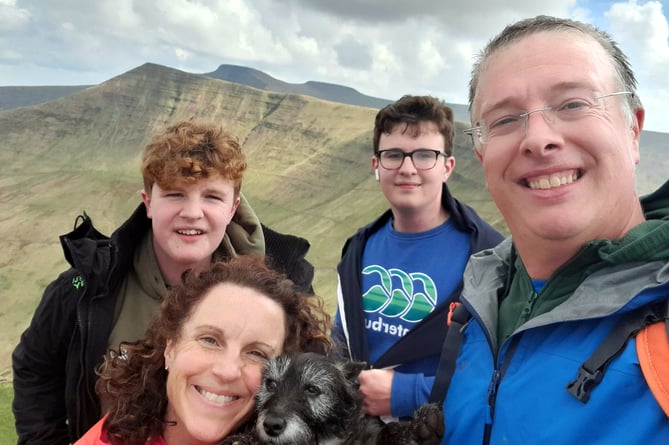 Laine Skinner with wife Sara, sons Aneurin (14, back left), Brynach (15 back centre), and family dog Scamp.
(. )
Subscribe newsletter
Subscribe to our email and get updates right in your inbox.
A father from Brecon has created a Welsh version of a popular word game as a way of improving his grasp of the language.
Laine Skinner, who works as a web deveoper in Talgarth, has developed Cyrdle - a blend of the words Cymraeg (Welsh) and Wordle - a Welsh variation of the hugely successful game.
The father-of-two was inspired to launch the game after his teenage sons, Aneurin and Brynach, saw their parents playing the game and questioned why Welsh apps didn't typically go viral.
"Wordle has been very popular worldwide and also in our household," said Laine. "My sons, who are both Welsh-speaking, love puzzles and word games, so with their help I decided to create Cyrdle."
Wordle, a web-based word game developed by Abergavenny-born Josh Wardle, has gained a large amount of popularity over recent months. Players have six attempts to guess a five-letter word, with feedback given for each guess in the form of coloured tiles indicating when letters match or occupy the correct position.
"I like the ethos of the original game," said Laine. "It was made for fun and to connect families and friends together by word puzzles - which is something I have tried to replicate."
Laine's New Year's resolution was to improve his Welsh vocabulary and learn the language properly, which is something his new app is helping him achieve.
"I'm not a Welsh-speaker so I had my son's help with putting the game together," he explained. "They helped me filter out words that were obscure and outdated, to make the game as fun and useful as possible."
If your Welsh vocabulary is limited, Cyrdle has a bilingual game mode where you can swtich between the word and the English translation to help with your guesses.
Laine said: "My sons both received a Welsh education but we don't speak much Welsh around the house. Cyrdle goes some way to helping with that and we all get involved together."
As well as the bilingual mode, Laine has also created a special version for Cardiff University's School of Medicine, for primary and secondary kids. At their request, he developed a version that uses a dictionary of science and health-based words, with some added bugs that crawl over the screen if you get the correct answer.
There is also a head-to-head game mode, in which you can write your own word and send it as a challenge for a friend to guess.
Laine is keen on people using the app now that it is out there.
"It would be great to see more people using Cyrdle, to connect with family and friends through the medium of Welsh," said Laine. "Even if you only know a small bit of Welsh you can play the game - once you've learnt it you don't lose it!"
Cyrdle is free to play on desktop, phone and tablet and is available online at cyrdle.web.app/
Comments
To leave a comment you need to create an account. |
All comments 0