Discover alliance in for top parks award
Monday 16th November 2015 4:20 pm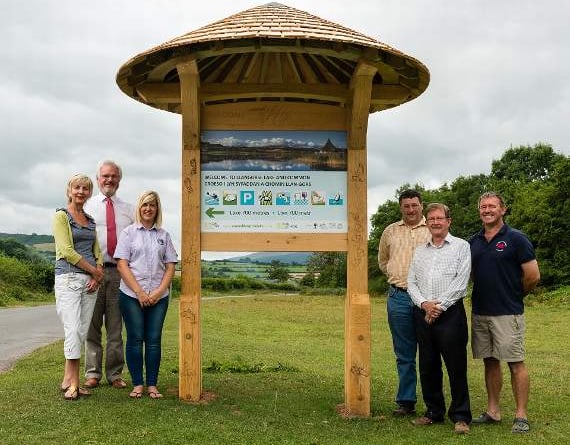 The Llangors and Bwlch Alliances group are joined by National Park officer Richard Tyler beside one of the new signs at Llangors Lake
()
Subscribe newsletter
Subscribe to our email and get updates right in your inbox.
The Discover Llangorse and Bwlch Alliance group has been nominated for a major award in the Group category at the UK National Parks Volunteer Awards 2015.
The nomination recognises what the Discover Llangorse and Bwlch Alliance group has achieved in the two communities with the installation of new signs, the production and distribution of brochures and a new website all promoting the area.
In February 2012, Llangorse and Bwlch, which sit four miles apart, came together to take advantage of funding opportunities presented by the European Union funded Rural Alliances project. They wanted to explore how they could work together to share knowledge and highlight how visitors could enjoy their distinct area in a sustainable way and to achieve recognition as a sustainable tourism destination in their own right within the Brecon Beacons National Park.
The group have accomplished a huge amount to benefit both communities and the surrounding areas. They have started a new website www.aroundllangorselake.co.uk, and produced a fantastic booklet which compiles seven walks of varying difficulties all centred around Llangorse Lake. They have also promoted the National Parks' status as an International Dark Sky Reserve by organising several stargazing evenings.
Together the Alliance have applied to the Local Council and the Welsh Trunk Road Agency to improve road signage for visitors to Llangorse and Bwlch.
Norman Lowe, Chair of the Discover Llangorse and Bwlch Alliance group commented: "Before 2012, there was little co-operation between the two villages but by joining together and creating a collective voice for their communities within the National Park we are really having an impact. The Alliance includes an incredibly diverse range of people, including representatives from local businesses, community councils, farmers, graziers, the community village hall committee and individuals with an interest in promoting the area. All these people have voluntarily given their time, attended meetings and some of them have become members of smaller project groups – we are graitfied to be nominated for this award."
Councillor Gareth Ratcliffe, the Brecon Beacons National Park Authority Member Champion for Business and Communities, added: "We are delighted to see the hard work these volunteers have put in recognised by the nomination for this national award. The Discover Llangorse and Bwlch Alliance group show what can be achieved when people work together for a common goal."