Brecon school closures defended by cabinet member for learning
"We gave clear commitments to Llanbedr and Dolau about how we would proceed if we were elected and we have delivered."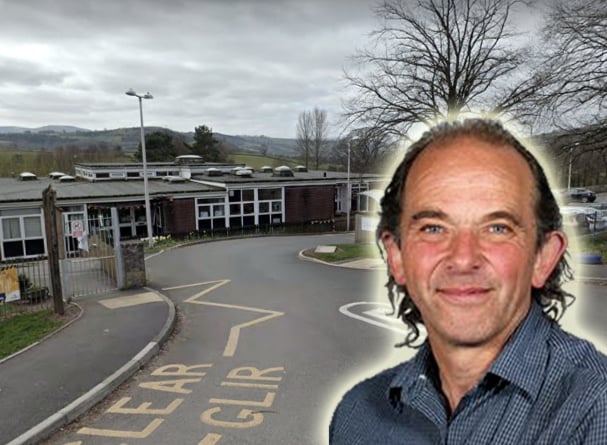 Cllr Pete Roberts inset over a photo of Cradoc School
(Powys County Council and Google Street View )
Subscribe newsletter
Subscribe to our email and get updates right in your inbox.
A Powys cabinet member has defended the council's decision to close three Brecon schools saying the cabinet has delivered" on its election promises.
Cllr Pete Roberts, the cabinet member for a learning Powys, defended the decision to go ahead with closing Cradoc School along with Mount Street Infants and Juniors after the council came under fire last week from opposition councillor Iain McIntosh.
Cllr McIntosh accused the new Liberal Democrat and Labour-run council of not sticking to pre-election promises to save the schools.
However, Cllr Roberts said that the Welsh Lib Dems gave clear commitments to both Llanbedr Church in Wales School and Llanfihangel Rhydithon County Primary School, more commonly known as Dolau School.
Cllr Roberts said: "During the election campaign we gave clear commitments to Llanbedr and Dolau about how we would proceed if we were elected and we have delivered. We also committed to retaining smaller schools in cluster arrangements and phase 1 of the Cradoc - Mount Street proposals achieves that aim.
"What we were unaware of was that the Cabinet of which Cllr Iain was a member had not disclosed the minimum £76m backlog on schools maintenance which would take a council tax rise of at least 20 per cent to clear in the next five years.
"In this context and, given the significant hidden costs at the Cradoc site revealed by Cllr Iain's motion, and subject to business cases, the previous Conservative decisions leave no option other than to continue with their plans or risk this school and schools elsewhere having to close on health and safety grounds."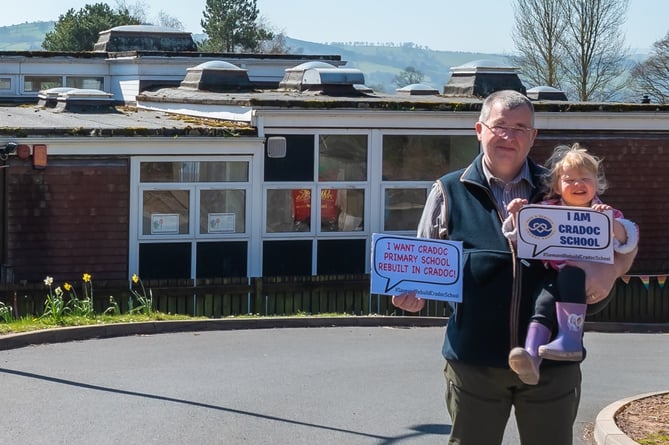 Cllr Iain McIntosh campaigning in front of Cradoc School
(Cllr McIntosh )
Last week, Cllr McIntosh hit out the cabinet after a motion to save Cradoc School was heavily defeated 41 to 14 earlier last month. There were also four abstentions.
The motion, which was defeated on Friday, July 21, would have kept the school open and ensured that there were no other proposals to close it made during this council's five-year term.
Cllr McIntosh, who has been a huge campaigner to keep the school open, said last week: "One of the reasons behind my motion was to try and get the newly elected Liberal Democrat and Labour Councillors to stand by the commitments they made during the recent elections to keep Cradoc School open.
"During the election campaign, unequivocal commitments were made by members of the new administration to keep Cradoc, Dolau and Llanbedr schools open.
"It is clear from the results that both parties voted against this motion, effectively sticking two fingers up to Powys residents, teachers, parents and children who believed their pre-election promises.
"As mentioned during last week's Full Council meeting, I believe this to be one of the biggest local election betrayals in recent history."
The previous cabinet's decision made just before Christmas 2021 to close the three schools is not due to be implemented until the summer of 2023.
The first phase will see all three schools merged by August 31, 2023, under one governing body and teaching management team.
The second phase is to have a new 360-place school built on the former Brecon High School site by 2025/26.
Before the election in May, schools were a large component of the discussion on what each party would deliver for the county.
In the week before the election, Cllr Gibson-Watt spoke about saving schools when he put forward what the Welsh Liberal Democrats would offer Powys - although he did not mention any schools by name.
Speaking to LDRS reporter Elgan Hearn at the time, and as reported in The Brecon & Radnor Express on Wednesday, May 4, the now council leader said: "We need to re-focus the school's transformation programme, I'm very unhappy that some major decisions were taken right at the end of the last council which will, to a degree, bind the hands of the next council.
"For me, schools transformation should have been conducted on a cross-party basis,
"Our aim is to find a way to keep as many schools as possible by pursuing a clustering approach which other local authorities have successfully done. This means that several primary schools work together on some aspects such as the curriculum and economies of scale. Schools are the hearts of the communities and the impact on villages is very dramatic and negative when you close them."
Comments
To leave a comment you need to create an account. |
All comments 0