Diocese to ask Welsh Government to review school closure decision
Monday 4th April 2022 11:00 am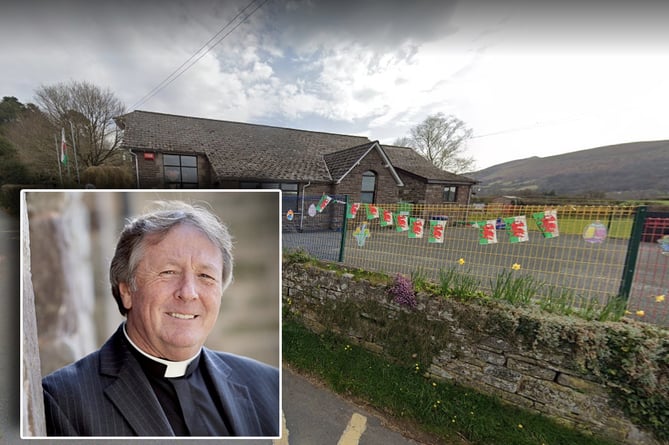 Bishop John Lomas inset over a photo of Llanbedr School
(Church in Wales and Google Street View )
Subscribe newsletter
Subscribe to our email and get updates right in your inbox.
The Diocese of Swansea and Brecon will ask the Welsh Government to review Powys Council's decision to close Llanbedr Church in Wales Primary School near Crickhowell.
The council's cabinet voted earlier in March to proceed with plans to close the 52-pupil school, despite strong opposition from the community.
The new Bishop of Swansea and Brecon, John Lomas, said that decision had caused "deep sadness" and urged the council to reconsider.
The diocese's director of education, John Meredith, said the school had demonstrated "excellent leadership and management and a proven performance record of high standards" and he will now write to Education Minister Jeremy Miles MS, to ask for a review of the council's decision.
In a letter to parents, he said: "I was saddened and disappointed to hear of the news and, in my role, I am looking to grow the number of children in Church in Wales schools and not to close them.
"I have expressed this view repeatedly to Powys and will continue to do so when I refer the decision to the Welsh Government."
In 2018 Llanbedr won the Welsh Primary Schools cricket championship and in 2019 was overall champion in a national STEM competition.
It is the only school in the area with an extensive range of after school extra-curricular clubs, which take place five days a week, and it also has a breakfast club.
The community has rallied to support the school with Powys Council receiving 350 objections to its plan.
"Llanbedr school is a model Church in Wales school, one in which the atmosphere has an of openness about it, that sense that people are worth spending time with, that people need time to grow and need loving attention," Mr Meredith said.
"Llanbedr school is at the heart of the Church in Wales' mission, faithfully serving children and parents of all faiths and of none, providing a high-quality education of the whole child and enriching their communities."
Bishop Lomas said: "It is with deep sadness that I have learned of Powys Local Authority decision to close Llanbedr.
"A school is much more than a collection of young people receiving an education in a particular location. A good school adds life, brings vitality and adds vibrancy to the larger community. Llanbedr is one such good school, much loved and appreciated by parents and the whole community, and holds a special place in its location.
"Further, of course, as a Church in Wales VA school, Llanbedr holds a special place in the heart of the diocese too. While this does not mean that those who attend this school have to align themselves with our beliefs as Christians, our hope always is that our teaching on the uniqueness of each one of us, created in the image of God, and loved and cherished by Him, will foster an atmosphere where trust and respect can help each child flourish as a human being.
"I believe that the children and excellent staff at this growing school, along with parents and community, will be all the poorer in the closure of this school and I do hope that there is still time to reconsider."
Cllr Phyl Davies, Cabinet Member for Education and Property, said the controversial decision had "not been made lightly" when he announced the closure would go ahead only weeks ago.
Describing the strategy as "ambitious" and "exciting", the cabinet member said that it had been developmed with the "best interest of the learners" in mind when he made the announcement on Tuesday, March 8.
He said: "We are committed to transforming the learner experience and entitlement for our learners and we will achieve this by delivering our Strategy for Transforming Education in Powys 2020-2030.
"Our strategy is ambitious, exciting and we believe it will give our learners the best possible start they deserve. However, as we start to implement it, we will be faced with significant decisions as we look to address some of the challenges facing education in Powys which include the high proportion of small schools in the county, decreasing pupil numbers and the high number of surplus places.
"This decision has not been reached lightly. Not only has it been robustly challenged by senior leaders within the council at every step, but it has been developed with the best interest of the learners, who have been at the forefront of our discussions and decision-making."
Since Powys County Council voted to continue with the school's closure, governors and parents at the popular rural school have said they will not back down in their fight to save it from closure.
In a statement they said: "Powys County Council will, no doubt, respond with the same tired response they give every time but they must understand that this is a fight they will not win."
Their campaign to save Llanbedr Church in Wales Primary School has also been backed by Brecon and Radnorshire MS James Evans who said that both he and MP Fay Jones were disappointed by the decision The MS has been very vocal in his opposition to Powys County Council's plans to close various local schools including Cradoc Primary School near Brecon, Llanfihangel Rhydithon Primary School in Dolau and the Mount Street Infants and Junior schools in Brecon.
Comments
To leave a comment you need to create an account. |
All comments 0