Powys animal sanctuary named Wales' number one attraction for families
From baboons and chimpanzees to horses and lemurs, the Wales Ape and Monkey Sanctuary has a variety of animals in its care.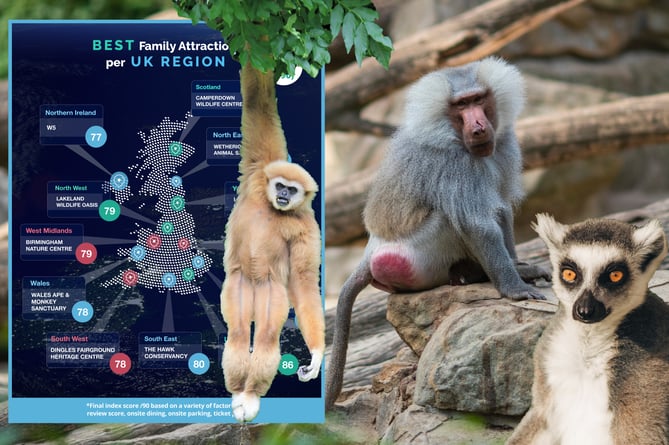 (Photos from Unsplash - edit by Tindle )
Subscribe newsletter
Subscribe to our email and get updates right in your inbox.
Wales Ape and Monkey Sanctuary has been named the top family attraction in Wales.
Car dealership Brindley Group revealed the Caehopkin charity and tourist attraction in its top ten list of family attractions in Wales.
Based in the Swansea Valley, Wales Ape and Monkey Sanctuary aims to rescue and provide a home to unwanted animals.
The sanctuary, which first opened more than 20 years ago, specialises in the car and protection of primates - chimpanzees, gibbons, baboons, spider monkeys, velvets, capuchins, tamarins, macaques and marmosets are among the residents that call the Powys site home.
The charity also helps other animals meaning guests can also expect meerkats, lemurs, African savannah cats, serval cats, wolf dogs, horses, donkeys, red foxes, pigs, African grey parrots, and others at the sanctuary.
The Brindley Group completed lists for each part of the UK to make it easier for families to pick their activities as the summer holidays get into motion.
The car dealership completed the list of attractions by ranking each on six factors important for family days out: average review score (Google Reviews & Tripadvisor combined), onsite dining, onsite parking, child ticket price value, adult ticket price value and family of four ticket price value.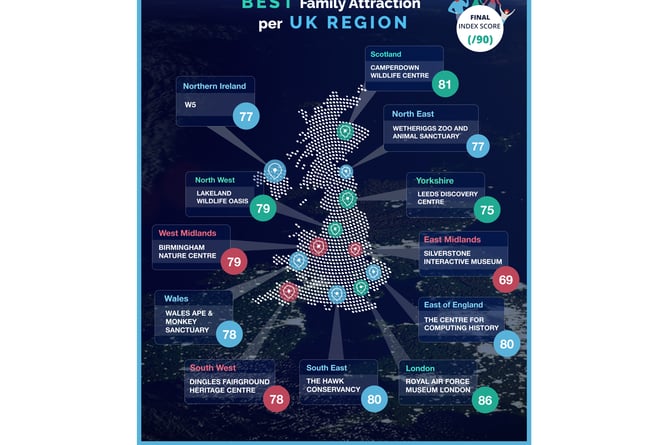 Best family attraction per UK region
(Brindley Group )
The sanctuary scored an impressive 78 out of 90 putting it at the top of the list for Wales.
It also placed fifth out of ten on the UK's top ten list of zoo and wildlife attractions for a day out.
An adult ticket to visit the sanctuary is £8.50, however, there are concessions and family tickets available. The sanctuary also accepts support through animal adoption and donations.
Unlike a zoo or a circus, the sanctuary puts its emphasis on the animals' welfare and it doesn't use a breeding programme or import animals.
On its website, The Wales Ape and Monkey Sanctuary says: "Exotic animal sanctuaries are a relatively recent phenomenon in the developed World, partly brought about by the activities of zoos and circuses. Public attitudes have changed and animals are now quite justifiably seen as having rights that progressively need to be defended.
A true sanctuary does not have a breeding program. Breeding perpetuates captivity.
A true sanctuary will never import animals from the wild; this would create captivity where it did not previously exist.
A true sanctuary will not act as a source of supply of animals to other organisations or individuals.
"At Wales Ape and Monkey Sanctuary we try, by educating people, to reduce the number of animals being taken from the wild or bred into captivity and we hope that one-day sanctuaries will no longer be required. We are unlikely to see this in our lifetime however and recognise that many misguided organisations and individuals are still committing wild species to captivity from which they will have no hope of escape and will subsequently become seen as an unwanted burden.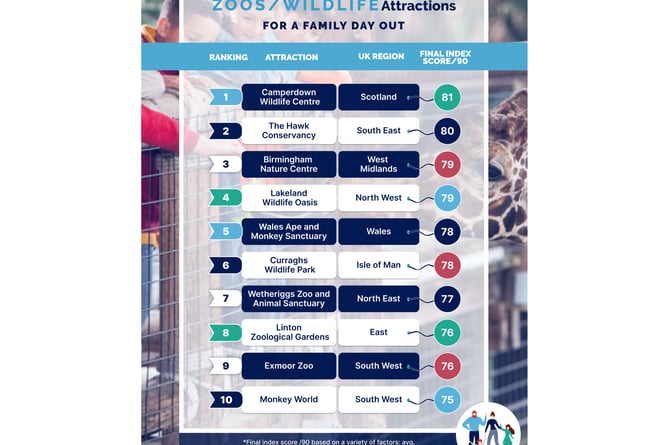 The top ten UK zoo and wildlife attractions
(Brindley Group )
"In the meantime, we are dedicated to providing unwanted animals with a comfortable and dignified existence for the remainder of their natural lives. This means putting the needs of the animal first rather than ensuring it is simply displayed to the public in the optimum way.
"As sanctuaries are not intended to be public exhibits they tend to be the poor relations when it comes to funding support. Invariably sanctuaries only exist by the support of their operators, volunteers and public charity. However, they put their support to best use by focusing their efforts on the welfare of the animals and not forcing them to live in unnatural or stressed situations just to please the visitors.
"At Wales Ape and Monkey Sanctuary, we welcome visitors to come and see our work and to participate in any way they can to help us continue to provide a vital service that few others in Europe are prepared to offer to unwanted and sometimes infirm monkeys and apes, especially those that require special care."
The Brindley Group reported that five out of ten of Wales' attractions are zoos and wildlife.
To find out more about the Wale Ape and Monkey Sanctuary, which os open daily from 10.30am until 5pm with last entry at 3pm, visit its website here.
Comments
To leave a comment you need to create an account. |
All comments 0