Broadcaster and winner of Strictly Come Dancing 2022 Hamza Yassin will switch on Hay-on-Wye's Christmas lights this year.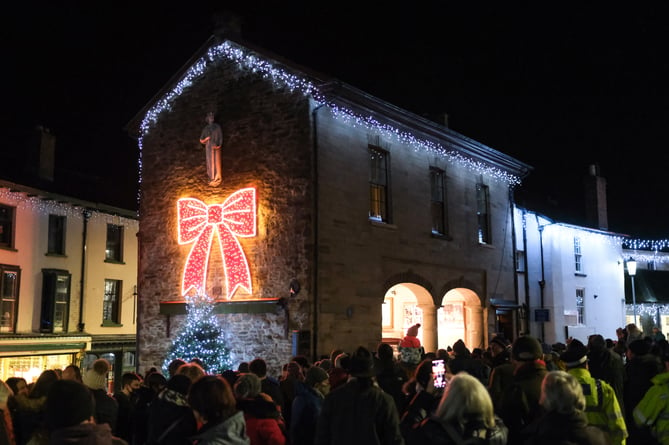 The free switch-on event is co-hosted by Hay Town Council, Hay Chamber of Commerce and Hay Markets
(Adam Tatton-Reid)
Hamza will join the soon to be announced Hay-on-Wye Citizen of the Year to switch on the town's lights on Friday, November 24 as part of his upcoming Hay Festival Winter Weekend appearance.
The free switch-on event, co-hosted by Hay Town Council, Hay Chamber of Commerce and Hay Markets, will take place from 5pm to 7pm in Memorial Square, accompanied by carol singing, food, mulled wine and entertainment to give a rousing start to the Festival weekend, which runs to Sunday, November 26.
Hamza is a Scottish wildlife cameraman and presenter, a skilled ornithologist and the winner of the 2022 season of Strictly Come Dancing. Born in Sudan, Hamza Yassin moved to Scotland when he was young. He has a degree in Zoology with Conservation after studying at Bangor University and a Masters in Biological Photography and Imaging from the University of Nottingham. 
He made his first television appearance on the CBeebies show Let's Go for a Walk, in the role of Ranger Hamza, and featured in a book based on the series, which won the Sainsbury's Children's Book Prize for Best Activity Book 2021. 
Since then, Hamza has appeared on The One Show, Countryfile and is a presenter on the long running BBC series Animal Park.
Hamza has also presented his own Channel 4 documentaries, Scotland: My Life in the Wild and Scotland: Escape to the Wilderness, and was the podcast host of the second series of Get Birding. Hamza is currently presenting his own BBC series, Hamza's Birds of Prey. 
He is at the Festival to launch his new book, Be a Birder, in a sold-out event on Saturday, November 25 following the lights switch-on.
Hamza Yassin said: "I'm honoured to bring some added sparkle to Hay Festival Winter Weekend, switching on the town's Christmas lights as part of my upcoming visit. In times like these, community and connection feel more important than ever.
"It will be my first trip to the Town of Books and I'm looking forward to meeting readers and fellow wildlife lovers there, on stage and off, and marking the season's change with hope and joy.
"Fiona Howard, Hay-on-Wye Town Council, said: "Hay-on-Wye is delighted to be hosting Hay Festival Winter Weekend again, bringing writers and readers together for a wonderful weekend. We are excited to welcome Hamza Yassin and Hay-on-Wye Citizen of the Year to switch on the lights and get us all into the festive spirit. See you there!" 
Hay Festival Winter Weekend is back for a year-end wonderland of in-person events, November 23-26, in multiple venues across Hay-on-Wye, Wales.
Over four days, more than 70 acclaimed writers and performers take part in over 60 events, launching the best new fiction and non-fiction, offering creative solutions to some of the biggest challenges of our time, and spreading festive joy in conversations, candle-lit storytelling, comedy, music, and workshops.
Now in its 24th year, events will take place in a new 350-seater marquee in the grounds of Hay Castle, tripling the event's previous capacity. Additional events will also take place in the Castle's Clore space, plus venues around town, including St Mary's Church and The Poetry Bookshop. 
For audiences unable to attend in person, the Festival's commitment to digital accessibility will also continue with selected sessions available to live-stream remotely with an Online Festival Pass. 
Hay Festival CEO Julie Finch said: "Ideas sparkle at Hay Festival Winter Weekend 2023 as we mark the season's change with bold new visions for the future and a heady dose of entertainment and joy. With a new home in the centre of Hay-on-Wye in the grounds of Hay Castle, we have tripled the capacity of this year's event, offering access to more Festivalgoers than ever, live and online. Join us!"
More intimate than the spring edition, Hay Festival Winter Weekend sees the Welsh booktown's independent shops, cafés and attractions offer a warm welcome to Festivalgoers within the stunning surrounds of the Bannau Brycheiniog National Park.
This project is part-funded by the UK government through the UK Shared Prosperity Fund.