NFU Cymru welcomes lifting of poultry housing measures
Thursday 12th May 2022 8:00 am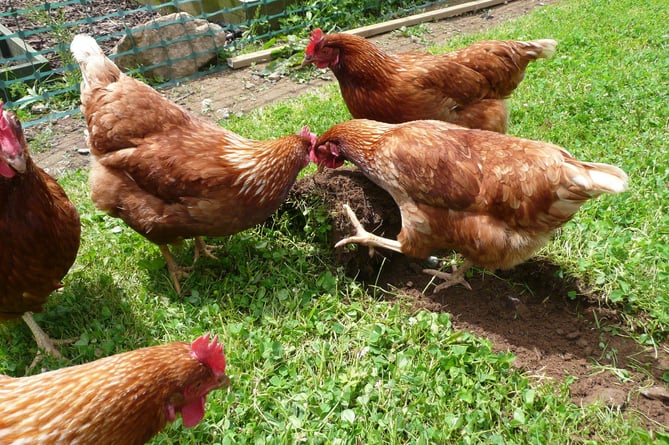 Chickens pecking
(Ariane Brumwell )
Subscribe newsletter
Subscribe to our email and get updates right in your inbox.
Welsh farming union NFU Cymru has welcomed the lifting of poultry housing measures for birds in Wales.
The lifting of the restrictions on May 2 means poultry farmers can once again give their free-range birds access to roam outdoors again. The housing measures had been put in place by government as a response to the worst ever Avian Influenza (AI) outbreak in the UK, with over 100 cases of the disease reported over recent months.
While the risk of AI has been downgraded to allow free-range birds outdoors, the UK's Chief Veterinary Officers have stated that enhanced biosecurity requirements will remain in place to keep infection at bay.
NFU Cymru Poultry representative Richard Williams said: "This week's announcement of the lifting of housing restrictions has come as a great relief to poultry farmers across the UK, particularly here in Wales where such a large proportion of our eggs are from free-range farms.
"The sector has worked incredibly hard to minimise the threat of AI over a number of months, but it is clear that we all need to remain vigilant and continue practising enhanced biosecurity measures to ensure that the risk level does not increase once again. It is vital that all poultry keepers, whether that's our members with large numbers of birds or more modest backyard keepers, continue to follow the government advice and protect the health of the national flock.
"NFU Cymru is working with partners across the industry to look at future solutions as to how we limit the impact of AI on the sector, given that it has become a frequent issue over the late autumn and winter months.
"While this week's announcement is of course welcome news, it is just one of several challenges currently facing our poultry farmers, not least the rising feed, energy, transport and labour costs that are continuing to have a very real impact on the sector."
Poultry and other captive birds no longer need to be housed, unless they are in a Protection Zone, and are allowed to be kept outside. While the risk of bird flu has been reduced to 'medium' for premises with poor biosecurity, the enhanced biosecurity requirements that were brought in as part of the Avian Influenza Prevention Zone (AIPZ) will remain in force as infection may still be circulating in the environment for several more weeks. All poultry gatherings will remain banned.
The Welsh Government encourage all keepers to register their flocks with the Animal and Plant Health Agency. For poultry this is a legal requirement if you have 50 birds or more (poultry includes chickens, ducks, turkeys, geese, pigeon (bred for meat), partridge, quail, guinea fowl and pheasants). Registering means that they will be able to contact you with information or action required should an outbreak happen near you.
Comments
To leave a comment you need to create an account. |
All comments 0