From Powys to New Zealand: 91-year-old's search for 1940s Brecon classmates
Can you spot yourself or a loved one in an old photo from Brecon Girls Grammar School?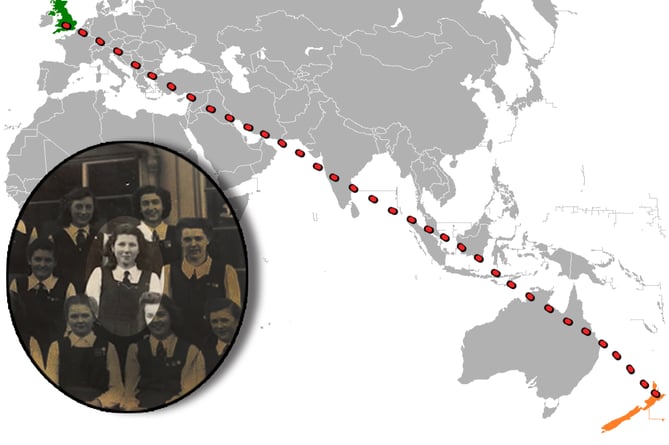 Pamela Russel in the old photo inset over a map of the UK to New Zealand
(Original map by RayanS93 on Wikimedia - old photo supplied by Pamela Russel )
Subscribe newsletter
Subscribe to our email and get updates right in your inbox.
A pensioner in New Zealand has put out an appeal to reconnect with old schoolmates shown in a photograph from the 1940s.
Originally from Talgarth before travelling halfway around the world, Pamela Russel (née Morris) attended Brecon County Grammar School for Girls in the town from 1942 to 1949.
The 91-year-old, who attended school through most of World War II, said she is curious as to whether any of her former classmates are still alive.
Pamela, who said she would like to hear from her former schoolmates if they are still alive, said the photo was taken in 1946 when she was in Form 5 with the class teacher Miss Luxton.
The mother-of-two said: "I wondered if any of the girls in this 1946 photo of Form 5 with Miss Luxton are still alive like me.
"I am 91 now and am second from the right in the middle row. We were in Brecon County Grammar School for Girls, which was up the hill on the road to where the secondary schools are now. At that time the boys' school was up by the Cathedral.
"I would be very interested to get an email from any of them."
Now living in Auckland with her husband, who is a retired journalist, Pamela has not missed the Welsh winters since leaving the UK.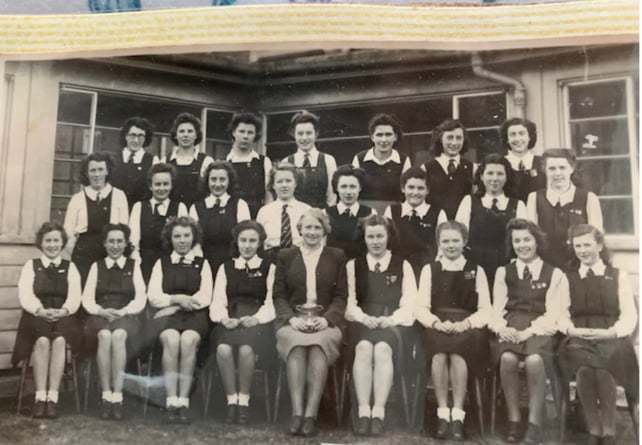 The photo of Form 5 in 1946 at Brecon Girls Grammar School
(Supplied by Pamela Russel )
After her time at Brecon County Grammar School for Girls, Pamela moved to London where she worked as an executive officer for the Ministry of Food for five years before moving to Paris where she spent six months as a hotel receptionist at Au Pair, Paris.
She returned to Wales in 1955 - she lived in Cardiff and was one of the first two appointed air hostesses with Cambrian Airways.
Pamela worked as an air hostess from 1955 to 1960, although she spent six months in New Zealand on a "working holiday" in 1958 where she worked for New Zealand National Airways.
After marrying her husband in 1959, Pamela worked in a variety of jobs in the following 46 years.
Starting with part-time jobs in market research and photography from 1960 to 1961, Pamela took a break when she had her children in 1961 and 1962 before returning to work in 1970 - in the information and public relations office for Auckland University.
At the age of 52 in 1983, Pamela graduated with a BA in Psychology and Anthropology. In 1987, she graduated with an MA in Prehistoric Anthropology.
Pamela worked as an administrator in Aukland University's History Department before retiring in 1991.
However, she still worked as a part-time lecturer in prehistory as part of the Department of Continuing Education at the university until 2005.
Pamela, who described the group of Powys 'train girls' as a "rowdy lot", said: "I now live in a nice retirement village in Auckland with a super harbour view. I have an apartment, and my husband is in the Care section. Auckland is very scenic, with a good climate - there's no snow - and my warm winter coat is superfluous. No more Welsh winters!"
When asked about reconnecting with her former classmates, Pamela said: "It would be nice to hear from one of my old classmates - while we are still alive and kicking!"
Comments
To leave a comment you need to create an account. |
All comments 0