Gambling addict hanged himself after losing all his money
Wednesday 17th May 2017 8:35 am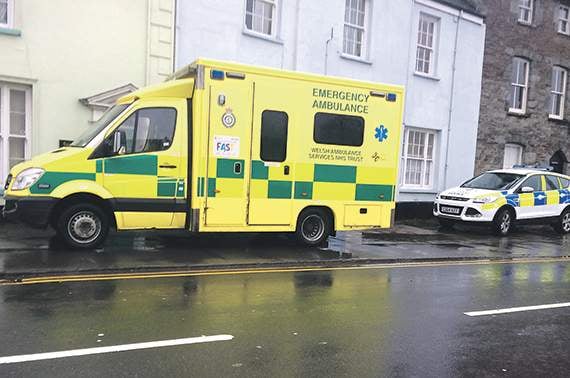 An ambulance near the property in Llanfaes where Robert Shone was found dead
()
Subscribe newsletter
Subscribe to our email and get updates right in your inbox.
A GAMBLING addict killed himself after texting a friend to say: "I've lost all my money," an inquest heard.
Robert Shone, 39, sent a message to a friend saying he was about to kill himself after losing on the horses.
Mark Tovey ran to his home in Brecon but found it locked and the doors barricaded from the inside.
The inquest heard police broke in and found father-of-one Robert hanging from a beam.
Mr Tovey told the hearing in a written statement how
his friend had been in a good mood drinking pints in the Sarah Siddons pub in the town centre.
He said: "He seemed full of life, there was no mention of feeling depressed or suicidal.
"But he rang me at 3.30pm and sounded very low. He said he's lost all his money.
"I knew he had a problem with gambling, he was saying he was going to end it all."
Mr Tovey tried to keep his friend talking but he hung up on him.
The inquest heard at the same time Robert left a message with a member of the Powys mental health team who had been helping him through his problems with depression, alcohol and drugs.
He told Julie O'Leary: "It's Rob, I'm going to kill myself and that's that. You are a great person."
Police were alerted and arrived at Robert's flat in Bridge Street at the same time as Mr Tovey.
Paramedics were called to resuscitate divorcee Robert but he could not be saved.
A post mortem revealed he died of hanging while having cocaine and prescription drugs in his system.
His mother Elizabeth Shone said Robert went into rehab when he was aged 28 after using heroin and cannabis.
She also described a hammer attack which left her son with memory problems and an inability to hold down a job.
She said: "He had threatened suicide in the past and his mental health would vary.
"I saw him on the day he died and everything seemed normal, he gave me a kiss on the cheek as usual."
Powys Coroner Andrew Barclay said Robert had acted impulsively when he took his own life on January 31.
He told the hearing: "He made it clear that he had lost all his money.
"Mr Tovey knew he had a problem with gambling and he genuinely thought he was going to hang himself.
"It is clear to me he was relatively stable from a mental health perspective.
"One can guess that there has been an issue where he had lost his money from gambling which has upset him and he has reacted in a certain way."