Gonzo's Game: Pen y Fan rugby match raises thousands for charity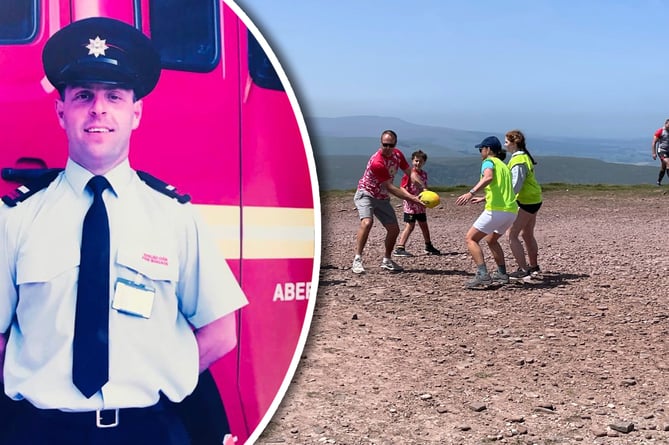 (Photos supplied by Paul Williams )
Subscribe newsletter
Subscribe to our email and get updates right in your inbox.
A group has raised more than twenty thousand pounds in memory of a Brecon rugby stalwart after they played a 24-hour rugby match on top of Pen y Fan.
Friends and family of Andrew Williams, known as Gonzo, took to the highest peak in the Brecon Beacons on Friday morning to take part in the touch rugby match to raise money for four charities which were all important to the Brecon legend before he sadly passed away last August following a battle with Covid-19 and Multiple Myeloma Cancer.
A heatwave, wind, fog and the dark sky of the Beacons at night didn't deter the group who took part in Gonzo's Game from 6am on Friday, June 17, until 6am on Saturday, June 18 - what would have been Gonzo's 53rd birthday.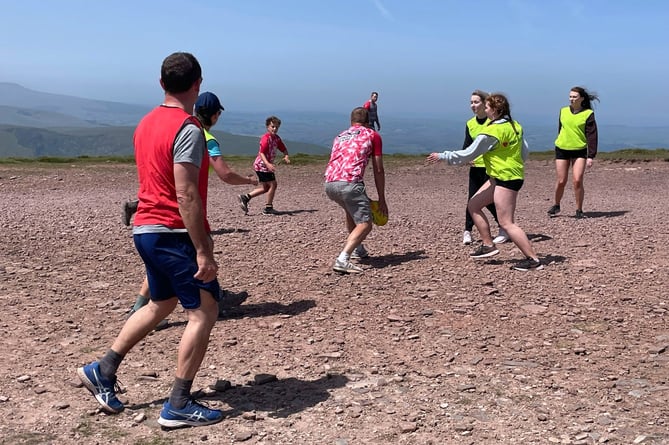 Some of the group taking part in Gonzo's Game
"It was a fantastic event. The game went really well", said Gonzo's brother Paul Williams, who confirmed the group had completed the full 24-hour duration.
He said: "We got there at about 4am on Friday, and then we were there [at the top of Pen y Fan] and ready to start at 6am.
"Throughout the day, we had a continuous game and quite a few different friends and family and people we know from the wider community came to support and play the full duration."
The charity game took place during last week's heatwave which saw the temperature in Brecon rise to around 26c.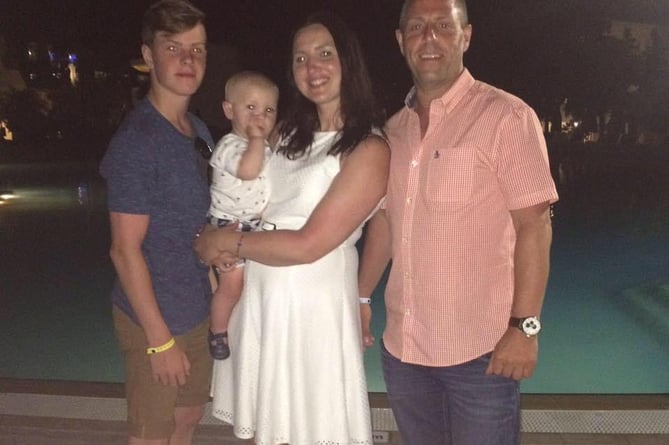 Andrew, Lisa and their sons on their last family holiday to Greece
(Photo supplied by Myeloma UK )
When asked if the hot weather affected them, Paul said: "It wasn't too bad up there. There was a constant breeze and it was quite windy which sort of helped. It helped us get through it from the temperature perspective.
"The weather turned after and it got misty and foggy in the late evening. The overnight conditions were quite cool and there was a lot of fog for the last couple of hours until daylight on Saturday morning, so there was a lot of contrast in the weather."
The group took a good supply of rugby balls along with torches to help them light the match through the night on the mountain which is part of the Dark Sky Reserve.
With colourful glow sticks lighting up both the mountain and the ball, the group managed to push through the night until the morning.
Paul, who lives in Bristol with his fiancée but is originally from Brecon, said: "We had head torches and then we also used glow sticks to kind of mark out the rugby pitch.
"We actually attached a couple of glow sticks to the rugby ball so people could catch it because it was that dark at one point for a good few hours. We had to improvise a bit to make it playable."
Described by Paul as a "big help", the glow sticks were also useful during the fog which made the game a bit "bleary" in the evening.
The game, which took place 886 metres up, has raised the money for Myeloma UK, the Firefighters Charity, Rookwood SPUR - a neuro and spinal rehabilitation charity in Cardiff which Gonzo spent time at during his own rehabilitation- and, the Wales Air Ambulance Charity.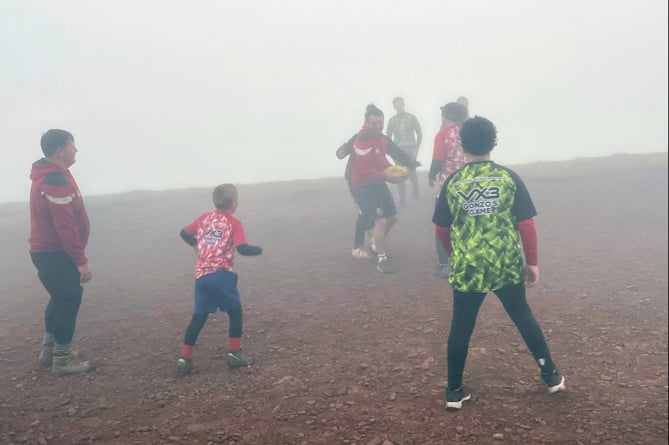 The group played through different conditions including fog, wind, sunshine and the dark
(Supplied by Paul Williams )
While the wind helped to keep the participants cool, it also created issues as it blew their rugby balls off the side of the mountain.
"Three or four balls went down," said Paul who was part of a committee made up of family and close friends which organised the game.
He said: "Fortunately, one of the guys who came to join us went down a long way and collected three of them.
"We did have a few which went [over the edge]. I think it was a couple we lost in total but we did also retrieve a couple.
"It was quite windy up there at one point and it was blowing them over the edge, a couple definitely went missing so I'm glad we took a supply up.
"We did wonder at one point if we would have to organise more to be brought up, but we got through it okay."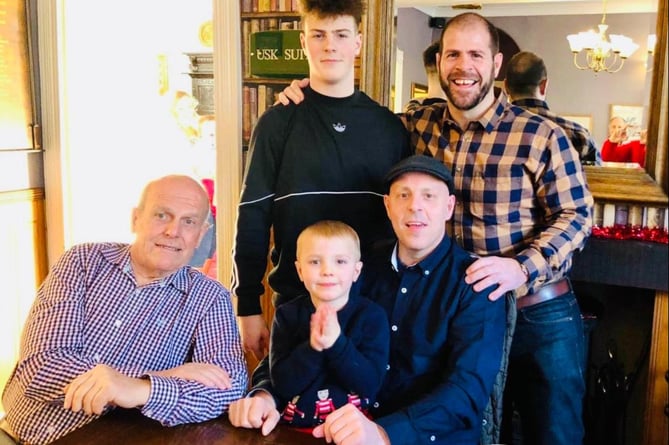 Andrew with his dad Norman, brother Paul and sons Ioan and Ryan at Christmas in 2019.
(Photo supplied by Myeloma UK. )
The five-a-side rugby match was played by family members and close friends of Gonzo, including his son Ryan.
The committee which organised the event included Andrew's fiancée Lisa Jenkins, his cousins Alan Taylor and Sarah Pritchard, his best friends Lyn Parry and Martyn Keylock, another close friend of the family Glenda Evans and Des Lally.
According to Paul, the group lost count of the score after the fourth round.
Paul said: "We had quite a few people come up for the last hour or two, both to participate and as supporters. People had come up to see just the final minute."
When asked about how the group felt at the end of the game, he said: "I've got to admit, it was a tough three or four hours. A few guys came and helped play through the night to keep it going.
"Those last hours were quite tough, but initially we felt a feeling of relief. In hindsight, we were really pleased with how it went and chuffed and just glad we completed it really which is excellent."
Members of Brecon Rugby Club and staff from Brecon Fire Station attended the game in support as well as members of the wider community.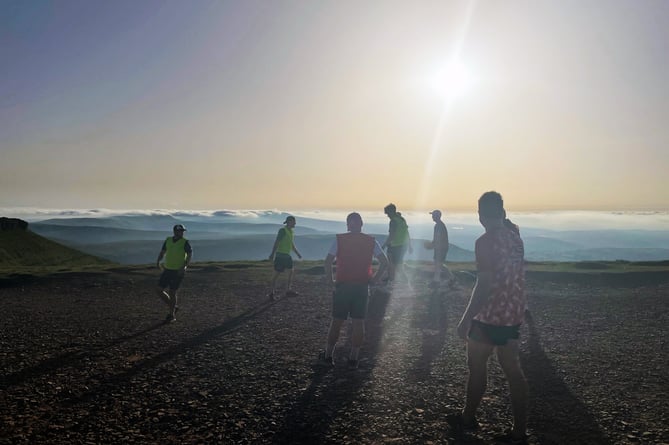 The group playing as it started to get dark
(Supplied by Paul Williams )
Paul said the group was really pleased with the support from onlookers, describing it as "amazing".
He said: "A lot of friends and family, former rugby players who'd played alongside my brother and a few of us, and a lot of the firefighters - who are Andrew's old colleagues - joined us, which is fantastic. They came to support us throughout the day.
"A lot of people who'd probably never been up Pen y Fan before actually made the climb themselves to join us and it was just fantastic to see such a wide range of people come to support us and really get involved."
The tall rugby game also attracted attention from across Wales as it made the radio and national TV.
Paul said: "We've had great support and we've had some contacts on the TV and radio so we managed to get some air time both on Thursday and Friday and then on national breakfast TV on Friday morning and on Saturday morning.
"It had a massive influence and helped us to have a massive wave of donations, we just couldn't ask for more really."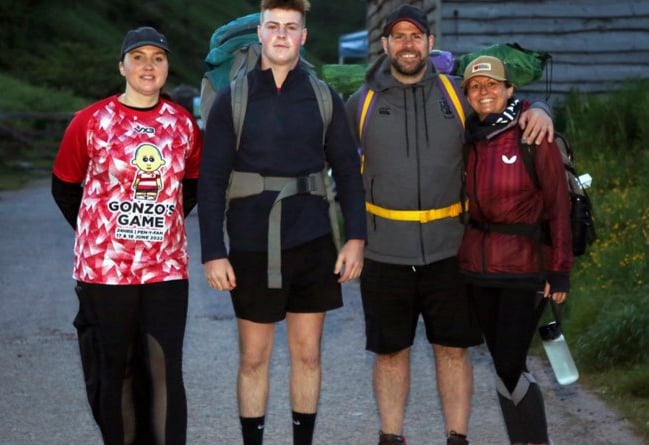 (Supplied by Paul Williams )
Gonzo, who was well known and loved around Brecon, sadly passed away peacefully on Wednesday, August 25 last year at The Grange hospital in Cwmbran.
A full-time firefighter with Mid and West Wales Fire and Rescue Service, Gonzo was a passionate rugby player and heavily involved with Brecon RFC.
Alongside his love for rugby, Gonzo loved his hometown of Brecon and the Beacons which is partly what inspired the idea for the setting of the charity match.
At the time of writing, the JustGiving page has raised £12,282 for the four charities - 122 per cent of its £10,000 target.
Paul told The Brecon & Radnor Express: "We're up to about £11,800 on the JustGiving itself. There were lots of donations made by people in person both up at the top and we had a tent at the bottom with some banners etc.
"A lot of people really generously donated while they were up there for the day. We also raised extra funds in a social event on Saturday and with our raffles which have to be added to the pot as well.
"On Saturday night we had some amazing new as well because a local businessman and friend of my brothers actually offered to match fund what we've raised on JustGiving so we'll be able to double that pretty much which is just amazing news to have received on Saturday.
"We think we've got to add Gift Aid, so all in all we think it'll be £25K with the top-ups and the extra stuff we've raised alongside the JustGiving page. It's fantastic."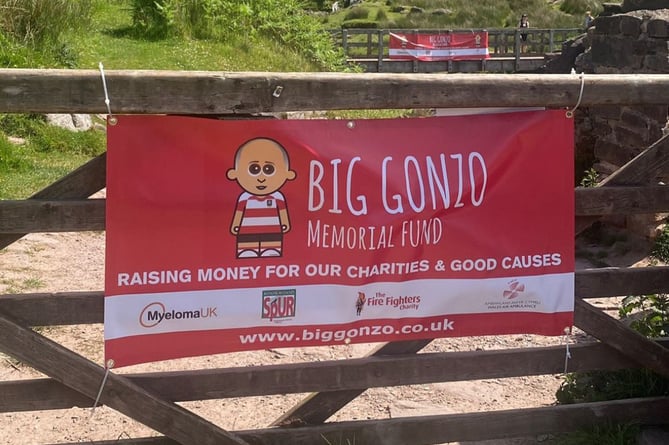 A banner on a gate leading up Pen y Fan
(Supplied by Paul Williams )
On his death last year, brave Gonzo left behind his fiancée Lisa, his children Ryan and Ioan, his parents Norman and Yvonne, his brother Paul and partner Katy.
Tributes to the local celebrity described him as a passionate and loved man - Brecon RFC paid a large tribute to their former committee member, player and supporter.
It's not too late to donate to the JustGiving page in Gonzo's memory, which acts as a collective pot which links to each of the four charities and can be found online by going to https://www.justgiving.com/team/gonzosgame.
Comments
To leave a comment you need to create an account. |
All comments 0