Powys transgender activist joins protest for UK conversion therapy ban
A Powys activist joined a protest in Cardiff against the UK Government's decision to exclude transgender people in its conversion therapy ban.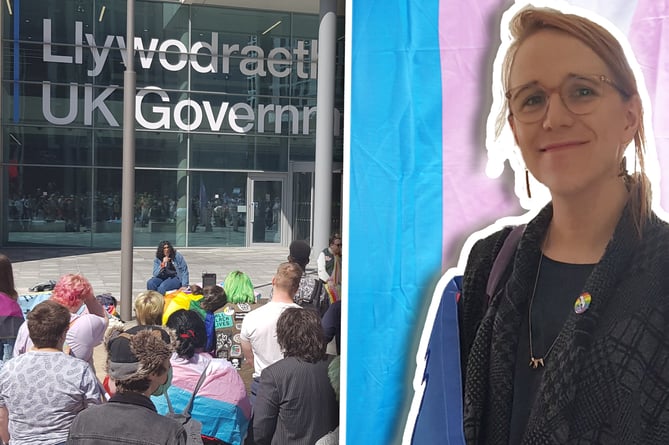 Ivy inset over a trans flag and the protest
(Ivy Femke Taylor )
Subscribe newsletter
Subscribe to our email and get updates right in your inbox.
A transgender rights activist from near Llandrindod Wells attended a recent protest in the Welsh capital city.
Hundreds of people from across Wales joined the protest last Tuesday afternoon, April 26, against the UK Government's decision to exclude transgender people from its ban on conversion therapy.
Ivy Femke Taylor, who lives in Abbeycwmhir, attended the protest as an individual and to represent Powys Pride.
Ivy was the soul representative for the Llandrindod-based LGBTQ+ group due to work commitments on a Tuesday afternoon.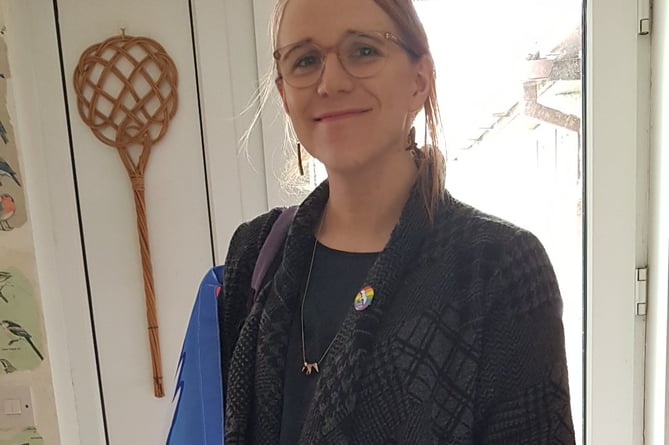 The 31-year-old, who is openly transgender, said: "The reason the protest itself is so important is that when the Government does something like this which is to exclude trans people from a ban on conversion therapy, which is internationally recognised as a form of torture - it's recognised by the UN as a form of torture, it's recognised by the LGBTQ anti-abuse charity Gallop as a form of torture - the Government is sending a very clear message that basically it's okay to torture trans people.
"They initially announced plans to not introduce any ban, and then following an uproar from the backbench where a bunch of Tories said 'this is barbaric, we can't have this practice going on' and okay, so it's apparently barbaric when it's done to lesbian, gay or bisexual people but when it's done to trans people, it's perfectly acceptable.
"So it's about sending a message of 'no, it's not' and, I don't think many people expect the government to listen to us because, as trans people and as the trans community, we represent a very, very small minority of people in the UK - I think it's less than one per cent.
"So in terms of a political capital, as a political unit, we don't have a lot of sway. The reason the Tory government feels like it can pick on us like this and single us out is because it thinks we are powerless to stand up to them.
"This protest is all about demonstrating that 'actually no, we're not powerless, we will defend ourselves and we will speak out against this' and also we're not alone because, yes there were a lot of trans people at the protest, but there were also cisgender people, straight people, and people from across the LGBTQ community so it was about demonstrating that there is solidarity within this community and it spreads beyond just the queer community and you can try and push us around but we will push back."
Donned with pink, blue and white - the transgender flag colours - the protesters held placards with slogans like "we need health care, not fixing or torture" outside the UK Government building in Cardiff Central Square.
Organised by Trans Aid Cymru, it lasted for around two hours and included young trans people telling their emotional stories.
Conversion therapy, whether it's for gender identity or sexuality, is based on the out-of-date assumption that falling under the LGBTQ+ banner is a cureable mental illness.
Despite the Welsh Government and NHS Wales signing a Memorandum of Understanding saying they will not permit the use of conversion therapy, the UK Government announced on April 1 that it would not be including transgender people in its ban on the archaic practice.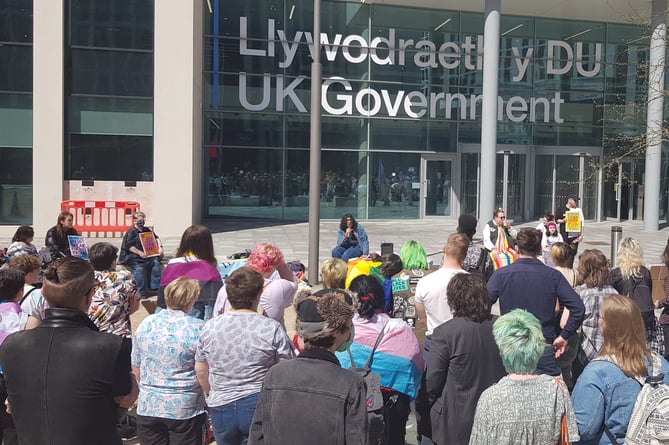 The protesters in Cardiff
(Ivy Femke Taylor )
When asked about the protest, Ivy said: "It was really good actually, it feels weird to describe a protest as good because we're out there fighting for our right to exist, but the atmosphere was - I would say - there was a lot of anger and grief but a lot of passion and fire and also a real sense of community.
"One of the things I have found about the trans community is - I only really realised I was trans about a year ago and I've only been openly trans for about a year - I have found it, without a doubt, the most accepting inclusive community I or anybody could ever hope to be a part of.
"You show up and there's immediately, you will make friends for life and somewhere like that because we all have this shared understanding of what it's like to be trans and how that can be difficult.
"I wouldn't want to say it was a positive atmosphere, but there was a real sense of solidarity and community and fierce defiance as well."
The freelance journalist said it was a peaceful protest and that there was a really light police presence, but that they were only there for about 30 minutes.
She said: "There was a really light police presence for about 30 minutes and then they left and there were one or two hecklers who got immediately shouted down by the crowd which was a beautiful thing to see."
Stonewall UK described the decision as a "broken promise" by Prime Minister Boris Johnson when it announced it would boycott the Safe To Be Me conference.
The LGBT charity said: "It is apparent that trans people have once again been sacrificed for political gain. Commissioning a separate body of work to unpick something that has already been resolved many times the world over, can only be read as an attempt to kick the issue of protecting trans people into the long grass. This is callous and unacceptable.
"Conversion therapy is happening to LGBTQ+ people in the UK right now, and every day without a ban is a day where LGBTQ+ people remain at risk of lifelong harm. Trans people are amongst the highest risk groups in our community - the latest research from Galop shows that 11% of trans people have been subjected to conversion practices by their own families."
Ivy has been involved with Powys Pride, which is looking to host its first Pride event this summer, last autumn.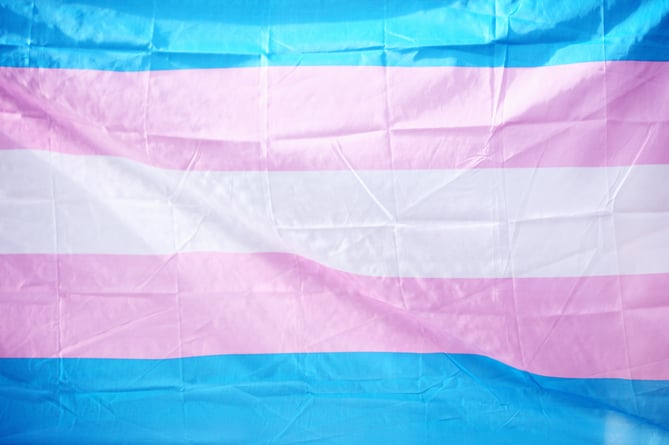 The transgender flag
(Sharon McCutcheon on Unsplash )
She said: "It's almost entirely volunteer run. It's been several years in the making Powys Pride and our first event. We are scheduled to have our first event in Llandod on the Green on July 16.
"There will be a free daytime event which will have arts and heritage like book readings and also arts and crafts and things, a bouncy castle and live music and that's a free family-friendly 'come-one-come-all' kind of event on the green, so hopefully there'll be good weather.
"Then we've also got a ticketed evening event where we're going to have drag queens and we've got absolute Britney and it's just going to be a big bombastic party at the Pavilion and that's going to be ticketed to help pay for the cost of the acts and also give us a bit of money in the kitty for next year to run the next event.
"The day itself is a huge amount of work for us, we're a small volunteer team bringing this together but one thing that's really important for us at Powys Pride is that it is about more than it just being one day in the calendar.
"I think it's really easy for Pride to get distilled down into this thing where it's Pride Month or one day where everyone has a big party. I think that is really important, it's really good for the community to get together and celebrate its diversity and celebrate with other communities as well and to have a day where everyone just has a good time.
"But then also, because it's such a rural area - Powys is the largest county in Wales and one of the largest in the UK, there has not historically been a strong queer community in Powys. It has quite a rich queer history as it turns out, but there hasn't been a strong central community where people across the queer community can get together and have that sense of community and solidarity with each other so a big part of it is making sure we have stuff all year round and another part of it is making sure we have a really open and welcoming and accepting environment.
"I grew up in Powys, and I was closeted until I was 30 because there wasn't really anyone in my vicinity where I thought 'they might understand what my experience is'.
"It was incredibly isolating growing up queer in Powys and a big part of what we're trying to do is trying to change that and make sure that everyone from young people to pensioners, that they have a place and a community that they can reach out to of people that will understand them and accept them without question and I just think, for me on a personal level, that is the most important thing about Powys Pride because it can be so atomised and I think it's so important to bring that together and make it more coherent and making it a place that people know exists and that they can come to it."
Correction: The report previously started the Powys Pride event would take place on June 16. This was incorrect and it is in fact on July 16. We are sorry for any confusion caused.
Comments
To leave a comment you need to create an account. |
All comments 0