Hundreds flock to Llandrindod as it celebrates first ever Pride event
Take a look at the first-ever Powys Pride in Llandrindod Wells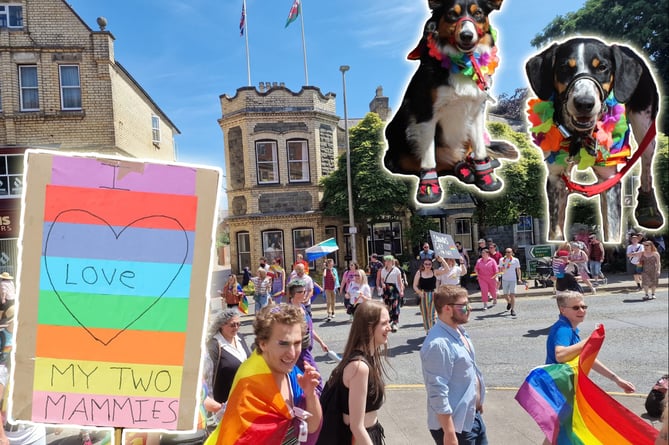 Powys celebrated its LGBTQIA+ community with its first Pride earlier this month
(Oojal Kour and Jeremy Andrews )
Subscribe newsletter
Subscribe to our email and get updates right in your inbox.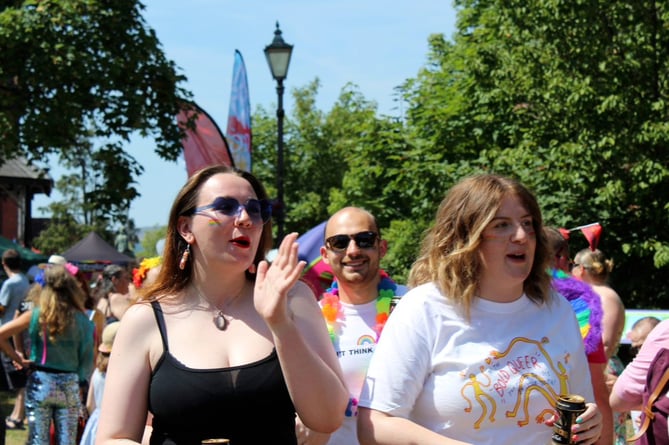 Hundreds of people enjoyed Powys' first ever Pride
Llandrindod Wells was painted with all the colours of the rainbow as it celebrated its first ever Pride event.
Hundreds of people flocked to the spa town earlier this month to celebrate Powys Pride which saw a parade through the streets and a packed programme for guests to enjoy over the weekend.
Celebrating the LGBTQIA+ community and culture, people marched through Llandrindod Wells in glorious sunshine on Saturday, July 16.
But the organisers, who were blown away by the turnout for the event, said they are just getting started.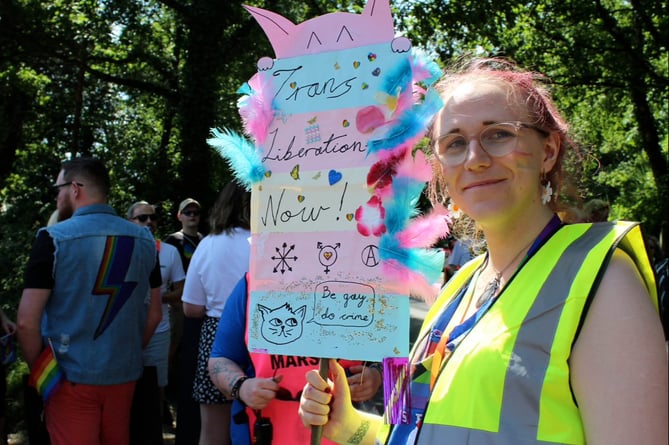 Powys Pride volunteer Ivy
(Oojal Kour )
Powys Pride volunteer Ivy Taylor said: "We are completely floored by how well everything went for the first ever Powys Pride, when around 300 people came out to show their support and have fun. The atmosphere was unlike anything I've experienced in Powys, and I know that it meant so much to so many people that they were able to have an event like this in their home county.
"It was also a big draw for people outside of Powys, with people travelling from every corner of Wales. We knew it was going to be great, but seeing it all come together like that is absolutely staggering.
"I want to extend a massive thank you to everyone who helped make it possible. Powys Pride is a volunteer-led effort, and it couldn't have happened without the tireless work of the planning committee, and the effort from all our wonderful volunteers.
"We also received support from Llandrindod Wells Town Council, Mid and North Powys Mind, PAVO, Powys Teaching Health Board, the Montgomeryshire Girl Guides and so many more than I could possibly name.
"Saturday was only the beginning of a long and beautiful journey for the queer community in Powys. Stayed tuned for what comes next. We're just getting started."
The rural pride event was a community effort which included the green, the Mid Wales Pavilion and the involvement of town and county councillors.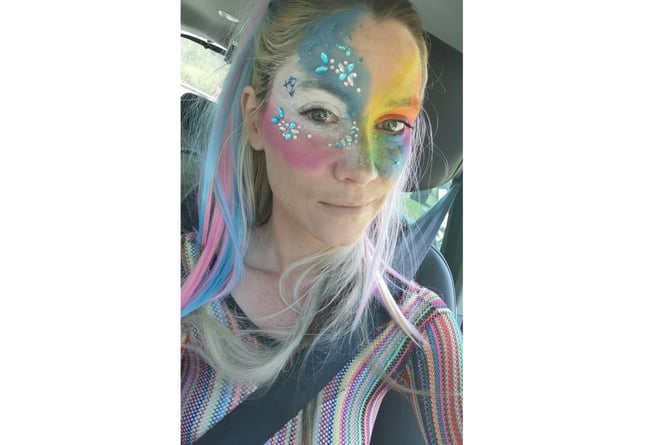 Cllr Little Brighouse ready for Pride
(Cllr Little Brighouse )
Powys County Councillor Little Brighouse, who identifies as trans-nonbinary, attended the event which they described as a "beautiful day".
The councillor, who was elected in May, donned colourful face paint to join the event.
Cllr Brighouse explained that they have been on the end of ignorance and offensive comments in Powys meaning that it felt important to them to see the landmark mid Wales Pride event happening locally.
Cllr Brighouse told The Brecon & Radnor Express: "I thought Powys Pride was an amazing success and everyone had a wonderful time.
"I've experienced quite a bit of ignorance and offensive comments as a trans-nonbinary person so it was important for me to see Pride happening locally and bringing people from all sections the LGBTQIA community together with our allies and supporters.
"It was a beautiful day of solidarity for the community and I am so proud of and grateful to the Powys Pride Planning Committee for all their efforts in making Pride in Powys a reality and for making my home feel a little bit safer and welcoming to the LGBTQIA community. I cant thank them enough for that."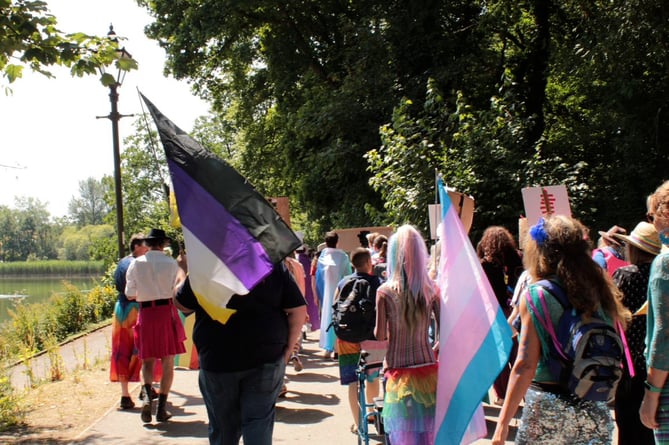 Many flags were seen at the parade, including the non-binary flag (left) and transgender flag (right) as seen above
(Oojal Kour )
Saturday started with the Pride parade around the lake at around midday - which arrived at the Temple Gardens where it hosted a free festival until around 6pm which included a variety of activities for all ages.
The daylong event included dance workshops, drag acts, comedy, live music, an exhibition space, book readings and history talks.
One of the speakers at the event was author and historian Norena Shopland who specialises in LGBTQ+ and Welsh history.
The historian, who has various accolades for her work including on WalesOnline Pinc List in 2021 and in a list of 100 inspirational Welsh women by Wales Arts Review for International Women's Day in 2020, said she is looking forward to future events.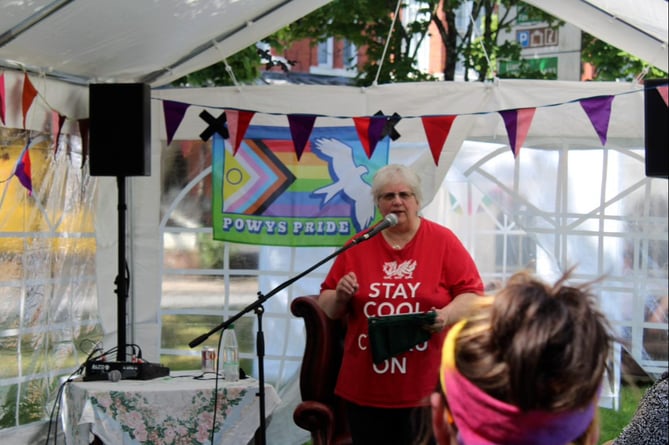 Famous historian and LGBTQIA+ speaker, Norena Shopland speaking at the event
(Oojal Kour )
Norena said: "With recent rises in hate crimes against so many diversities it shows events like Prides are still needed.
"Powys Pride was a joy, there was such a positive attitude, people were so relaxed and the atmosphere was wonderful.
"For such a small space it was packed with a huge variety of activities. And the sun shone- what more do you need!
"Looking forward to many more in the years to come."
The Pavilion hosted a ticketed event in the evening featuring drag artists Polly Amorous and Pixie Perez, Britney Spears tribute Absolute Britney, and music from DJ Madame Twisted.
Representatives from Powys County Council joined the parade on Saturday only weeks after it joined the list of Proud Councils.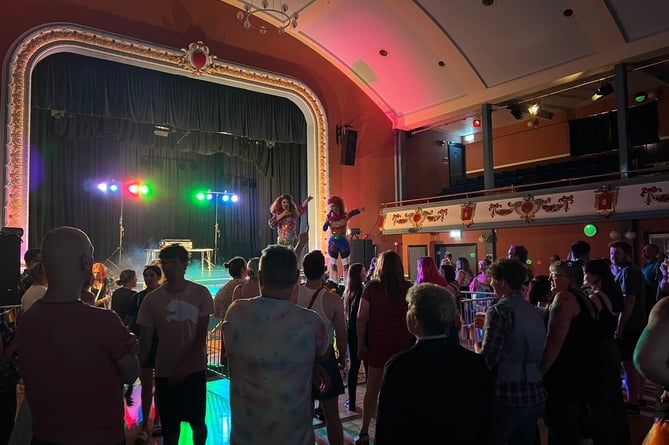 Cllr Matthew Dorrance shared this picture of the evening event at Pavilion Mid Wales on Twitter
(Matthew Dorrance )
Cllr Matthew Dorrance, Deputy Leader and Cabinet Member for a Fairer Powys, said before the event that he was delighted the council was taking part in the "first-ever" Powys Pride parade as a "Proud Council".
Proud Councils is an active partnership which brings together several councils in Wales in a visible and unified way in order to support and promote equality for the LGBTQ+ community.
Cllr Dorrance said: "We want to show people that the council is a welcoming and inclusive employer that supports and promotes diversity across our workforce while supporting the LGBTQ+ community in Powys. It is important that the council participates in events like Powys Pride LGBTQ+ people in our communities know that they have the full support of the council."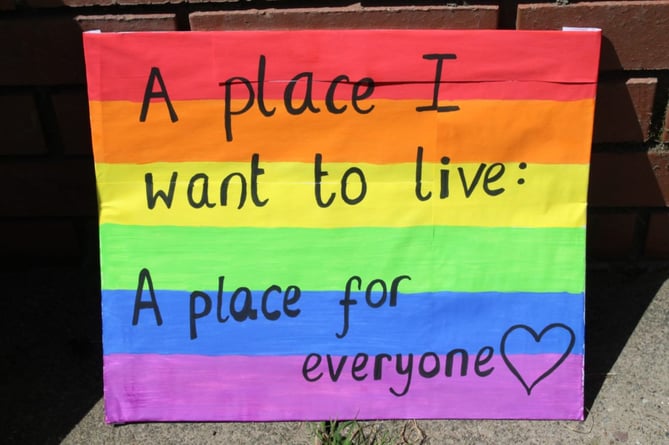 "A place I want to live: A place for everyone"
(Oojal Kour )
Comments
To leave a comment you need to create an account. |
All comments 0