We are worried for our family's safety, says Brecon couple
"The thought of our family - cold, frightened, maybe hungry without electricity whilst the ground trembles with explosions, a real fear of impending death, is too much to comprehend..."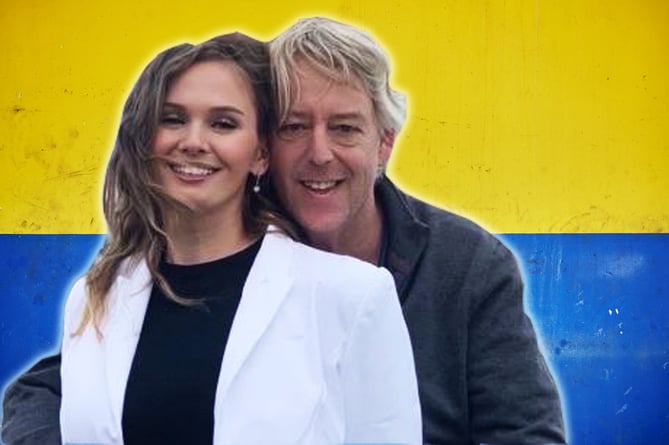 Graham and Alla Blackledge over a Ukraine flag painting
(Flag by Ben Masora on Unsplash. Inset photo supplied by Graham )
Subscribe newsletter
Subscribe to our email and get updates right in your inbox.
A Brecon family is calling for more urgency with visa applications, as they desperately try to move their loved ones out of war-torn Ukraine and Russia.
Graham and Alla Blackledge have been left distraught after the Home Office has so far refused their requests for any of their family to join them in the UK and reach safety.
Graham, a chiropodist and podiatrist, and his wife Alla have been married for almost six years. Alla originates from the south eastern region of Ukraine, in the occupied territory of Donbass.
The couple have Ukrainian relatives in both Ukraine and over the border in Russia. They fear for their family's safety following Russia's invasion of Ukraine and the violent and unstable climate that this has produced.
Alla, who now lives in the UK with Graham, was first affected by the conflict eight years ago.
Graham said: "In 2014, Alla was a successful fully-qualified lawyer, living and working in Donetsk, when, and where the Russians first invaded Ukraine territory.
"After returning home during this invasion period, Alla found her street partially yet severely destroyed from bombing. Alla and her young son feared for their lives and gathered what few possessions they could and fled in desperation to Kyiv."
Alla and her son had been displaced by the war and had lost almost everything, including sentimental possessions.
With the help of extended family, Alla was able to set up a new life in Kyiv, finding employment and an apartment to rent.
One year later, while on a trip out in Kyiv, Graham met Alla and their relationship blossomed. After many plane journeys they fell in love and in October 2016 married in a church alongside the Dnipro river in Kyiv. This church is now seen nightly on the television news.
Despite the marriage, Alla and her son were unable to return to the UK with Graham.
Graham said: "Alla and her son were, immediately after our marriage, not allowed to return to the UK with me - marriage counts for nothing regarding UK immigration. We knew we were taking a risk, and that a spouse and dependant visa may still have been refused.
"The paperwork was horrendous, lengthy and complicated but with professional help in February 2017 we were finally successful - having paid circa £7,000 to the UK government and immigration lawyer."
Alla finally had acquired a spouse visa residence permit and her son a dependance resident permit. Following the expiration of these in October 2019, the process began again. They were successful once more - although the process cost the family thousands more and required professional legal representation.
Their current visa expires in August this year, although Alla is currently in the process of applying for indefinite leave to remain. This will cost again in the region of £7,000 and requires the passing of two UK exams - 'Life in the UK' - as well a further English language exam.
Graham explained: "Alla has lived in the UK for over 5 years and remains very happily married to a UK national. She is in the process of applying for indefinite leave to remain.
"Upon achieving indefinite leave to remain, one can then apply for British citizenship which is our intention, again at a further similar cost of another £7,000!"
Following the outbreak of the war, Graham and Alla contacted Brecon and Radnorshire MP Fay Jones, asking for clarification on bringing Alla's immediate family to the UK. He said he was told all she could advise him was to keep checking with the Home Office website and helpline.
Currently the advice is that only immediate family members of British citizens are eligible to come to the UK, which means that even if Alla had British citizenship she may not be able to bring her sisters and nieces to safety.
Alla's father, died tragically of cancer in 2013, aged just 63. Alla's mother, Liudmyla, is of Ukrainian nationality.
Following Russia's invasion of Ukraine last month, Graham and Alla became increasingly concerned about the safety and wellbeing of Alla's mother, three sisters, and nieces, who are spread across the region and face dangerous and terrifying circumstances.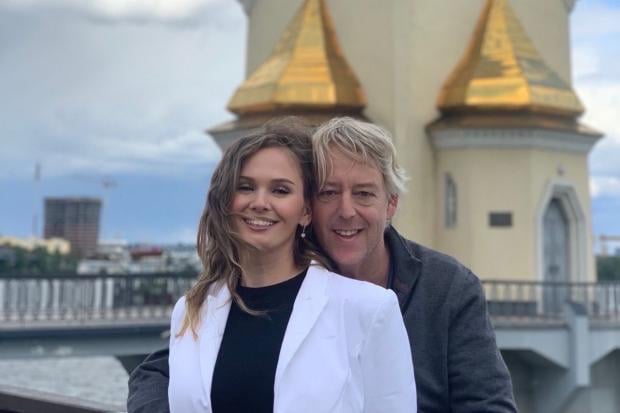 The couple in front of the church where they married in Kyiv
(Graham and Alla Blackledge ) (Graham and Alla Blackledge)
Alla's eldest sister, Elena, 49, lives close to their mother Liudmyla, who is 70, in Druzhkivka city.
Elena has a daughter, Olga, 28, who is disabled and unable to walk without help.
Alla has two further twin sisters, aged 37. One of the sisters, Tatiana, lives with her mother in Druzhkivka, along with her daughter Hanna, aged 13.
"Hanna is a truly delightful child, having excelled at school and sports alike who had an extremely bright future," said Graham.
"We are very fearful for the safety and wellbeing of Hanna. She is the most amazing child."
The second twin sister, Natalia, also has twin daughters, Alena and Anastasia, aged 12.
Graham said: "When the illegal occupation of Donbass commenced in 2014, Natalia decided for the safety of her two daughters to relocate just across the Ukraine border inside Russia.
"Dual nationality in this region is common and Ukranians were also encouraged financially to enter Russia."
Several weeks prior to last month's invasion, it was discovered that Natalia was unwell with advanced breast cancer. Her mother, Liudmyla, crossed the border into Russia to be with her daughter and also help look after the twin girls.
Natalia went into major surgery following the diagnosis but unfortunately this was not successful. A further urgent operation is desperately needed and chemotherapy is also required immediately. Natalia has not fully regained the use of her right arm and hand since the operation.
Graham explained: "Whether as a result of the war or otherwise Natalia has now, last week, been advised that neither a further operation or chemotherapy is available for her for the considerable future.
"We believe this is most likely related to the Russian atrocities invading Ukraine and the subsequent financial restrictions placed on Russia.
"The future therefore does not bode well for Alla's younger sister Natalia, Alla is naturally distraught and heartbroken, we also naturally remain especially worried for the twin girls future should their mother not ultimately survive.
"We would both willingly help, and support whether by adoption or other means, God forbid."
Liudmyla is now also trapped inside Russia and is unable to return to her home city Druzhkivka in Ukraine, and be with her other daughters and grandchildren. She is torn between her children but realistically has no choice.
An extended visa scheme to allow more people from Ukraine to join relatives in the UK was launched by the government on Friday last week. The Ukraine Family Scheme allows applicants to join family members or extend their stay in the UK.
The scheme has already faced heavy criticism after The Home Office revealed on Sunday that "around 50" visas had been granted, despite thousands of applications. Shadow Home Secretary Yvette Cooper has accused the Home Office of "completely failing" to understand the urgency of the crisis. "This is too slow," she tweeted: "Too many hoops for desperate families to have to jump through."
It is estimated that seven million people have been displaced by Russia's invasion of Ukraine. On Tuesday, a United Nations commisioner stated that 2 million people had already fled the country - which represents 4.5 per cent of the population.
For many families, including the Blackledge's, it is an anxious wait as they try to keep contact with relatives and loved ones amid a fast-moving and shifting conflict.
Graham said: "The previous home office stance refused Alla's family the opportunity and entry into the UK. This now seems to be changing on a daily basis. It would perhaps appear, that it may now be possible for them to be allowed UK entry.
"The main concern, however, is that the opportunity of a safe evacuation and escape route has now all but passed."
The family are concerned for Elena and Olga, as the 28-year-old's disability makes any attempt to escape the country extremely difficult. Trains heading towards Ukraine's border have been packed, and there have been long queues of traffic on roads leading out of the country. The busy trains leaving the country would perhaps involve standing for days on end. The situation for Tattiana and Hanna is however different, and while they are reluctant to consider leaving Druzhkivka, Graham and Alla has asked them to explore any and all options at whatever financial cost. In regards to Alla's mother, Liudmyla, her seriously ill sister Natalia and her twins, the couple say there is absolutely nothing they can do at this time to help, except be there when and if they are able to help in the future.
"We fervently also hope Alla's mother being Ukrainian will not be arrested and suffer at the hands of the Russian regime.This is again a major worry and huge upset," added Graham.
Graham, who has lived in Brecon since 1988, says that he is prepared to enter Ukraine if that is what is will take to save his family.
He said: "Should, indeed could any of the family be able to reach the border whether by train or private vehicle, it would necessitate me, meeting them in Poland or wherever and escorting them back towards the UK.
"I am certainly prepared to even enter Ukraine and go to Lviv to rescue my Ukrainian family. It is my duty and desire to protect my family whatever and I will not shirk my responsibility.
"These are not just empty words, this is my wife's family who have been so kind and generous toward me. Brecon is my home and also my wife Alla's home.
"We sincerely hope that government circumstances may have changed and should any of our family be able to escape, that they will now be allowed immigration entry into UK as legitimate refugees.
"The thought of our family and young niece Hanna, sheltering - cold, frightened, maybe hungry without electricity whilst the ground trembles with explosions, a real fear of impending death, is too much to comprehend."
Graham and Alla have been asked and encouraged by many in the community to set up a bank account for local people to donate if they would like to help Alla's family. The couple are incredibly thankful, and say they feel humbled by the support shown to their extended Ukranian family.
Graham said he is accepting financial donations, although is "somewhat embarrassed" to do. If you would like to donate you can do so with the details: Nat West Account no 86732579, sort code 51/81/27, name of account G C Blackledge.
On Wednesdays, Graham will also also be at The Brecon and Radnor Offices, working in his chiropody clinic on the ground floor (11 Bulwark, Brecon, LD3 7AE) where he can accept cash donations. Graham can be contacted on [email protected]
He said he will be transparent on how donations are used but has been unable to set up a charity account due to time constraints.
The couple have also asked whether any of the community would like to get involved in any fundraising events, such as charity auctions, raffles, or sponsored walks, to aid their cause.
Graham said: "It has been so comforting to see how the world as a whole, has rallied round, unilaterally condemning Putin and the Kremlin whilst supporting Ukraine. Our local community is certainly no exception."
"We wish to thank everyone, whether friends, the Brecon and Radnorshire community, or my patients for all their kind wishes, love and offers of help and support that Alla and I, have recently received."
Comments
To leave a comment you need to create an account. |
All comments 0