Permanent post office opens in Hay-on-Wye
Wednesday 17th November 2021 12:00 pm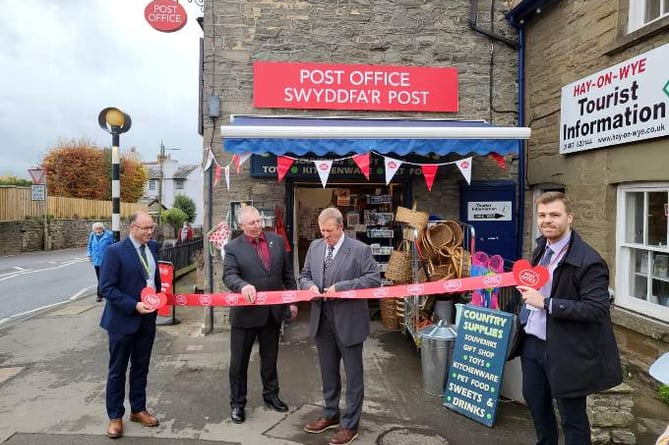 Subscribe newsletter
Subscribe to our email and get updates right in your inbox.
A permanent Hay-on-Wye Post Office opened yesterday at Country Supplies on Oxford Road.
The new Postmaster is the Mayor of Hay-on-Wye Cllr Simon Morris, who is better known as Syd by his customers and the community.
He invited the former long-serving Hay-on-Wye Postmaster, Steve Like, to perform the official opening. After 34 years of loyal service to the community Steve retired in June.
Former long-serving Postmaster, Steve Like, said: "I congratulate Syd Morris for taking on a permanent Post Office for Hay-on-Wye and becoming the Postmaster.
"I was 71 years-old and I needed to retire. My last year had been very tiring with the pandemic. The town is delighted to have a permanent solution. A Post Office really is at the heart of a community and it offers so many essential services and its role has grown in providing vital banking services."
Initially there was a Mobile Post Office in the town whilst plans were made to move the branch to Country Supplies in July.
A temporary Postmaster operated the temporary Post Office since July.
Then Syd undertook a refurbishment for a permanent solution with two Post Office counters now alongside the retail counter of the store which sells souvenir, gifts, stationery pet food, kitchenware and hardware.
Syd has completed the training to now become the Postmaster and two of Steve Like's experienced Post Office people continue to work in the branch.
In 1986 Syd's father, John, opened Country Supplies and he worked alongside him for many years. His father very sadly passed a couple of years ago.
Postmaster, Syd Morris, said: "The town knew that Steve wanted to retire as Postmaster, but we needed someone to come forward to take it on. When I became Mayor in May I had no idea that discussions would lead to the branch moving to my store and now me becoming the Postmaster.
"I now need to juggle managing the shop, Post Office and my Mayoral duties. Thankfully I have two very experienced people working in the Post Office and with the pandemic there are fewer events to attend as Mayor. A Post Office is essential, so I had to step forward to provide a solution for Hay-on-Wye.
"The Post Office fits in well into the shop after the refit of the counter area. The community are really appreciative that Post Office services have remained in the town despite Steve's well-earned retirement. Feedback has been very positive."
In the last decade Hay-on-Wye, has lost all three of its banks. This means that the town and the surrounding communities are reliant on Hay-on-Wye Post Office for banking.
A Teller Cash Recycler device helps the Post Office staff at this branch processing deposits and withdrawals. This helps them perform some back-office tasks quicker, which means that customer gets a faster, more efficient, service.
The permanent branch now offers additional Post Office services of MoneyGram, vehicle tax, and a comprehensive range of travel money.
The new, permanent opening hours for Hay on Wye Post Office are Monday to Saturday: 9am – 5pm. This means that the branch no longer closes at lunchtime.
Kati John, Post Office Network Provision Lead, said: "We are delighted to have a permanent solution for Hay-on-Wye, especially before the busy Christmas period. The branch is crucial as there are no nearby banks. The branch is also now open six days a week and with longer opening hours too, which offers greater opening hours than banks."