Brecon and Radnorshire's only Conservative councillor 'pleased' to have been re-elected
Cllr Iain McIntosh is the only Conservative councillor from Breconshire and Radnorshire on Powys Council.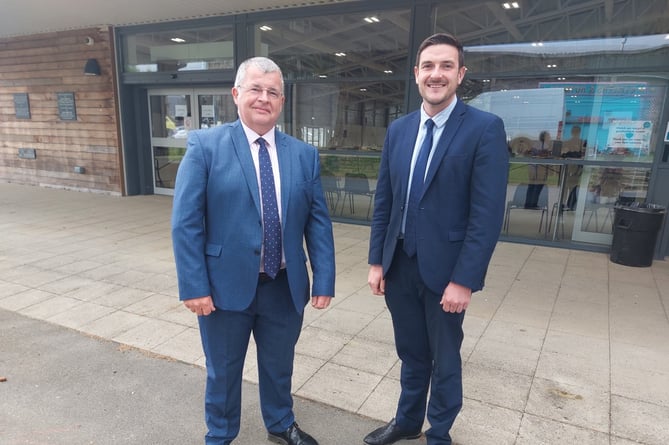 Cllr Iain McIntosh and MS James Evans outside the count in Llanelwedd
(Brecon & Radnor Express )
Subscribe newsletter
Subscribe to our email and get updates right in your inbox.
Iain McIntosh said "it's a pleasure and a privilege" to have been re-elected to Powys County Council.
The only Welsh Conservative from Brecon and Radnorshire, Cllr McIntosh comfortably held onto the newly merged ward of Yscir with Honddu Isaf and Llanddew - he was previously the Powys councillor for Yscir.
The councillor, who has gained notoriety for standing against school closures in Powys, lead the race for the ward with 515 votes compared to his Welsh Liberal Democrat opponent Raiff Devlin's 354.
Cllr McIntosh told The Brecon & Radnor Express after the count came to an end: "Obviously, it's a pleasure and a privilege to have been re-elected, after my first term with a fairly healthy win - 515 votes over 354 - so I'm quite pleased with that.
"Across the whole of Brecon and Radnorshire, I'm the only one to have been elected which is very disappointing.
"I think there are many different reasons for that from the national party at the moment, the school closures is probably something that's affected it as well but then again it's reflected across the whole country so it's difficult to pick up on what people's reasons are for not voting for us is really."
Cllr McIntosh, who also runs Youngs of Brecon carpet shop in Brecon with his wife and fellow Conservative candidate Dawn McIntosh, has tirelessly pushed to meet residents in his ward in recent weeks.
He said: "I've taken the last three and a half weeks off - I wouldn't say I've knocked 100 per cent of doors, but 94/95 per cent of doors I've knocked - I've managed to speak to the vast majority of electorates so I think that's something all candidates need to do really.
"It's been a fairly healthy campaign, we've had a good reaction on the door over my position on the school closures and the internet connectivity, so it's been positive."
Yesterday was a disappointing day for the Conservatives across Wales as the party lost the only council it had control over, which is Monmouthshire.
Results across the UK painted a similar picture of the Tories losing seats to Labour and the Liberal Democrats.
Cllr McIntosh was one of 14 Tory councillors to have been elected to Powys council with the others all having been elected in Montgomeryshire.
Speaking to The Brecon & Radnor Express after the count yesterday, the Brecon and Radnorshire MS James Evans commended Cllr McIntosh's success but said it had been a "disappointing and very hard day" for the Conservatives.
He said: "It's been a disappointing and very hard day for the Conservatives across Powys, Brecon and Radnorshire and nationally as a whole.
"I think there's a lot of reflecting that the party needs to do, a lot of soul-searching that the party needs to do and I think we'll all go away and reflect on that, and hopefully the next election we'll come back stronger and in a better position to earn more council seats and get brilliant people elected like we've got Iain elected today.
"There's a lot of factors that have come into this, locally we've had school issues regarding school closures, we've had the national picture which hasn't helped us at all - I think that needs to be reflected on.
"And, I think people elsewhere in the country will look at these results and have a reflect, especially from a Senedd perspective, we're going to go away and reflect on this, look at the policies we're pushing from the Senedd and try to come up with different policies and different ideas that the Welsh electorate want to go out and vote for."
Comments
To leave a comment you need to create an account. |
All comments 0