Former Powys leader retired after nearly 40 years as a Radnorshire councillor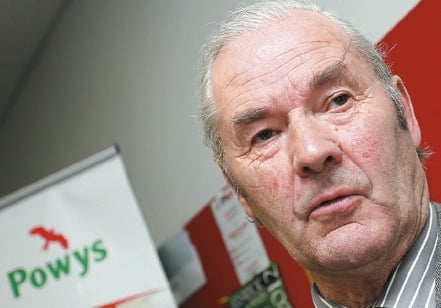 Cllr Jones at a previous set of local elections
(Tindle )
Subscribe newsletter
Subscribe to our email and get updates right in your inbox.
A long-serving Powys County Councillor has decided to "hang up his boots" after almost forty years serving on the council.
Former council leader Evan Michael Jones did not run in the local council elections last Thursday, May 5 - for the Old Radnor seat.
The 84-year-old farmer, who has lived in Old Radnor for his whole life, said he has made a lot of friends during his time on Powys Council which he has found "fulfilling".
He said: "I suppose I must have enjoyed it - it's something to do isn't it? I've always been involved with public life, it's something I took on - it's been hard work, but I suppose you get fulfillment more than enjoyment possibly.
Mr Jones started his political career in the seventies when he joined local community councils.
While the community stalwart doesn't have a specific favourite memory from his years of service, he has enjoyed his involvement with residents.
He also mentioned two of his career highlights as receiving an Order of the British Empire medal from Queen Elizabeth and Buckingham Palace in 1991 as well as his involvement with the National Farmers Union.
Mr Jones, who lives with his wife of 63 years, Joy, said: "I joined the community council in 1974 when community councils were set up. I was the first chairman of the Old Radnor community council, and when reorganisation came in in 1974, I think that's when Powys was formed as well. So I've always been involved with local organisations.
"It's something we've done as a family I think, my uncle was a district county councillor before me.
"I can't say I've got a favourite memory. I've always enjoyed working with other people and delivering services to the best of our [the council's] ability really. I can't say there's one thing, it's just something you do isn't it?
"I've always been involved with everything in the community basically. It's something you do or I do anyway. I enjoy doing it and sorting things out."
The great-grandfather joined three community councils in 1974 - Old Radnor Community Council, New Radnor Community Council and Gladestry Community Council - all of which he has remained with.
Mr Jones said he has told the clerks, who have subsequently told fellow community councillors, of his decision to step down.
"I've not really made a big thing of it, I'm just not standing again and that's all there is to it really," he said.
Mr Jones was first elected to Powys County Council in 1985 when he was put on the Radnorshire Highways Committee.
He explained: "I was elected to that position and my first job in that position was to open the new bridge at Penybont, they had to make a new bridge and I officially opened it, so that was my first venture really within the county council."
In 1994 the council had a Direct Service Organisation (DSO) - a contract in arm of the council of which Mr Jones was a founding member and where he remains for its duration.
"I was chairman of that basically, it was a contract in arm of the county council because of compulsory competitive tendering (CCT)", he said.
"The government brought it in CCT - that was a contract in arm within the council - and we had to tender for the services, repairs, property repairs, grounds maintenance, highways and all the basic work of the county council basically and I was chairman of that for many years. That gave me a really good grounding into the way the council worked."
In 1997/1998, Mr Jones was elected as the vice-chairman of the Radnorshire committee before being elected as the chairman the following year.
In 1999/2000 he was elected as the assistant vice chairman of Powys County Council before being elected as the vice-chairman the following year.
In 2001, Mr Jones was elected as the chairman of Powys County Council.
Mr Jones said: "In 2001 I was chairman of Powys County Council and when the new system came in, there was a board system which was made up of members across the county, geographically and politically, but there were no political groups in those days, it was a board around the council effectively, there were 15 members of that.
"I came out as chair in 2002 - I was the first chairman of the board and I was the chairman for its duration until the new cabinet was set up in 2011/12 which is when the cabinet system came in."
"So I was the chairman of the board from 2002 until 2011/2012, and then I was the first leader of the new cabinet system which took us up to the election in 2012.
"During my period as chairman of the board, I was on the WLGA - that's the Welsh Local Government Association - I had various positions on that. I was the spokesman so the speak on that and very involved with the WLGA. When I finished as the leader, I think it was after the election in 2012, my responsibilities diminished then quite considerably."
Mr Jones, who has also been a member of the Powys council planning committee and has been on different school governing bodies and helped to start local leisure and sports centres, has seen how local politics has changed during his time in office.
He said: "The changes have been great changes in that time, I could write a book about it almost. It's all changed and it's forever evolving and you know, the changes are quite far reaching really and it takes time to settle into the new methods of working really but it's something you've got to do , it's the way it is and you just do it.
"We've got cabinet now and whereas it wasn't political in the early days it's very political now and I don't like that, that's why I was an independent member - I didn't want to be told what to do by any political party.
"I represented the people in this area and that was my first responsibility, and then trying to do the best for running the council or playing your part in running the council.
"It worked very well [without politics], they concentrated on the job at hand, they weren't concerned about the politics aspect of it.
"There were no political parties in the early days. We were all independent basically and we just got on and did the job in hand, but that's the way it is and that's fair enough - if that's what they want, that's what they've got."
Despite stepping back from public office, Mr Jones has not intentions of putting his feet up.
He said: "I'm still farming, I can't work like I used to but there's still plenty to do, I've got plenty to do and I'm not going to put my feet up as long as I can put them on the floor.
"I'll be taking an interest in the farming and what's going on locally. I've never put my feet up - I don't know what it means really."
When asked if he had any advice for those considering a career in local politics, Mr Jones responded that it's something "they've got to do".
He said: "It's something they've got to do, I think you're either involved in local things or you're not. Some people choose to and something people choose not to. I think you've got to have a great interest in your local community and the wider community and you've got to have a wider interest in what's happening locally.
"It's been part of my life - all of my grown adult life - and that's what I did. I didn't have a lot of other interest really, I devoted myself to that responsibility and that's what I did.
"It isn't something you can turn on and off, you live it day and night, and when you're in the leadership role you have members contacting you day and night and members of the community.
"You've got to be committed to that sort of life basically, but I've been on a lot of things - schools governing bodies, I was on four school governing bodies when I was first elected but then the law changed and you could only be on two. I was on Radnor Valley and John Beddoes Secondary School and Whitton and Gladestry.
"I was chairman of Radnor valley for many years, I was chairman of John Beddoes governing body for many years but now you can only be on two. I'm only on Radnor Valley now.
"I was a founding member of East Radnor Leisure Centre and Knighton Sports Centre.
"I was a founder of East Radnor Day Centre and I've been on that ever since it opened really and I'm the only founding member left of the day centre at Presteigne.
"I'm on many local committees but I'm cutting back now so I'm basically going to do a lot less work on public work and leave it to the new members and the younger generations - they'll have to pick up the baton and run with it."
Comments
To leave a comment you need to create an account. |
All comments 0