Lib Dems hit back at MS after 'incorrect' jubilee books claim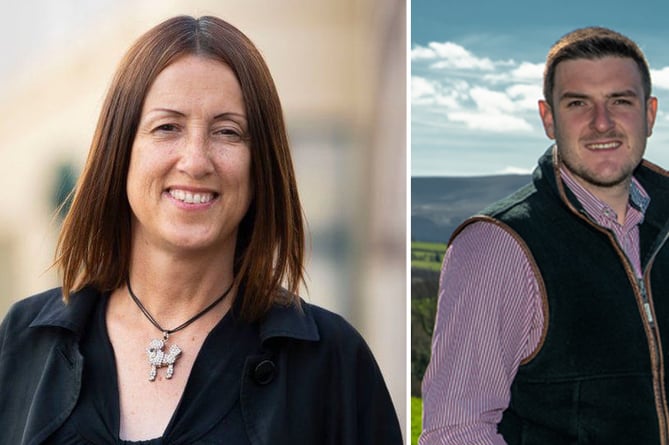 (Jane Dodds and James Evans )
Subscribe newsletter
Subscribe to our email and get updates right in your inbox.
The Welsh Liberal Democrats have hit back at the MS for Brecon and Radnorshire after he "incorrectly" claimed they supported the Welsh Government's opt-in system for the Queen's Diamond Jubilee book.
Last week MS James Evans criticised the Welsh Government for "refusing" to distribute booklets about the queen for her upcoming jubilee.
Mr Evans accused the Welsh Government of being "anti-British" and "anti-monarchy" in the heated statement released earlier this month on the Welsh Labour Government's plans which he said was a "disappointment" but "not a surprise".
As part of the statement, the Conservative Senedd Member said :""We are sadly witnessing a rise in anti-British and anti-Monarch related policies by this Welsh Government, supported by Plaid Cymru and the Liberal Democrats."
However the Welsh Liberal Democrats told The Brecon & Radnor Express that his statement is "incorrect" and "without evidence" as they support the distribution of the books to Welsh primary school children.
Janes Dodds, the MS for Mid and West Wales, said he made the statement "with no evidence" and that she was worried the Conservatives were focusing on the books other than other issue such as child poverty.
Ms Dodds said: "I am disappointed to see that James Evans has resorted to making statements with no evidence to back them up. Politics shouldn't be lowered to that level. Both myself and the Welsh Liberal Democrats support the distribution of the Queen's Diamond Jubilee book.
"I am however worried, that the Conservatives are choosing to use their time on this issue. One in three children in Wales live in poverty, NHS waiting lists are at an all time high and people are struggling to pay their energy bills, yet this is what the Tories think is a good use of time? 
"I am pretty confident that the taxpayers would rather they focus on solving the real issues in Wales and that is what I will continue to do."
The UK Government announced in February that it is spending almost £12 million on the project to deliver the "commemorative book" to schoolchildren across the UK in June.
Available in both English and Welsh, the book is planned to be part of a year-long programme of events to mark Queen Elizabeth's 70 years as the head of the UK.
However, both the Welsh Government and Scottish Government recently announced that schools in both countries would have to opt-in to receive copies of the education books.
The Welsh Government - led by First Minister Mark Drakeford who is understood to be a republican - has agreed to make schools aware of opt-in arrangements so they can order books.
When asked about his incorrect statement in regards to the jubilee books, MS James Evans criticised Ms Dodds backing of other Welsh Government policies.
Mr Evans said: "Once again Jane Dodds cannot say that she supports the Welsh Government financing and distributing Jubilee Books to all pupils in Wales, as we are seeing with the UK Government in England.
 "Whilst I stand against the Welsh Government and their socialist agenda in Wales. Miss Dodds floats around Cardiff Bay supporting the Welsh Government and backing many of their ludicrous far left policies.
 "I believe in lowering taxes, to ensure the poorest in our society keep more of their own money. The Welsh Lib Dems backs Welsh Gov calls for Universal Basic Income and refuses to substantially oppose tourism taxes which would decimate communities such as Brecon and Radnorshire.
 "Mrs Dodds and her colleagues can continue to back the Welsh Government and their far-left agenda, which consists of high taxes, more state control, overseeing a failing education system and a running a healthcare system that is in crisis.
 "I will continue to oppose them. I believe Wales deserves better."
Comments
To leave a comment you need to create an account. |
All comments 0