MP receives online backlash after tie comment to the First Minister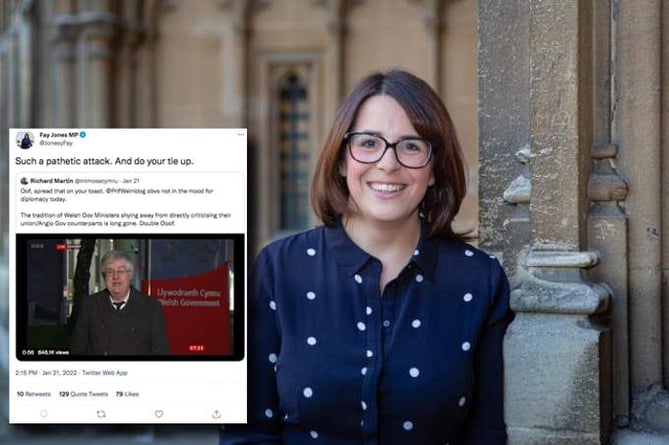 Subscribe newsletter
Subscribe to our email and get updates right in your inbox.
Brecon and Radnorshire MP Fay Jones has come under fire online after she took aim at Wales' First Minister on Twitter.
A clip of Mark Drakeford circulated on the social media platform from his television interview with Naga Munchetty on BBC Breakfast last Friday, January 21.
During the interview, Mr Drakeford was asked by Ms Munchetty why Wales wasn't easing restrictions in the same way as England despite Covid figures decreasing and the subsequent easing of pressure on the NHS.
Mr Drakeford told Ms Munchetty "Well we've always taken a different approach in Wales, one that does things step-by-step in line with the science.
"We're a government that doesn't feel the need to grab headlines to distract attention from the difficulties that we would be in if we were in the same position as the government of England.
"I think that people in Wales have demonstrated their support for that more cautious, more step-by step approach because it has kept Wales safe and it has kept Wales open."
Ms Munchetty then proceeded to ask the First Minister if the UK Government has "leaned towards more favourable headlines to save it itself rather than following the science".
Mr Drakeford responded: "Well, absolutely, I don't think there's any doubt at all - the UK Government has long abandoned any sense that it is following the science.
"It is a government which is desperately mired in the difficulties of its own making and is forever on the lookout for a headline that will distract people's attention from the awful mess and it finds itself in."
Ms Jones called the First Minister's comment a "pathetic attack" before criticising his appearance.
Despite Ms Jones' attempt to limit a reaction on Twitter, the post has been quoted 129 times - mainly by people hitting back at her jibe over Mr Drakeford's tie.
Some of the comments criticised her comment for taking aim at Mr Drakeford's appearance rather than his statement, while others pointed to the Prime Minister's appearance.
Other Twitter users were unhappy that the MP turned off her comments, limiting the ability to respond.
Ms Jones was asked by The Brecon & Radnor Express if she would like to elaborate on her Tweet about Mr Drakeford and whether she would like to respond to the Tweets, however Ms Jones didn't comment.
The Secretary of State for Wales, Simon Hart - who is also the MP for Carmarthen West and South Pembrokeshire - also took to Twitter to criticise Mark Drakeford's comments.
He tweeted: "The First Minister's comments are an uncalled for and opportunistic insult towards medical advisers and the public.
"It's thanks to the decisions of UK (and Welsh) Government, scientists, families and businesses that the UK is ahead of the world in its response to COVID."
Tensions have risen between Mr Drakeford and UK Prime Minister Boris Johnson in recent weeks since various figures in Westminster slammed restrictions in Wales just after Christmas.
As well as Ms Jones and other Tory MPs, Boris Johnson called Welsh restrictions "baroque eccentricities" meanwhile former secretary of state for business Andrea Leadsom described the restrictions as "bonkers".