Welsh Government confirm £4.25 million farm purchase following MS James Evans' Senedd questions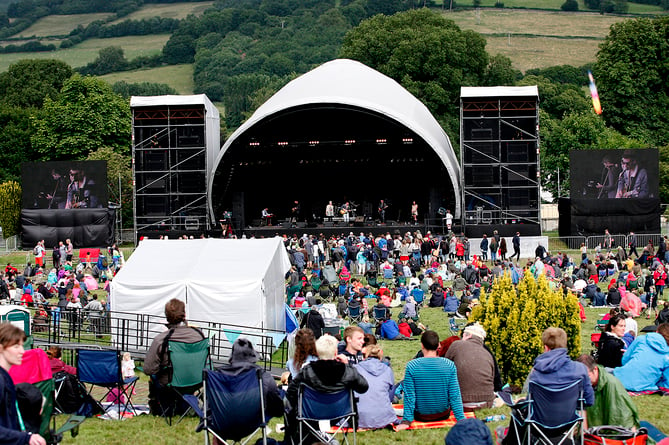 The main stage at Green Man Festival
(. )
Subscribe newsletter
Subscribe to our email and get updates right in your inbox.
The Welsh Government has now confirmed its purchase of Gilestone farm for £4.25million following questioning from Brecon and Radnorshire MS James Evans.
It was leaked to BBC reporters last week that the Welsh Government has bought the operational farm in Talybont on Usk and that it had been leased to the Green Man Festival.
But last week and earlier this week, the Welsh Government declined to comment on the news which has been met with mixed reactions across Wales.
Welsh Conservative James Evans addressed the economy minister Vaughan Gething at the Senedd yesterday, Wednesday, May 18.
Mr Getthing told the Welsh Parliament that the Welsh Government undertook the freehold acquisition and short-term leaseback of Gilestone Farm for £4.25m.
He added that the acquisition of the property is being progressed in order to facilitate investment in local businesses, as well as the community and the Welsh economy.
Mr Evans told the Senedd that has had been inundated with social media comments, phone calls and emails with questions about the decision to buy the farm.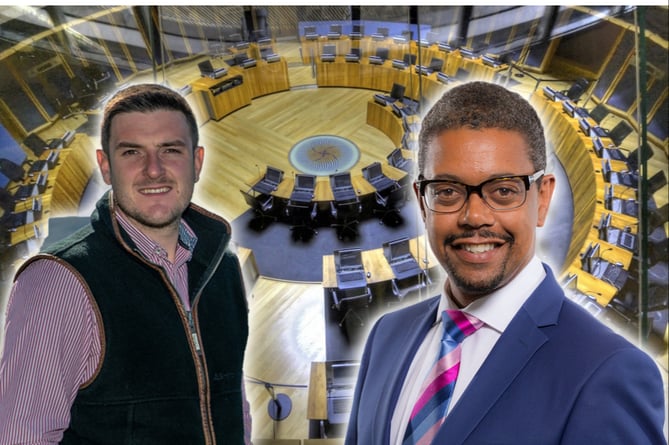 MS James Evans and economy minister Vaughan Gething inset over the Senedd chamber
(Mr Gething photo by the Senedd on Flickr, Senedd photo by Wojtek Gurak on Flickr )
He said: "I, and many of my constituents, have some very valid questions over the purchase and letting of the farm to the owners of the Green Man Festival. They have some varied points that they would like to put to you, and I am going to do that now.
"Minister, you have told us what the purchase price was. So, I'd like to know: was that subject to an independent evaluation by a district valuer? What tendering exercise was carried out to find a suitable tenant for the farm? Was anybody local offered the opportunity to apply for it, and if not, why not? What is the long-term ambition for the farm, given the current food security issues that we have, and why has a productive farm been taken out of use?
"What economic exercise was done by the Welsh Labour Government to ensure that the 174 jobs that have been quoted can be realised when farms in my constituency can hardly employ a single person? Finally, Dirprwy Lywydd, is it now the Welsh Labour Government's policy to use taxpayer money to purchase farms and rent them out to private businesses and individuals to deliver on its biodiversity and climate change projects?"
Mr Gething told Mr Evans that the Welsh Government had not paid above market value for the farm following independent certification by its consultant conveyors.
The farm includes 240 acres of land along the river Usk, a Georgian farmhouse and a small glamping site.
Mr Gething explained that it s currently being leased back to the current owners as they have a "range of issues to do to maintain the property", including harvesting existing crops and honouring existing bookings.
Mr Gething told the Senedd Members: "We are in discussion with the owners of the Green Man Festival about their potential leasing of the site, to give a greater level of certainty for them to invest in the festival, which, as the Member will know, is supported across a range of different sectors.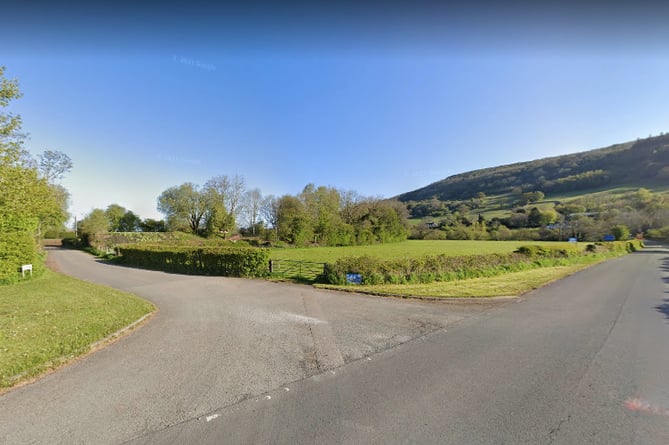 The road leading to Gilestone Farm
(Google Street View )
"It is one of five major independent festivals that still exist across the UK, with significant economic benefit to Wales, and they have plans and ambitions to be able to expand. We will need to see from them a business plan before going ahead with any further arrangement. We would then be looking at whether to have a short-term lease to manage the entire property for a period of time. But we do need to have further negotiations with them, either to look at the purchase or a further lease arrangement for the site.
"The overall ambition is to make sure that one of the most significant economic undertakings in the festival scene, which has a particular group of people who are interested in it for the way that it's run and the values that underpin it as well, has a permanent home in Wales, because there has been significant interest from other festival providers who want to purchase the brand.
"We're very keen to keep that in Wales, with the significant economic benefit that has already been generated and will be in the future. I'll be more than happy, as those negotiations continue, to further update the Member and indeed other Members who will no doubt have an interest."
The leader of the Welsh Conservatives, Andrew R.T. Davies, also criticised the decision to buy Gilestone Farm, describing it as "securing an exhibition/festival space" rather than an agricultural space.
Mr Davies asked if the Welsh Government would give the same level of funding to other areas in Wales that could "release opportunities" for agriculture and for new entrants into the business.
However, Mr Gething reiterated that he would update the Chamber and Members after receiving a business plan from Greem Man festival organisers.
Mr Gething added: "I think it's important to maintain the independence of that festival and its link to Wales, which does in itself provide significant economic benefit. I'll then be able to provide more detail on answers about the whole land use that exists. I should also say that Powys County Council are supportive of the proposal and what it will allow us to do on that site."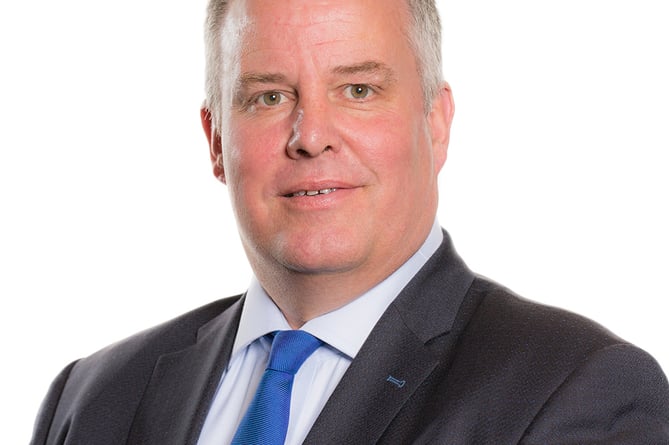 Welsh Conservatives leader Andrew R.T. Davies
(The Senedd on Wikimedia Commons )
Speaking after his exchange with Vaughan Gething, James Evans described his shock at the Welsh Government's decision to buy the farm.
He said: "I'm shocked by the news that the Welsh Government has spent £4.25million on the purchase of a farm in the Brecon Beacons, to be used by the Green Man Festival.
"I questioned the Minister regarding the purchase and asked him 5 key questions, most of which he did not even attempt to answer.
"I am extremely concerned about this purchase, at a time when the Bank of England is warning of 'apocalyptic food shortages' due to global supply chain issues, we see good farmland that many local aspiring farmers would jump at the chance to farm, being handed to privately owned music festivals.
"The Welsh Government Minister refused to deny that it is now Welsh Government policy to buy good quality farmland to turn into alternative use for their economic and climate change agenda.
"I will continue to seek the truth behind this Welsh Government purchase, as I believe it is a poor use of taxpayer's money, and I would much rather see it fund frontline nurses and police officers."
When approached by the Brecon & Radnor Express, the Green Man Festival declined to comment for now - however, there seems to promise of an update down the line.
The festival, owned and run by Fiona Stewart, confirmed that it will not be leaving its current site of nearly 20 years in Crickhowell.
Based at the Glanusk Estate - where it will be staying - it employs 200 people on a full-time basis, with another 5,000 casual workers or volunteers at the festival.
Comments
To leave a comment you need to create an account. |
All comments 0