Time running out on village's play park appeal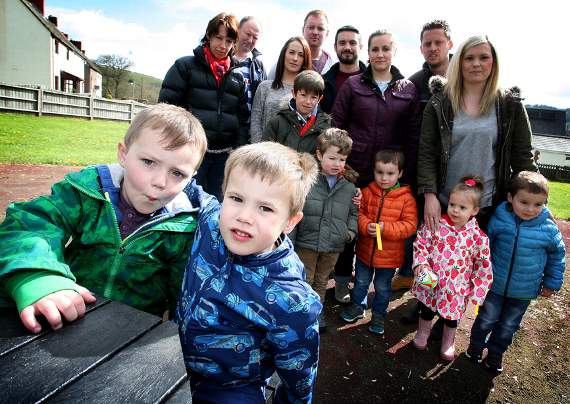 Subscribe newsletter
Subscribe to our email and get updates right in your inbox.
AN online appeal to raise £3,000 towards a new play park for children in a Breconshire village has just two weeks left to run.
Volunteers from Felinfach are developing plans for a play park for children and families in the village and also working on various fundraising initiatives.
At present the group has a field and just one summer house but is appealing for funds over the JustGiving crowd funding website where anyone in the world can make a donation towards their target.
The page has raised more than £200 already - but the page will close in a fortnight.
Committee member, Katelyn Falvey, said: "Our aim is to create a fun and safe environment for children to play, interact and develop. We hope it will be a great legacy for children of the community for years to come.
The group is made up of 12 members but other members of the community are also supporting the project and getting involved in different ways.
The summerhouse was donated by by local resident Julia Raynor Smith in honour of her husband Andy who passed away recently.
They will also be planting a memorial tree in the play park in memory of Andy who Katelyn said was a "big part of the community of Felinfach".
Other fundraising activities include a duck race to be held held at the Griffin Felinfach on July 10.
The group aim to develop a community area that everybody in the village can use in some way. Plans include the development of an inclusive children's play park, a communal sitting and BBQ area and a wild flower meadow.
Katelyn said: "We hope it will be a communal area that will bring the village community together for fun and family events. This will develop community spirit and relationships."
A lot of work has already gone in to building the play park including initial landscaping and preparation of the area before play equipment can be installed.
Katelyn said: "We are so lucky to have an enthusiastic and dedicated team who are prepared to give their time and energy freely to this project."The money raised through fundraising and donations will all go towards purchasing the play equipment. Any donations towards this cause would be greatly appreciated."
Chairman of the project, Tyrone Van Zyl, said: "It's great to have so many members of the community pulling together for a small but amazing cause, to create an environment that is close and safe for the children of Felinfach to play."
Katelyn added: "We welcome any donations big or small. Pennies make pounds and we thank everyone who has donated so far for their generosity. The page for donations is only open 30 days in total and we hope to raise as much as possible."
"The crowd funding page has 15 days left to run online so we hope to raise as much as we can in that time. So far, £205 has been donated on the page."
The park is not yet complete and the group are in the process of applying for a lottery grant to fund the play park equipment. . The local Griffin pub have been has supported the group in all of their fundraising efforts.
Katelyn added the group hope that more people from Felinfach and the wider communities of Brecon and Talgarth will see the benefits support their bid to make the park a reality.