Hay St Marys pull out of Mid Wales League
Thursday 12th September 2019 8:44 am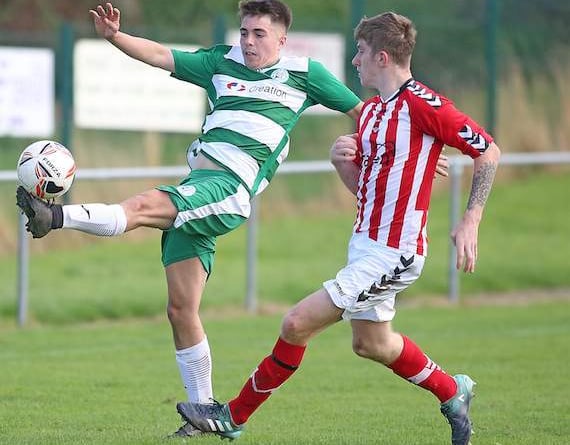 Hay St Marys (green and whilte hoops) in action earlier this year
()
Subscribe newsletter
Subscribe to our email and get updates right in your inbox.
HAY St Marys have dropped out of the MMP Mid Wales League Division 1 after just seven games this season.
The Hay-on-Wye side were promoted to the first division, despite only finishing third in Division 2 last season, over the summer but have now relinquished their place in the league entirely. Manager Gareth Jenkins quit his post, after five years, at the end of August and the club has also lost a number of players.
The club's current reserve side will continue at the recreational level in the Watson Financial Mid Wales League (South).
The Saints had been seen as ambitious having carried out a number of improvements in recent years to its Forest Road ground but treasurer and secretary Gareth Ratcliffe said it was unable to commit to the competing at the regional level and has informed the Central Wales FA.
Two years ago the club asked to be relegated from Division 1 to the second division as it was struggling to meet the long travelling distances in the league which includes fixtures as far as the south of Gwynedd.
Ratcliffe said: "We lost our manager and a number of players and are struggling to put a side together. It is disappointing but we thought it is best to stay in the Mid Wales League (South) to support and ensure we have football in Hay. It's very sad, we didn't want to do it but you can't put a team out if you haven't got the players.
"It's a decision we haven't taken lightly but we couldn't put a team out and also compete, the standard of football at that level is so high, it wouldn't be fair to put a team out if they get thumped every week and drive boys away from football."
Ratcliffe added the club has a "brilliant" junior section with Hay Junior Football club and its focus is on maintaining the sport in the community. He also said the failure to complete the senior season is a reflection of the commitment required to first team football and one other clubs are also struggling with.
Hay had been 12th in the league, after seven games, with two wins, which included a thumping 7-1 opening victory over bottom side Llansantffraid Village, and a draw and were six points from the bottom two places of the 16 team league.
The reserves are currently fifth in the Mid Wales (South) league.